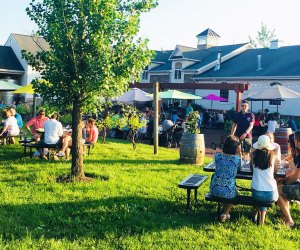 Family-Friendly Vineyards and Wineries in New Jersey
When planning a family day trip, vineyards and wineries may not be the first destinations that come to mind. Believe it or not, New Jersey is home to relaxing and scenic vineyards that welcome kids, and even pets. These vineyards offer outdoor fun that includes food truck events, music, farm activities, spacious fields, and of course, the Garden State's homegrown wines.
Not all local vineyards and wineries permit children on the premises, but raise your glass to these seven that do! And be sure to check the policies on children in the tasting areas before you visit.
Four Sisters Winery – Belvidere
This family-owned vineyard and winery is known to be family-welcoming, offering fun events for all ages. In late August, celebrate the winery's Beaver Creek Red Wine at the appropriately named Beaver Creek Red Festival, which features music, vendors, food and even a child-friendly Little Beaver Creek Cocktail for the kids. Other family events throughout the year include family fun days, including a Father's Day Pig Roast, and fall harvest days, with pick-your-own pumpkins and apples. While visiting, pick up treats at Aunt Sadie's Bakery and Cafe.
Hopewell Valley Vineyard — Pennington
Brick-oven pizza, prepared on Friday and Saturday evenings, is a big hit at this 70-acre vineyard. Enjoy live music Thursday through Saturday, along with award-winning wines, a light fare menu, and old-world hospitality. Children are welcome but parents are cautioned that the vineyard is a festive environment so keep a close watch on kids while there. Well-behaved pets are also permitted as long as they stay outdoors.
RELATED: 13 Family-Friendly Restaurants with Kid-Friendly Backyards and Outdoor Dining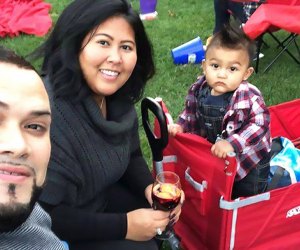 Bring the kids to a variety of events at Laurita Winery throughout the year. Photo courtesy of the winery
Laurita Winery – New Egypt
Food truck festivals, outdoor movies, singing competitions—you'll find all these festivities and more at Laurita throughout the year. The festivals offer free admission to anyone 12 and under, and feature a variety of delicious eats, vineyard tours, wine for the grownups and bounce houses for the kiddos. Don't miss out on the fun of Cornhole Tournaments and car shows held in spring and summer. With all this, plus wine tastings and a gourmet food market, Laurita has something for everyone.
Terhune Orchards Vineyard and Winery – Princeton
With so much activity for all ages, Terhune is a can't-miss day trip destination. Throughout the year, the orchards offer a wealth of pick-your-own goodies, from berries to apples and pumpkins. Kids will have a blast visiting farm animals, participating in the Read & Pick storytimes, and taking part in various events, including the popular Firefly Festival in June. And parents will enjoy sampling the 14 varieties of wine produced in Terhune's own nine-acre orchards. The family-owned winery allows children in the tasting room, and it hosts events and wine trails throughout the year—including the upcoming Mother's Day Wine Trail Weekend!
Valenzano Family Winery – Shamong
Burlington County's first winery, founded in 1996 and located in the center of the Pine Barrens, boasts an 88-acre vineyard that hosts family-friendly festivals and other events. Popular happenings include the annual Mother's Day Picnic and Wine Fest, the latter of which offers free admission to children 14 and under.
Working Dog Winery – East Windsor
Bring the kids, and even your dog, to this bountiful Mercer County vineyard and winery. On a beautiful day, grab a table at the outdoor patio, or pack a picnic lunch, and enjoy homegrown red, white, or sweet wine while listening to live music. Children are free to bring Frisbees or Wiffle balls and run around the fields. Be sure to check out the family-fun food truck festivals at the vineyard—including the upcoming Mother's Day Fest—and for the pups, don't miss the Hair of the Dog 5K.
This post was originally published in 2015 and has since been updated.