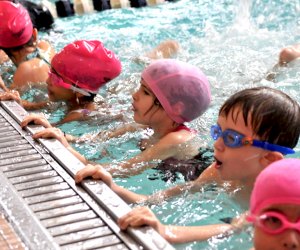 Register for Free Winter Swim Lessons for NYC Kids
The New York City Parks Department offers FREE swim lessons for children and adults all year round, but you have to apply through an online lottery for each session. The FREE winter swimming lessons are on the horizon, and the lottery for registration is now open and runs Monday, December 16 at noon through Monday, December 23 at noon.
Read on for the details on where to swim for free, or check our directory of paid kids' swim classes, and mommy-and-me swim lessons for babies and toddlers, including those in Brooklyn and in Queens.
Swimming lessons are hosted by the city's outdoor pools in summer, while the Parks Department's swim programs are held at indoor recreation center pools throughout NYC in the spring, winter, and fall.
You can register your child for every session, or just one. What you don't want to do is try to register at multiple locations for the same session. (This is not school ranking, folks.) The system will remove your application as a duplicate if you apply for more than one spot.
RELATED: Free and Cheap Afterschool Programs for NYC Kids

Get ready to be a great swimmer at NYC Parks swim lessons.
Winter Swim Program Details
The Parks Department offers free swim lessons at indoor city pools, with classes for toddlers ages 1.5 to 5, for kids ages 6 to 17, and for adults. The full list of participating pools by borough is available on the Parks Department's website. Important note: If your child is age 1.5 to 5, you are required to be in the water with them during lessons (one caregiver per kid). Children absent from more than two consecutive lessons will be dropped from the class.
The winter swim session runs from January 4, 2020 through March 23, 2020 with a mandatory water test on Saturday, January 4. Registration opens at noon on Monday, December 16 and runs through Monday, December 23 at noon.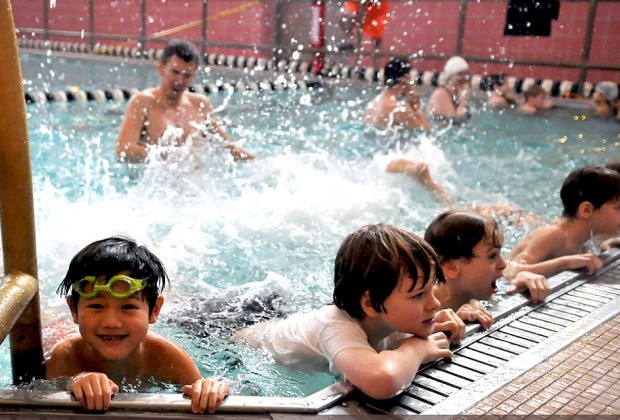 Line up for swimming with NYC Parks.
How to Register
Enter the online lottery for the session. Register separately for each child, and remember to submit only one application per child, since duplicates are automatically deleted from the lottery system. Winners are chosen at random, and the Parks Department will email you if selected.
Additional NYC Swim Sessions
The Parks Department offers swim lessons free of charge at indoor pools year-round. Below are the programs that are usually on offer. Locations and schedule info are available on the registration page. If you run into registration issues, call Citywide Aquatics at 718-760-6969 ext. 0.
Free Saturday Learn-to-Swim Lessons
All ages
FREE
Saturday learn-to-swim lessons are organized into three age groups: 1.5 to 5, 6 to 17, and everyone else. Children ages 1.5 to 5 must be accompanied in the water by an adult who is a member of the recreation center.
Free After School Learn-to-Swim Lessons
Ages 6-17
FREE
Indoor pools across the city offer swim classes for ages 6 and up after school on select weekdays, usually starting at 4pm.
Free Swim Team
Ages 6-18
FREE
More advanced swimmers can hone their skills by joining a competitive team. These sessions emphasize technique, endurance, speed, and sportsmanship as participants train for the Borough Cup Championship. Kids must be able to swim 50 yards in reasonably good form to try out, and are required to submit a completed application and a copy of their birth certificate. Online registration for the fall 2019 opens to all applicants on Monday, September 30 at noon, but returning members can register now. Tryouts take place on an ongoing basis once the application is received, and the swim team season runs from October 7 through December 31. Questions? Call Citywide Aquatics: 718-760-6969 ext. 0.
Free Adapted Aquatics Instruction*
All ages
FREE
This program for people with special physical needs offers adapted workouts for those suffering from ailments resulting from injury, disease or aging. It's offered at a handful of sites, and at outdoor pools during the summer. *Please note that the lottery dates and session times are slightly different than those posted above, so keep that in mind as you plan ahead. Call 718-760-6969 ext. 0 to register.
For more information about the Parks Department's swim programs, call 718-760-6969 or visit the website.
This article was originally published in 2009 but is updated every season.
Photos courtesy of NYC Parks