Free and Cheap After-School Programs in NYC for Kids and Teens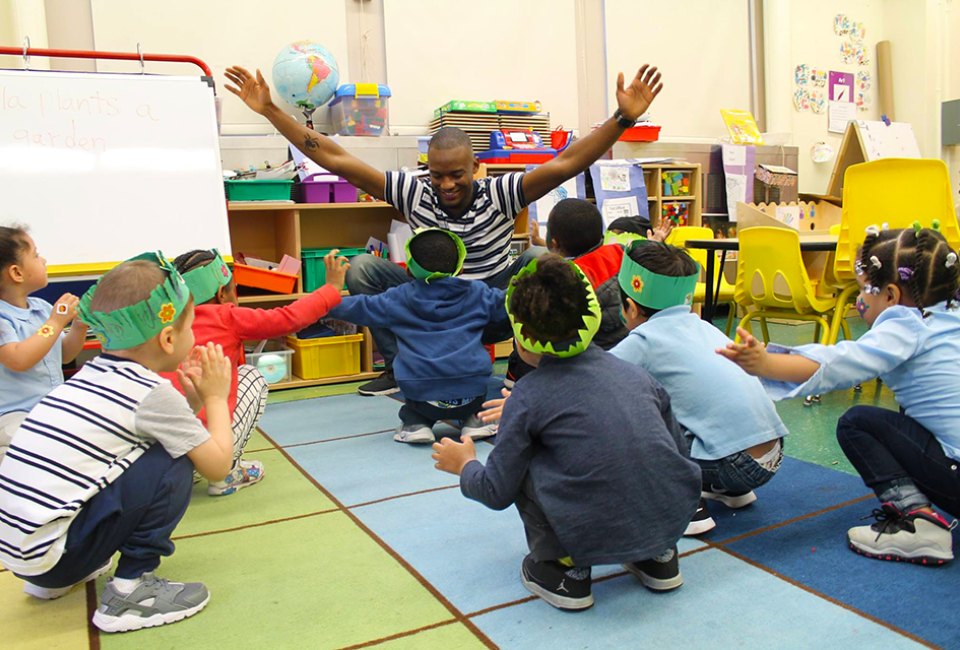 8/20/23
- By
Jody Mercier
After a summer of expensive entertainment, we could all use a great list of free and cheap after-school programs in NYC for kids!
The school year is barreling toward us and that means it's (past) time to start thinking about after-school programs, too. Families looking for reasonably priced, enriching, and even free after-school programs in New York City for kids have tons of sports, arts, academics, and other classes from which to choose. With offerings in Manhattan, the Bronx, Brooklyn, Harlem, and more, you're bound to find a great inexpensive or free after-school program for your kids, no matter their ages, interests, or where you live.
We've rounded up 15 local organizations offering free or cheap after-school programs for kids, tweens, and teens throughout the five boroughs. If you're looking for more options, be sure to see our New York City Classes for Kids Guide and use our directory to search for programs by age, interest, and neighborhood.
Subscribe to our newsletters to get stories like this delivered directly to your inbox.
Free and Cheap After-School Programs in NYC
1. The Children's Aid Society – Locations in the Bronx, Manhattan, and Staten Island
This nonprofit offers after-school programs at centers and public schools throughout the city, primarily in Staten Island, Harlem, Washington Heights, and the South Bronx. Monday through Friday, participants do art projects, play sports, use technology, and also learn leadership values. Tuition varies by location. Some locations are 100% free; others charge reasonable rates, and financial aid is available. Space is limited.
2. NYPL After School – Locations in the Bronx, Manhattan, and Staten Island
Kids ages 6-12 can hit select NYPL locations after school on Mondays through Thursdays to receive free homework help from tutors, work with teen reading ambassadors, and enjoy extra enrichment in everything from STEAM topics to writing. Snacks are available, too. Visit the website to find a location near you.
3. HEAF – Harlem
This program provides a host of after-school enrichment opportunities for middle and high school students, including test-prep help, aid with high school and college admissions, and more. Candidates must maintain a 70 average and have recommendations from teachers and school counselors to be considered. Students enter the program as sixth graders and receive support throughout the rest of their educational journey.
RELATED: Free Art and Theater Classes and Camps for NYC Teens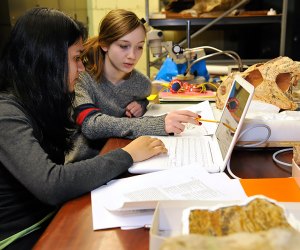 The American Museum of Natural History offers after-school classes and enrichment opportunities for middle and high schoolers. Photo courtesy of AMNH
Each school year, AMNH hosts a wide variety of after-school classes for middle school and high school students. Registration is currently open for a range of science enrichment classes around topics like mineralogy, anthropology, and biology. Financial aid and scholarships are available.
The Harlem-based youth program offers a full-service after-school program, including MMA lessons, tutoring, mentorship, and meals. Founded in 2019, HTB offers additional educational resources to underserved communities through a sports-based development approach. Kids can engage in a variety of stimulating ventures daily, including outdoor activities.
Members can hang out in one of the three clubhouses and get homework assistance, snacks, learn to swim, take music and art lessons, play sports, and more. Register online or in person at a specific clubhouse depending on your son's age. After-school program hours run from 2:30pm-8pm. Membership and programming are free.
This nonprofit provides free after-school programs at community centers and public schools. Contact the location nearest you for more information, including registration deadlines and how to apply.
Housed in a state-of-the-art, 35,000-square-foot facility in the heart of Alphabet City, the Lower East Side Girls Club caters to middle and high school girls who live or attend school in the area. Membership and programs are free, but family involvement is a must. On-site amenities include a maker shop, biology lab, sound studio, rooftop garden, culinary kitchen, and more. Girls participate in various programs meant to build "a just and equitable future filled with 'Joy. Power. Possibility' and where we 'Transform Self-Care into Community Care.'"
RELATED: Best Coding Classes and Camps for Kids in NYC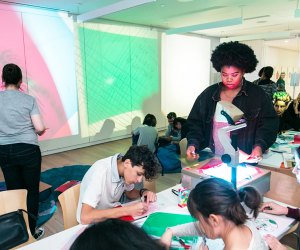 Teens can drop in at the Whitney on Friday afternoons for Open Studio. Photo by Spencer Yeh for the museum
The Whitney offers open studio time for teens on select Friday afternoons. Teens can bring their works in progress or create something entirely new inspired by current Whitney exhibitions. Teaching artists drop in on occasion, too, and this is a great pathway to the museum's other teen programs, including a cost-free summer camp and paid internships.
While not a full-time program, this chess program pairs young masters-in-training with seniors for an afternoon of gameplay. Actual chess masters are on hand to demonstrate moves, and refreshments are served. The program's application requires a virtual orientation session. Details for the upcoming school year are available online.
The NYJTL offers no-cost tennis lessons throughout the year in all five boroughs. Children may join at any location at any time during the season. Registration information will be online soon.
PAL offers after-school programs Monday through Friday from 3-6pm for students in kindergarten through eighth grades. Activities include sports, arts, and academics. Tuition varies by location. Contact the center of your choice for more detailed information.
While dates for 2023-24 have yet to be updated, you can count on this free Parks Department program to release details soon. Programs take place Monday through Friday from 3pm-6pm at recreation centers all over the city. In-person registration is first-come, first-served. Programs typically run from mid-September through early June.
Offering engaging after-school opportunities, the NYC Department of Youth & Community Development connects students with programs to attend during non-school hours. With local programs in all five boroughs including COMPASS NYC, SONYC, the Learn and Earn Program, and more, there is much to explore when searching for the right after-school program for your child.
The Creative Arts Team Youth Theatre runs a free program for middle and high school students. Participants do theater games and exercises, improvisation, scene work, and ultimately put on a show or two. No audition is required; students are admitted on a first-come, first-served basis.
Originally published in August 2011. Photos courtesy of the respective organizations
Click Here to Sign Up!
i