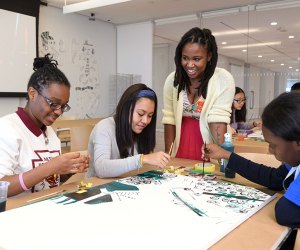 Free and Cheap After-School Programs for NYC Kids and Teens
Tis the season for after-school program enrollment. Families looking for reasonably priced enriching and fun programs for their children have tons of sports, arts, academics, and other kinds of classes to choose from. In fact, a handful of high-quality after-school programs are actually free or super inexpensive!
Some places, like the New York City Parks Department, offer after-school coverage Monday through Friday. Other programs like those found at the Children's Museum of Art (CMA) only meet once or twice a week. We've rounded up organizations that offer complimentary or reasonably priced classes to kids, tweens and teens throughout the five boroughs. Lots of the programs on this list have multiple enrollment periods per year. Check in with Mommy Poppins regularly to stay on top of enrollment options during the fall, winter, and spring.

The American Museum of Natural History offers free after-school classes. Photo courtesy of AMNH
American Museum of Natural History – Upper West Side
Each school year, the AMNH hosts a wide variety of FREE after-school classes for NYC high school students. Topics are as varied as the museum's collection. Session 1 registration is now open and the program runs through early November. Other sessions and registrations open throughout the year.
The Boys' Club of New York – Harlem, Flushing & Lower East Side
For just a $5 annual fee, members can hang out in one of the three clubhouses and get homework assistance, snacks, learn to swim, take music and art lessons, play sports, and more. Attendance is expected three days per week. Register in person at each clubhouse.
CAT Youth Theatre – Midtown West
The Creative Arts Team Youth Theatre runs a free program for middle and high school students. Participants do theater games and exercises, improvisation, scene work, and ultimately put on a show or two. No audition is required; students are admitted on a first-come, first-served basis.
The Children's Aid Society – Locations in the Bronx, Manhattan, and Staten Island
The nonprofit offers after-school programs at centers and public schools throughout the city. Monday through Friday, participants do art projects, play sports, use technology, and also learn leadership values. Tuition varies by location. Some locations are 100% free; others charge reasonable rates and financial aid is available. Registration must be done in person and space is limited.
Dorot Intergenerational Chess – Upper West Side
While not a full-time program, this chess program pairs young masters-in-training with seniors for an afternoon of game play. Actual chess masters are on hand to demonstrate moves and refreshments are served. Application requires a phone interview.
DREAM – East Harlem & the Bronx
Formerly Harlem RBI, this nonprofit runs after-school programs that go way beyond sports. Open to children ages 7-18, participants play and practice, but they also read books, and learn about team-building and conflict resolution. Find application information on the org's website.
GirlStories – Greenwich Village
GirlStories is a free 12-week after-school program that meets Fridays from 4-6:30pm. Girls and non-binary artists ages 12-15 are encouraged to bring their unique perspectives into fields lacking a female voice. The program empowers girls to become "makers and individuals," and focuses on the experience of being: an artist, a girl, a woman, and reflects upon the personal and universal situations women face.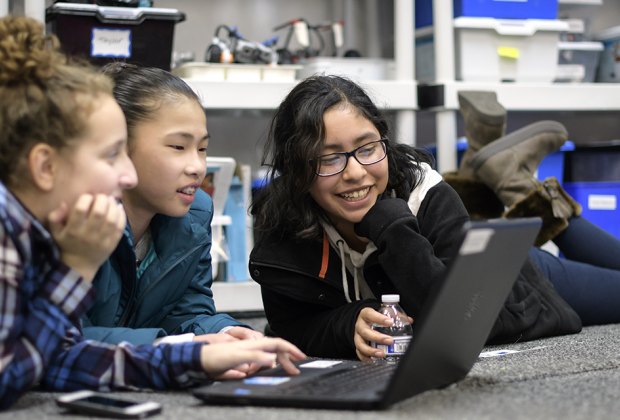 Girls Who Code runs free after-school classes. Photo courtesy of the organization
Girls Who Code – Locations Citywide
This well-known computer science org runs free after-school programming for elementary and middle school girls. Apply online to find a club near you, or find a STEM-focused mentor and help found one.
Good Shepherd Services – Brooklyn and the Bronx
This nonprofit provides FREE after-school programs at community centers and public schools. Contact the location nearest you for more information, including registration deadlines, and how to apply.
HEAF – Harlem
This new-to-the-scene program provides after-school enrichment opportunities for middle and high school students plus test-prep help, aid with high school and college admissions, and more. Candidates must maintain a 70 average and have recommendations from teachers and school counselors to be considered.
Lower East Side Girls Club – Lower East Side
Housed in a state of the art, 35,000-square-foot facility, in the heart of Alphabet City, the Lower East Side Girls Club caters to middle and high school girls who live or attend school in the area. Membership and programs are free, but family involvement is a must. On-site amenities include a maker shop, biology lab, sound studio, rooftop garden, culinary kitchen, and more. Girls participate in a variety of programs meant to "end the cycle of poverty by training the next generation of ethical, entrepreneurial, and environmental leaders."
New York City Department of Parks & Recreation – City Wide
Registration has already begun for the Parks Department's free after-school program, which runs Monday through Friday 3pm-6pm at recreation centers all over the city. Download application materials online and drop it off at the center of your choice. Registration is first-come, first-served.
New York Junior Tennis League – City Wide
The NYJTL offers no-cost tennis lessons throughout the year in all five boroughs. Children may join at any location at any time during the season, however families must register in person with their kids.
New York's Public Library Systems
Many branches of New York Public Library, which comprises Manhattan, Staten Island and the Bronx, the Queens Library and the Brooklyn Public Library offer programs for children at least once a week.
Police Athletic League – Locations Citywide
PAL offers after-school programs Monday through Friday from 3-6pm for students in first through eighth grades. Activities include sports, arts, and academics. Tuition varies by location. Contact the center of your choice for more detailed information.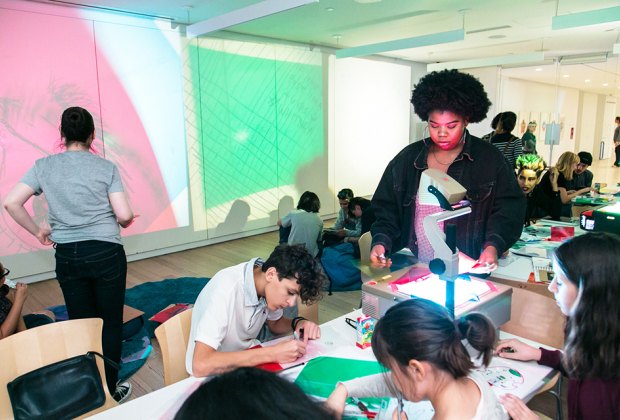 Teens can drop-in to the Whitney on Friday afternoons for Open Studio. Photo by Spencer Yeh for the museum
Whitney's Open Studio for Teens – Chelsea
The Whitney offers open studio time for teens each Friday afternoon. Pick up where you left off last week, or start an entirely new project. Teaching artists drop in on occasion, too, and this is a great pathway to the museum's other teen programs, including a cost-free summer camp and paid internships.
For more free and cheap after-school options, visit this comprehensive list on Inside Schools or check out our Classes Guide.
A version of this story was originally published in August 2011; it has been updated for 2019.