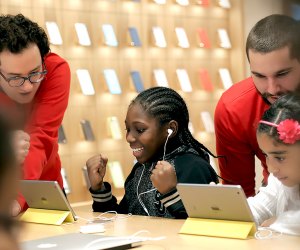 Where to Find Free Classes for Kids at NYC Stores and Public Spaces
We'll just say it: Raising a kid is expensive. Weekend classes, summer camp, after-school care, and dance and music lessons can add up. And let's face it, as New Yorkers, we're most likely paying much more than the average parent.
That's why we've rounded up more than a dozen FREE classes that run year-round in NYC to lighten the financial load. All the classes listed here are within free-to-access stores and public places, but there are also plenty of free and low-cost activities inside NYC museums and gardens that have monthly memberships. Don't forget your IDNYC card will give you free or discounted access to many cultural institutions.
Check out our Free in NYC Guide for more budget-friendly family fun.
Stores & Museums With Free Classes
Apple Stores — Various Locations
Sure, we're all trying to get our kids away from screentime. But sometimes a little screen can be educational, especially at a time when even preschoolers are learning to code. At the Apple Store, kids can code with Star Wars droids, create music, and program robots.
Disney Store — Times Square
Every morning, a special kid is invited to help open the store. But that's just the beginning. Inside, classes have included trivia events, animation and drawing demonstrations, and magical story times.
OUR LATEST VIDEOS
Home Depot — Various Locations
Who would have guessed a hardware store would also offer kids classes? But, it's true: Your local Home Depot most likely offers creative, hands-on classes for kids. Upcoming events include a Heart String Art Workshop, where kids can build and decorate heart art for Valentine's Day.
RELATED: Free Times to Visit NYC Museums, Gardens, and Zoos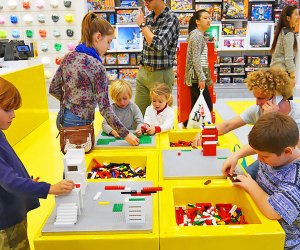 Join a workshop at the Lego store. Photo courtesy of Lego
Lego Store — Various Locations
This builder's dream destination offers free workshop for children ages 6–14 at four locations within the five boroughs (Flatiron, Rockefeller Center, Queens Center Mall, and the Staten Island Mall). Demonstrations and events vary—the flagship store in Flatiron offers workshops for VIP members (no charge to join) where children can build mini creations and take them home for free!
Michael's — Various Locations
An arts and crafts chain with NYC locations in Brooklyn, Queens, Staten Island, and Manhattan, Michael's offers frequent free MAKE Break classes for kids (and adults!), as well as weekly Kids Club crafting sessions for $2 per class, plus extra in-store kids' crafting classes during the summer when school's out. With guidance and demos by experienced crafters, kids work either on their own or with family members on painting, crochet, knitting, and paper crafts.
RELATED: Museums Where Your NYC Library Card Gets You in FREE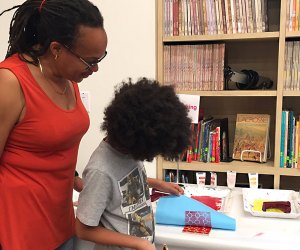 Free hands-on classes and storytimes are offered at the National Museum of the American Indian. Photo courtesy of NMAI
National Museum of the American Indian — Battery Park
This free-entry museum is a pleasure to visit any day, but for some extra fun, check the calendar for family events. This year, you'll find storytimes and the imagiNATIONS Activity Center where kids get hands-on and learn about indigenous innovations.
Whole Foods — Various Locations
Get those kids off the couch and into the kitchen with the help of some cooking classes hosted by Whole Foods. These classes introduce healthy eating and some basic skills for free. Not every location offers classes so check in with your local Whole Foods for details. You'll also find free sing-alongs for kids at certain locations.
City Services With Free Classes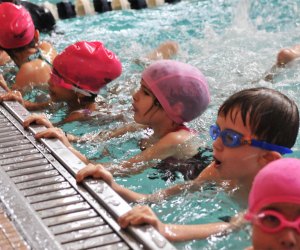 New York City Parks Department offers free swim lessons throughout the year. Photo courtesy of NYC Parks
New York City Parks Department Swimming Pools — Various Locations
Indoor pools make for some great exercise away from the cold. Year-round FREE swim lessons are offered through the NYC Parks Department, but you have to register in advance. Ages range from parent-and-baby to teens.
New York City Parks Department Sports — Various Locations
Beyond swimming, the NYC Parks Department also offers free sports, including basketball, baseball, soccer, tennis, and much more year-round citywide. Check out its website for registration dates and details. The summer is also a great time to enjoy free sports lessons across the city.
New York City Parks Department After-School Care — Various Locations
Each August, parents scramble to sign up for the Parks' FREE after-school programs that are run at seven recreation centers spread throughout the five boroughs. Staff provide academic enrichment, supervised use of computer labs and healthy snacks, while also leading students in team-building activities, sports, arts, and cultural programs.
New York Public Library — Various locations
Libraries all over NYC are a great resource for free recurring classes, but a visit to the famous Schwarzman Building makes for a great day trip as well. Sure, there's storytime for multiple age groups in many languages, but this main library location also offers crafting and dance, perfect for kids ages 6 and up. You'll also find FREE classes, from tutoring to Minecraft to family concerts at other library branches big and small.
Parks With Free Classes
Bryant Park — Midtown
WIth ice skating in the winter and free movies and more activities in the summer, Bryant Park is a city favorite. The 2020 calendar includes live music, juggling, dance, sports, and yoga.
Central Park — Midtown
Already a wonder to stroll through and play in, Central Park offers a plethora of FREE activities and classes for kids. The park provides discovery walks and plenty of space for recreation including baeball, soccer, softball and basketball and handball courts, plus catch-and-release fishing with poles and bait provided gratis, and so much more. There are also programs for checkers, dominoes, backgammon, and, of course, chess.
You'll also find FREE year-round, family programming at most NYC parks, including Prospect Park, Brooklyn Bridge Park, Flushing Meadows Corona Park, and even The High Line.
Socrates Sculpture Park — Long Island City, Queens
Nestled on the shore of the East River, with an amazing view of Manhattan, sits the serene, free Socrates Sculpture Park. Every summer, the park offers camps, Saturday drop-in workshops, and storytimes.
A version of this story was published in 2018; it is updated yearly. Katie Nave Freeman contributed additional reporting.