Midtown Gets Spectacular New NYPL Branch With Rooftop Reading Room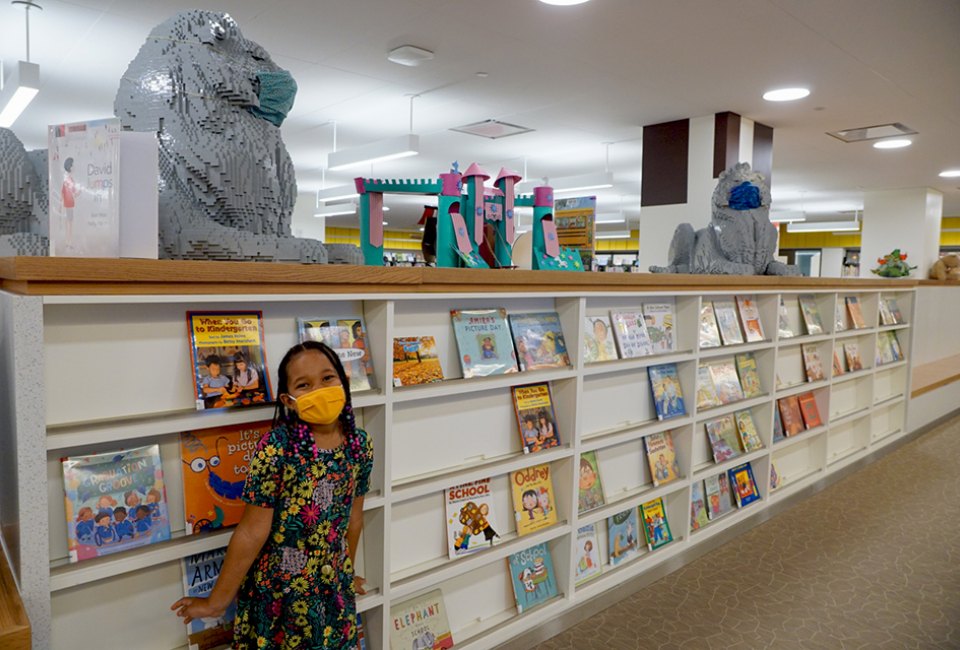 9/20/21
- By
Jody Mercier
You won't find Manhattan's newest, coolest rooftop hang out at a swanky eatery. Instead, this cool view comes at no cost, atop the newest NYPL. A trip to the library has never been so cool as it is with a visit to the newly remodeled Stavros Niarchos Foundation branch. Housed in the old Mid-Manhattan Library Building, and catty-corner from the main NYPL branch's Stephen A. Schwarzman Building, this completely reimagined space houses 400,000 books spread over eight floors. Enviable features include the aforementioned alfresco reading room overlooking Fifth Avenue and spectacular new spaces for children and teens. Add in some inventive programming, and this new library is sure to land on our list of NYC libraries with great play spaces and children's rooms.
Read on to learn more about all the services offered at this NYPL branch.
Visitors who remember the old Mid-Manhattan Library are likely to be wowed by the renovation, which cost $200 million and officially debuted to the public at the beginning of June. Gone are the cramped, claustrophobic stacks of books, the '70s-era drop ceilings, and the harsh fluorescent lighting. Instead, it's been replaced by an airy, light-filled space, well-appointed with funky artwork, tons of seating, and plenty of comfortable places to lounge.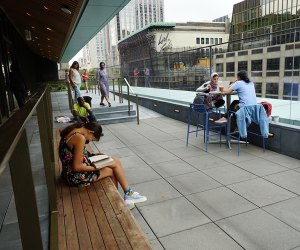 Tables, benches, shade, and sunshine all await on the seventh-floor roof deck at the Stavros Niarchos Foundation Library.
Upon arrival, we beelined it for the seventh-floor rooftop terrace, where tables and benches dot the perimeter and plenty of guests lounged with books, laptops, and snacks from the Amy's Bread Cafe located just inside the doors. Flowers and trees punctuate the space making for a cool escape above the fray of Fifth Avenue's busy sidewalks below. It's the only free, publicly accessible rooftop terrace in the area.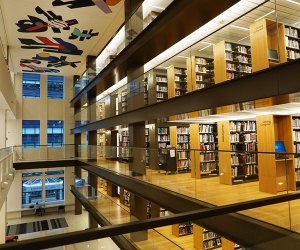 Peruse stacks and stacks of books at the largest circulating library in the NYPL system.
On the interior, a 42-foot-high atrium punctuates the main library floors, offering five levels of stacks for browsing around its edges, while each main floor is flooded with light and filled with plenty of seating. A business center and adult learning center each take up considerable real estate on the upper floors.
Kids were not left out in the reinvention, though. Formerly, the branch was devoid of a dedicated space for young readers. Now, the ground level, previously dedicated to storage, has been completely reimagined as a 26,000-square-foot space split between a Children's Center and a Teen Center. Much to my middle schooler's delight, the latter is adorned with a "No unattended adults" sign, making it perfectly clear who this space is intended for.
RELATED: 30 Rainy Day Activities in New York City for Kids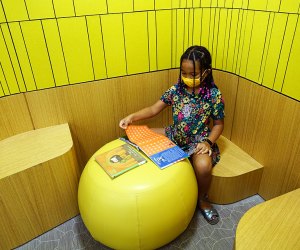 Tuck into a colorful, comfy nook to read your selections before checking out.
Indeed, much of the children's programming, which was run out of the main Stephen A. Schwarzman Building in the past, will now be relocated to this space. Despite it's below street grade, like the rest of the branch, the Children's Center and Teen Center are bright, colorful, and welcoming.
Child-sized furniture dots the children's section, and we had lots of fun ducking into a bright yellow corner nook for a private story time during our visit. There are a few toys—and we'd expect more as public health conditions allow—and plenty of kid-sized bookshelves teeming with selections, plus plenty of computers at kid-sized desks for young visitors to use.
RELATED: 15 Teen Activities For New York City's Ultra-Cool Big Kids

The Teen Center has recording booths—and programming to teach kids how to use them!
The Teen Center includes a recording studio and media lab, plus study rooms and programs meant to provide everything from academic support to college counseling, job search resources, and life skills. Study rooms can be booked for use for group projects, tutoring sessions, and more—all for free.
The Stavros Niarchos Foundation Library is now open daily. Bookmark its calendar to stay on top of programming offerings. Keep in mind: Masks are required for all visitors ages 2+ inside the library.
Photos by the author
Places featured in this article:
---
Stavros Niarchos Foundation Library
Click Here to Sign Up!
i