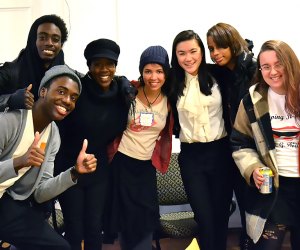 16 Teen Activities For New York City's Ultra-Cool Big Kids
It can be tough to be a teen in New York City. They're too old to want the 'rents (that's you, mom and dad) to accompany them everywhere, but many destinations don't allow adolescents without adult supervision. If your high schooler's idea of a night on the town has been reduced to hanging with friends and watching Netflix, help them mix it up by sharing this roundup of 16 sweet drop-in teen activities they can do on their own, a few of which were created by NYC teens. Worried your teen never listens to you? Print this list out and leave it for them to find—perhaps they'll like these ideas better if you don't tell them to go out and try them.
Bonus: Many of these teen activities are FREE or inexpensive, so you won't have to raise their allowance. Find more teen activities in our Teen and Tweens Guide to NYC and our jam-packed Event Calendar.

The Whitney is one of many NYC museums hosting free, teen-only shindigs. Photo by Filip Wolak
1. Check Out Teen Nights at Local Museums
While most NYC museums (save for the Museum of Sex) are great destinations for teens, especially during FREE visiting hours, a few go out of their way to appeal to adolescents by hosting special teen nights—no adults or kid siblings allowed. These FREE gatherings are organized with input from teens and feature age-appropriate art projects, immersive multidisciplinary experiences, DJs, and dancing. The Metropolitan Museum, the Museum of Arts and Design, and The Frick have annual teen nights. Meanwhile, the Brooklyn Museum and the Whitney host more frequent teen events, often organized by peers. It's worth checking the museums' respective calendars since they all offer regular programs for teens, like sketching, open art studios, and movie nights, most are FREE or included with admission.
2. Enjoy Live Culture on the Cheap
ArtsConnection's High 5 Tickets to the Arts program for NYC middle and high school students allows them to buy up to two tickets per show for just $5 each. No, you won't find Hamilton or any Broadway shows on here, but teens can snag seats to excellent offerings at venues like the New York Philharmonic, BAM, and the 92nd Street Y, plus museum passes. ArtsConnection also hosts teen events, like its FREE monthly Pizza and a Movie Nights. If your teen wants Broadway tickets, high schoolers can apply for a Theatre Development Fund membership, which comes with access to deeply discounted seats for theater, music, and dance performances (though they're more than five bucks per person).
RELATED: Summer Internships for NYC Teens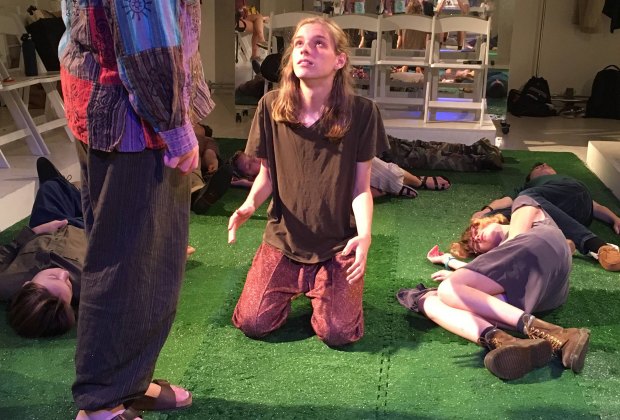 Firebird Youth Theater is an award-winning theater company that is entirely teen-run and teen-directed. Photo courtesy of the theater
3. Star in Theater For Teens, by Teens
If your teen is more interested in getting on stage rather than watching from the audience, check out the Firebird Youth Theater. Founded in 2013 by a committed group of talented NYC teens, the award-winning company presents one full-fledged, off-Broadway production a year, starring and directed by youngsters. Past productions include adaptations of Alice in Wonderland, Treasure Island, and Romeo + Juliet. Teens interested in getting involved can register for the summer intensives, which culminate in a five-show, off-Broadway run.
4. Attend an All-Ages Open Mic Night
All of the shows at the venerable Nuyorican Poets Café in the East Village are open to all ages, which means, of course, plenty of adult language but probably nothing that will scare a teen off. Best known for its spoken-word performances, the Nuyo (as regulars call it) also presents concerts, theater, exhibits, and live experiences that defy easy description. When teens check the calendar to see which events appeal, they'll notice that there are frequent and inexpensive open mics, and while they attract mostly grown-ups, teens are welcome to participate (they just can't drink at the bar). Sound too daunting? Keep an eye out for teens-only open mics organized by educational nonprofit Writopia Lab. They're an ideal way for aspiring slammers to start showing off their skills.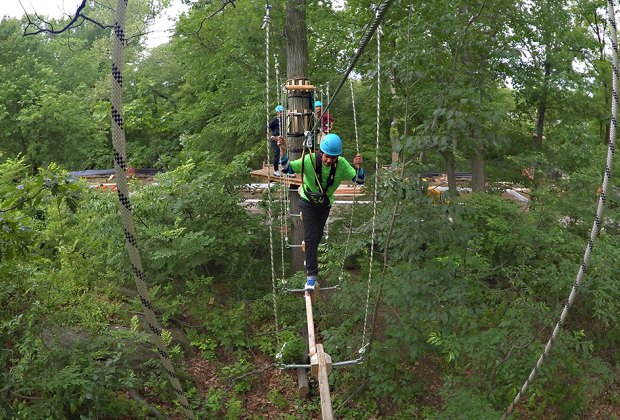 You've seen the birds, now get a bird's eye view. The Bronx Zoo Treetop Adventure is waiting! Photo by Julie Larsen Maher
5. Soar Across a Zip-Line in the City
Not too long ago, you had to leave the five boroughs to go zip-lining. But these days, there are three seasonal zip lines in NYC: Queens' Alley Pond Park Adventure Course, Adventures at Governors Island, and the Bronx Zoo Treetop Adventure. For teens, the latter is the best destination since its two side-by-side zip lines are the longest and highest—50 feet in the air spanning 400 feet across the Bronx River and back. Plus, there are seven suspended ropes courses that challenge you to swing from tree to tree, encountering obstacles and chills along the way. The one downside: While teens can tackle these thrilling activities on their own, an adult must be present on-site at all times to supervise and sign the necessary waivers, so don't send the kids alone!
RELATED: Coding for Kids: Free Websites That Teach Programming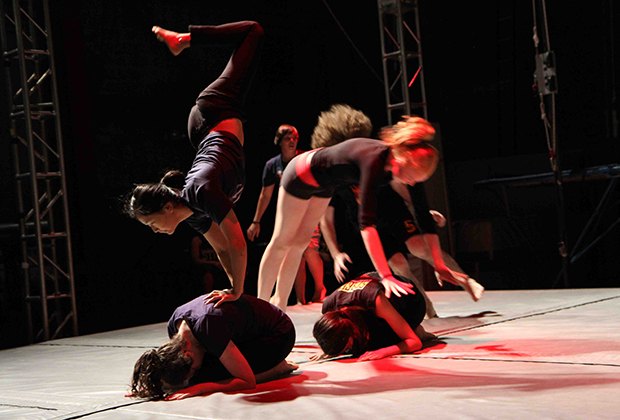 Test out the flying trapeze or "Popaction" moves with a drop-in session at Streb's Teen Action Club. Photo courtesy of Streb
6. Attend a Teen Circus Meet-Up
While there are lots of fantastic, ongoing circus and trapeze classes for NYC kids, most require a commitment and a lot of cash. That's what makes Streb's drop-in Teen Action Club so unique. For $15, kids ages 13-17 can hit the Williamsburg studio to try the flying trapeze, tightrope, various aerial arts, and learn the acrobatic dance company's signature "Popaction" moves. The 2½-hour sessions take place once a month on a Saturday night, and all skill levels are welcome. Note: A signed parental waiver is required, so email info@streb.org to ask for one in advance.
7. Chill at a YMCA Teen Center
Families already know the city's many YMCAs offer classes and programs for all ages. But did you know that approximately 30 local branches have Teen Centers where high schoolers can go to play pool, Ping-Pong, video games, a variety of sports, make art, learn computer coding, get homework help and college application assistance, or hang out with their peers under the watchful eye of understanding adults? Well, it's true, and it's FREE, too. Contact your local branch to find out about specific Teen Center hours and offerings, as they vary by location. Registration usually has to be done in person with a parent or guardian present.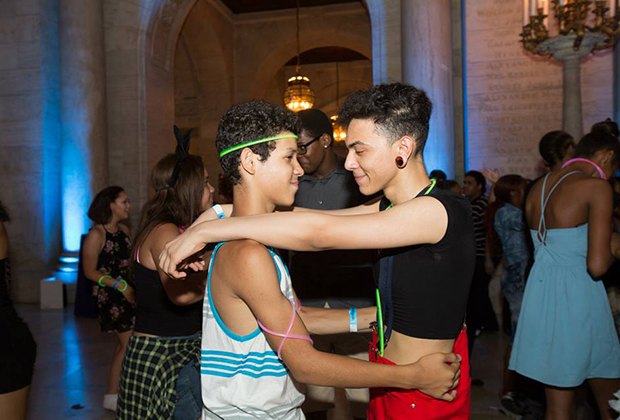 The New York Public Library's annual Anti-Prom attracts a crowd. Photo courtesy of the NYPL.
8. Go Beyond the Stacks at the Library
Many branches in NYC's three library systems—the New York Public Library in Manhattan, the Bronx, and Staten Island; the Queens Library; and the Brooklyn Public Library—host FREE classes and programs just for teens regularly. They range from the casual, like movie screenings, clubs, and homework help, to big special events like NYPL's popular and FREE Anti-Prom every June, which always has a wild lit theme and edgy entertainment. Even if your teen hasn't been to the library in years, it's worth perusing the calendar of your local branch to see what it offers for adolescents. All three systems have teen-centric info pages on their respective websites.
9. Cruise a Serious Skatepark
Obviously, teens can hang in any of NYC's myriad parks and maybe even a big-kid friendly playground. But for teens who like to Rollerblade or skateboard, NYC's many outdoor skateparks are a great option. They're all FREE and filled with teens and young adults—you rarely see anyone under 10 or over 30. Note that officially, all public skateparks require a signed parental waiver, plus protective gear like helmets, knee and elbow pads, and wrist guards for anyone under age 18. That said, we've seen many New York City teens skating without any of that, so make sure you go over your own rules with your kids before they head out. With a little planning and a parental escort, teens can check out the new Vans Skatepark Space 198 in East Williamsburg. It requires an Event Brite RSVP and an adult must accompany all those under age 18.
10. Go Bowling and Beyond
There are a lot of bowling alleys in NYC that welcome teens. But the state-of-the-art Bowlmor Chelsea Piers offers so much more, including a 3,000-square-foot, NYC-themed laser tag arena featuring replicas of landmarks like the Washington Square Park Arch and the Statue of Liberty, an aerial ropes course, plus Ping-Pong and arcade games. Teens are welcome until 8pm when it becomes 21 and over. Warning: They'll most likely blow an entire month's allowance here.
11. Enter Another Dimension
Everyday reality in NYC can be pretty crazy. But at VR World NYC—the largest virtual reality experience center in the country—teens can cross over to the truly wild side. Located in Midtown East and spread over three floors, this destination is a 21st-century arcade with a wide variety of cutting-edge immersive "games," from the athletic (rock climbing and working out) to the artistic (physics-defying painting, interactive music videos), to heart-pumping action (a zombie survival tutorial, space pirates training). Yes, there's a bit of a tourist vibe, and it does not come cheap. But you could unleash the teens here all day, and even take away their regular screens since it's hard to check Snapchat when you're wearing an Oculus headset. Another nearby option: Escape Virtuality, which offers both escape room experiences and VR games. Brooklyn teens can check out VR Bar.
RELATED: Laser Tag Arenas in NYC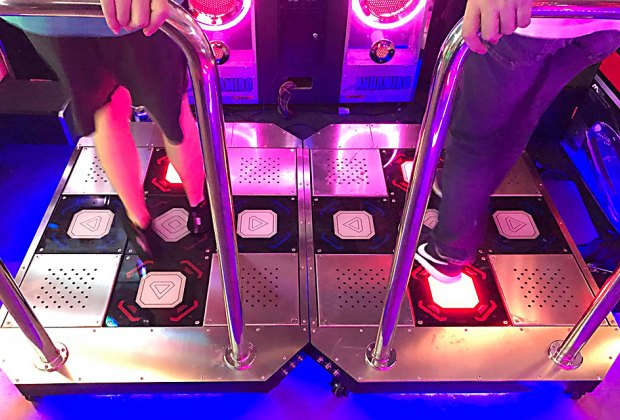 Teens will dig the old-school vibe of the Chinatown Fair arcade. Photo courtesy of Chinatown Fair
12. Play Old-School Video Games at an Arcade
Back when I was a teen, there were arcades all over the city where I could play Pac-Man. These days, there seem to be more gaming bars, and teens can't go to those. However, there are a few old-school video game havens that are great for minors, so tell them to skip Times Square's touristy Dave & Buster's and head down to Chinatown Fair. Overhauled in 2012, this longtime arcade is bursting with teens who seem to love its slightly seedy vibe, and games like Ultra Street Fighter, Dance Dance Revolution, and pop-a-shot. If your teens are more into pinball, Modern Pinball boasts more than 30 different machines, from restored classics to newfangled releases.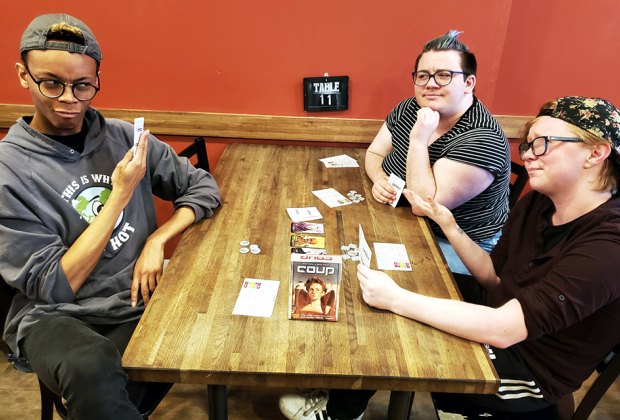 Meet new people, think, strategize and...interact through board games! Photo courtesy of The Brooklyn Strategist
13. Go Analog at a Board Game Cafe
Want to make the teens ditch the screens altogether? Send them to a board game cafe. There are tons within the five boroughs, and the list is growing all the time. The Brooklyn Strategist hosts workshops in everything from chess to Dungeons & Dragons, as well as drop-in open-play sessions for an hourly fee. Gamestoria boasts a full calendar of collaborative games, too. The Uncommons cafe in Greenwich Village lets you choose from a vast on-site collection. And the Upper West Side has Hex&Co. There's also Brooklyn Game Lab, which has a trio of locations. Though most events require membership, its Park Slope location offers a monthly teen pass that gets your kid plenty of gameplay on Saturdays. Tribeca teens enjoy dedicated big-kid hours on Tuesdays and Saturdays.
14. Visit a Cool Pool Hall
While not all NYC pool halls are kid-friendly, we rounded up five that welcome families. Eastside Billiards on the Upper East Side lets kids over age 12 to visit on their own during daytime hours, and also offers Ping-Pong, Foosball, and Skee-ball. Chances are if your teen is well-behaved and looks fairly mature, they won't be questioned at any of these billiard spots.
15. Get Physical With Parkour or Rock Climbing
If your teen has ever wanted to try parkour, in which participants treat our city as one big obstacle course, NY Parkour Academy offers outdoor beginner sessions for ages 15 and up. It's challenging, exhilarating, and admittedly dangerous to try on your own (just Google "parkour fails" and you'll see what we mean), but the pros at NY Parkour put safety first in their classes, which are held on Sunday afternoons in the East River Amphitheater on the Lower East Side. No long-term commitment is necessary, just show up at the specified time with $20 for two hours of training. If your kid would prefer to climb walls instead of hopping over them, consider sending them to one of these kid-friendly rock-climbing spots. Those that are particularly teen-friendly include Brooklyn Boulders Teen Academy and Steep Rock Bouldering's two Harlem locations.
16. Embark on a Coney Island Adventure
Chinatown, the East Village, Dumbo—NYC is filled with fascinating neighborhoods to explore. But if we have to pick the best area for teens to check out, it's Coney Island. Its warm-weather attractions are adolescent catnip—the beach, the thrilling amusement park rides, the Coney Island Circus Sideshow, the glorious junk food. But it's an intriguing destination even in the off-season, especially if you add nearby Russian enclave Brighton Beach to your itinerary. It's like taking a trip to another country for the price of a MetroCard swipe.
A version of this article was first published in March 2016, but it has since been updated. Sonia Gonzalez contributed additional reporting.