New York Ninja Academy in Midtown Lets Kids Live Out Ninja Warrior Dreams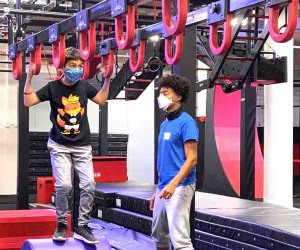 11/5/20
- By
Jody Mercier
Fans of the uber-popular American Ninja Warrior television show have a brand new place to play and train. New York Ninja Academy recently opened in Midtown West, bringing with it a state-of-the-art gym offering classes for kids and adults and giving visitors a chance to experience the challenging obstacles the ninja warrior movement has made famous.
Hiding behind a roll-up garage door on unassuming West 55th Street, this unexpected addition to the kid scene aims to challenge kids physically and mentally, building skills far beyond physical strength. Read on for our review of this new action-packed ninja gym and find more spots to entertain active kids in our Guide to Sports Centers, Gyms, and Fun Zones.
Editor's Note: While we are trying to promote safer activities that occur outdoors or with social distancing guidelines in place, please keep your family and others safe by always wearing a mask and maintaining an appropriate distance. If you arrive at an event that appears too crowded, try using the "nearby" search feature on our Event Calendar to find something else to do.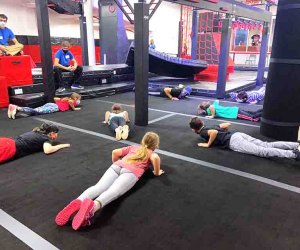 All ninja classes begin with a warmup to get kids ready to conquer challenging obstacles.
Opening a new indoor attraction for kids during the height of the pandemic is a challenging feat in itself, but New York Ninja Academy put safety front and center from the outset of our class. Enthusiastic coaches greeted our ninjas-in-training with a pump of hand sanitizer, a cool souvenir rubber bracelet, and assigned each a number before turning them loose on the gym floor. Each child's number corresponded to a marker in the warmup area; staying on their numbered spots ensured social distancing was followed. All participants must wear masks during warmup and cool down, and while masks can be removed during training, everyone is encouraged to keep them on during their entire visit to the gym. Coaches and staff wear masks at all times, too.
Our 45-minute class kicked off with a warmup. Coaches guided the kids through stretches that got progressively harder from one exercise to the next. Trying to balance in a pushup position on only one arm and one leg was entertaining for both the little ninjas and parent spectators!
RELATED: Adventure Parks, Zip Lines, and Ropes Courses Near NYC

Encouraging coaches cheer kids on as they conquer obstacles like the spider wall.
Once their muscles were primed for action, it was a mad dash for the obstacle course. Kids took their turns at conquering the swinging rings and warped wall they had seen on TV—and different sized walls allowed for just-right challenges for big and little kids. With each new obstacle, the coaches stood by to supervise and encourage kids along the course and motivate them to improve their performance. Indeed, goal-setting and conquering are integral to the New York Ninja Academy program.
Obstacles change regularly to ensure every visit to the New York Ninja Academy brings with it a new challenge.
RELATED: Rock Climbing Walls For Kids in New York City

The swinging rings are a thrilling obstacle at New York Ninja Academy.
Class ended with another period of stretching, plus deep breathing—and a strong desire to return to the ninja gym again soon. The kids caught the ninja bug and were ready to take on serious training.
New York Ninja Academy plans to offer semester-long classes for kids ages 5-14, and registration is currently open for its first session, which runs through January 2021. Adults can get in on the action, too, with sessions offered six nights a week. Adults can register for a single drop-in class or set up a monthly membership. Private training sessions can also be booked.
If you're looking for a unique celebration for your child's next birthday, New York Ninja Academy offers a party package that includes one hour on the gym floor, plus 30 minutes in the party room. Plans for summer camps are also in the works.
Know Before You Go
New York Ninja Academy is compliant with all New York Forward Guidelines and has instituted strict capacity guidelines, plus thorough sanitation between classes. The HVAC system is outfitted with HEPA filters, and the garage door can be opened on fair weather days to increase air circulation.
When we visited, obstacles were sanitized after every three children.
Ninjas should come dressed for active play: shorts, sweat pants, T-shirts, or tank tops are recommended. Sneakers with soft rubber soles and minimal tread are best for ninja obstacles. Long hair must be tied back.
Because of the pandemic, spectators are discouraged; if you prefer to stay, only one adult is allowed into the facility per child. Parents must watch from the sidelines.
Temperature checks are required for all visitors.
The water fountain is currently not in use, and ninjas should bring their own water.
Additional reporting and all photos by Sara M.