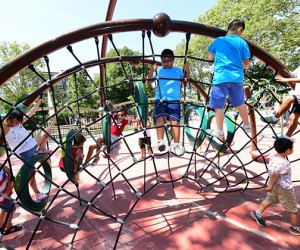 Brooklyn Playgrounds Cool Enough for Your Big Kids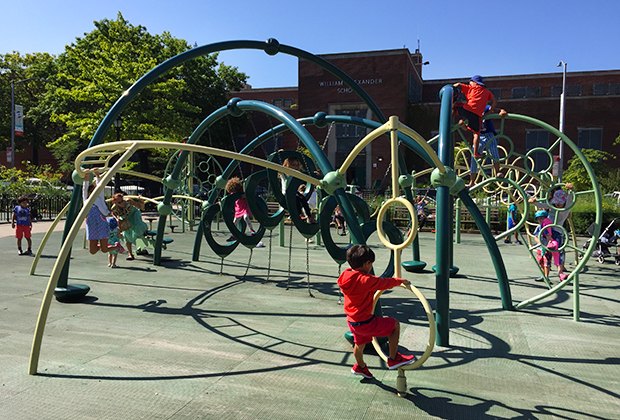 The climbing rings at J.J. Byrne Playground always attract big kids. Photo by the author
J.J. Byrne Playground — Park Slope
Older children will find a row of big-kid swings and lots of fun things to play on here, including large rings to climb through and a bouncy see-saw-like structure to walk and jump on. When they tire of the play equipment, they can head over to the Astroturf field on the other side of the playground to run, throw the Frisbee, or even ride their scooters.
Albert J. Parham Playground — Fort Greene
You'll find play structures, big-kid swings, and, during the summer, a 3-foot-deep swimming pool.
RELATED: Prospect Park's Top Playgrounds, Ranked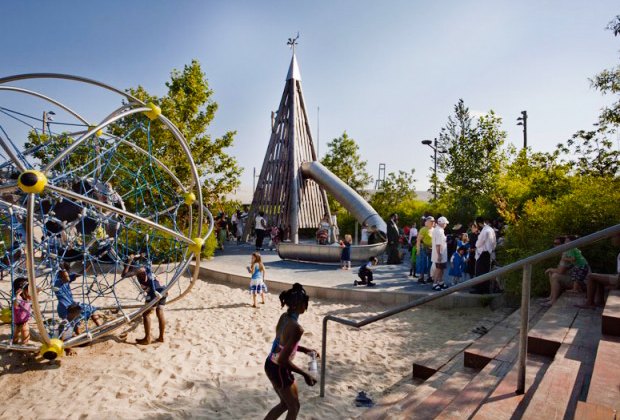 Big slides and big climbing options are a hit at the Pier 6 Playground. Photo courtesy of BBP
Pier 6 Playground — Brooklyn Bridge Park
The steep, fast, two-story slides, including one that starts out as a tunnel, along with the rope-style swings, climbing structure, and summertime water park, make this a standout favorite for big kids.
Vincent V. Abate Playground — Williamsburg
Kids will love the big-kid swings and play structures in this popular playground, and when they get bored with swinging and climbing, there's the rest of McCarren Park to explore.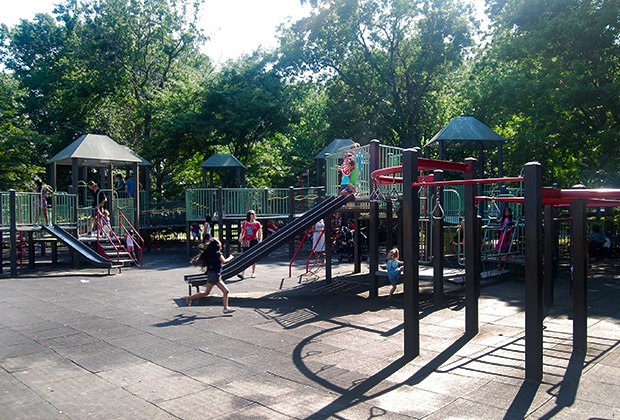 Harmony Playground offers big kid swings and jungle gym challenges. Photo by the author
Harmony Playground — Prospect Park
Located behind the Prospect Park bandshell, this playground has a row of eight big-kid swings and a huge jungle gym complex with ladders, slides, bridges, rings, and a suspended footbridge.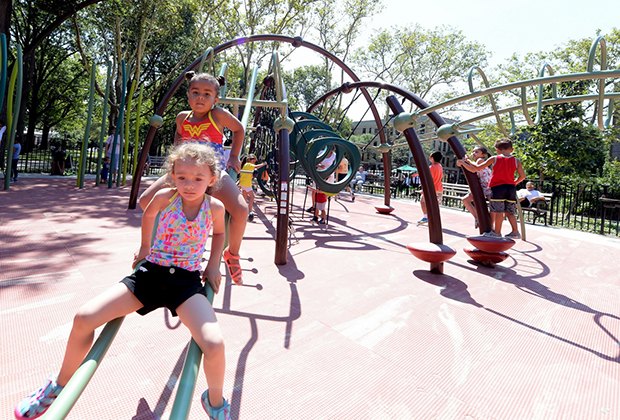 Sunset Playground's revamp is a hit with all ages. Photo by Malcolm Pinckney for NYC Parks
Sunset Park Playground — Sunset Park
After a $3 million renovation, this refurbished playground reopened in the summer of 2017, to the delight of the neighborhood. Big kids will love the swings and updated climbing structures that are similar to those at J.J. Byrne.
Owl's Head Park — Bay Ridge
Big kids will like the climbing equipment and slides at this playground, and if you have a little skater (or BMX biker) who wants a place to practice, Owl's Head has one of NYC's eight skate parks.
RELATED: Brooklyn Bridge Park: 30 Fun Things to Do with Kids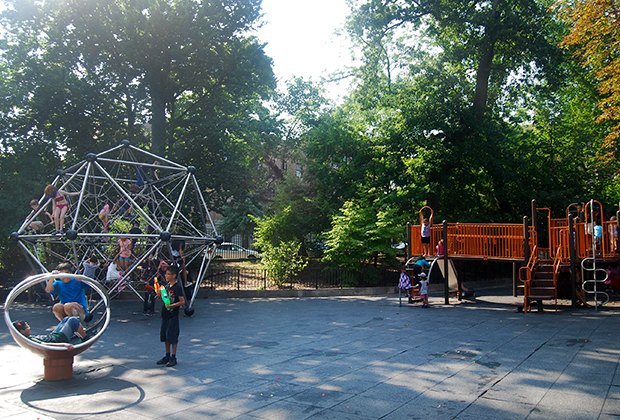 Tunnels, slides, and climbing make Vanderbilt Playground popular. Photo by the author
Vanderbilt Playground — Prospect Park
This playground near Prospect Park Lake has a large climbing hexagon for big kids, along with a spinning structure and a jungle gym with tunnels, slides, ladders, monkey bars, and ropes to walk on. The downside is that there are no big-kid swings.
Lincoln Road Playground — Prospect Park
This has a huge jungle gym for older kids with multiple slides, monkey bars, bridges, rings, and other fun features. There's also a tire swing, but no regular big-kid swings.
Domino Park — Williamsburg
With a design inspired by the old Domino Sugar factory, this playground offers three big-kid-friendly play structures: an elevated cabin, towering silo, and centrifuge container. It features ramps, tunnels, "conveyor belts," catwalks, a climbing cage, and stainless-steel slides.
A version of this post was published in 2017; it has been updated for 2019. Katie Nave Freeman contributed additional reporting.