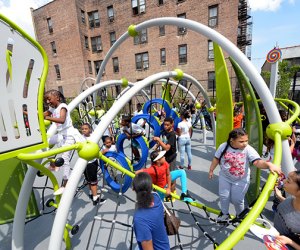 6 New Playgrounds in NYC You Gotta See This Fall
Summer may be coming to an end, but the crisp weather of fall is a great time to get out and explore your local park in New York City. Even better, check out a new playground—and with the recent influx of capital dollars, all five boroughs are boasting freshly renovated play spots begging to be explored during your next outdoor adventure.
We've rounded up six completely revamped playgrounds that reopened during the past six months, plus another handful to be revealed before we ring in the new year. So grab those sneakers and get ready to explore one of these shiny new play spots. You can always find more of our favorite playgrounds in our NYC guide.
Want to take full advantage of the season? Check out our Fall Fun Guide for NYC Families.
Glenwood Playground — Canarsie, Brooklyn
Ralph Avenue & Farragut Road
Brooklynites with young athletes on their hands will appreciate Glenwood Playground's $2.5 million overall, completed in early June, which transformed the old asphalt recreation area into a multipurpose sports area. A synthetic turf field begs for ball games, complete with a misting post to cool down overheated kiddos. There are new handball and hoops courts, plus an adult fitness area and shady benches to relax. These improvements were the second phase in an overhaul at the park; residents may remember the 2015 renovations that included installation of new playground and swings for pint-sized parkgoers.
RELATED: Best Playgrounds in Prospect Park (Ranked!)

The Grand Avenue playground boasts fun new water features, playground, and hoops. Photo by Malcolm Pinckney
Grand Playground — University Heights, the Bronx
181 Street at Grand Avenue
The Grand Avenue Playground renovation, fully funded by City Council Member Fernando Cabrera, added a basketball court on the park's lower level as well as play areas for varied ages. There are separate entrances for the hoops court and the playground and a whimsical, sunflower-inspired spray shower keeps the vibe—and the kids—cool.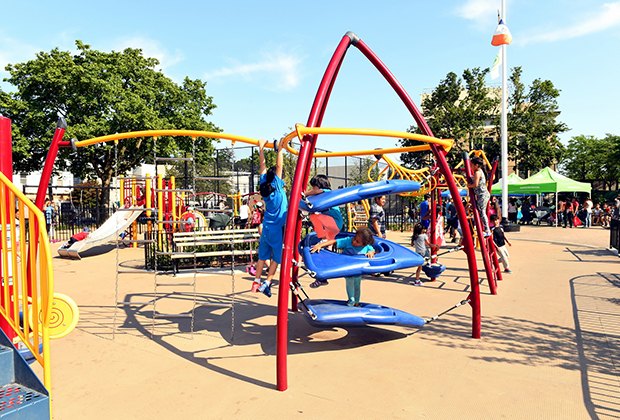 The Jackson Heights Junction Playground is filled with new equipment for all ages.
Junction Playground — Jackson Heights, Queens
34th Avenue at Junction Boulevard
Bright, primary-colored new playground equipment dots the landscape at this completely overhauled park. Rebuilt from the ground up, Junction Playground now boasts multiple play areas to accommodate parkgoers of all ages, bench seating for caregivers, and a spray shower with a colorful, safety-padded playing surface. There are also new cosmetic changes like a freshly landscaped perimeter and new sidewalks and entrance plazas. Active teens and tweens will appreciate the improved handball and basketball courts, too.
Soundview Park Playground — Soundview, the Bronx
Metcalf Avenue & Seward Avenue
Soundview Park has undergone an influx of capital improvement projects of late, and the kids haven't been left out of the upgrades. This project added new play equipment, swings, and a spray shower. Basketball and handball courts were added along with new landscaping and safety lighting.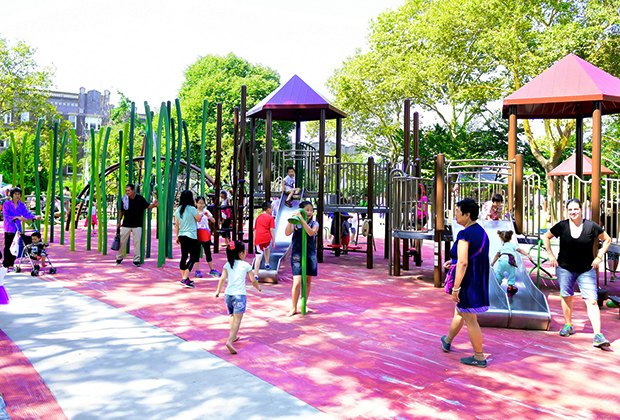 Sunset Park's playground got a big overhaul in late summer with all new features. Photo by Malcolm Pinckney
Sunset Park Playground — Sunset Park, Brooklyn
6 Avenue between 41st and 44th Streets
The Sunset Park Playground received a $3.2 million dollar renovation that not only rebuilt the space from the ground up, but greatly expanded its footprint, while making this community hub blend seamlessly into the surrounding park. Toddlers can clamor up playhouse units; big kids get their fill of adventure-play and rope climbers. Swings of varies sizes fit kids of all ages. A new sandbox has been installed along with a spray shower. The new construction also improved accessibility for visitors of varied abilities. Drinking fountains and shade trees improve the comfort of all visitors on warmer days.
RELATED: Our Favorite Playgrounds in Queens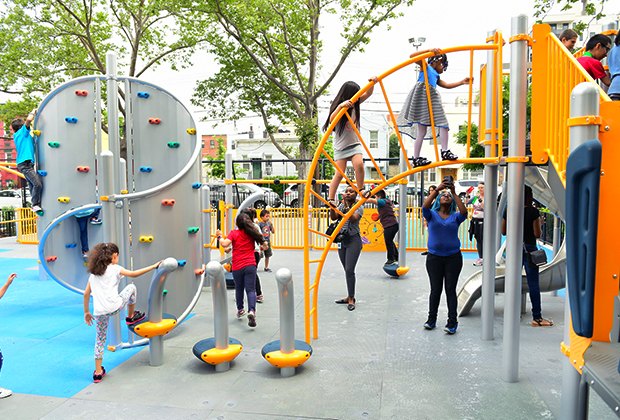 An overhaul at Van Alst Playground includes fun new climbing equipment.
Van Alst Playground — Astoria, Queens
21 Street between 29th Avenue & 30th Avenue
Van Alst Playground's reconstruction was the first project to see completion under the Community Parks Initiative, which is funding renovations in some of the highest-need neighborhoods. Community input has been crucial to the design of Van Alst and other CPI projects. Van Alst's cracked asphalt lot has been transformed into a multi-sport surface, and colorful new playground equipment and spray showers are welcome additions. Construction also added an adult fitness area and improved accessibility for all visitors.
And Coming Soon...
Sean's Place — Astoria, Queens
38th Street between 31st Avenue and Broadway
Projected completion: September 2017
The playground in Sean's Place Park is getting new play equipment and spray showers, plus fresh fencing and benches.
Sol Lain Playground — Lower East Side
Between East Broadway and Henry Street, adjacent to PS 134
Projected completion: October 2017
This playground, adjacent to PS 134, is getting a full overhaul. There will be a trio of distinctive play areas catering to children ages 6–24 months, 2–5 years, and 5–12 years, plus two basketball courts and a multi-sport surface. Picnic tables, a children's garden, and spray showers are also in the works.
Arrochar Playground — Arrochar, Staten Island
Sand Lane & Major Avenue
Projected completion: November 2017
Another project adjacent to a school, Arrochar Playground's lot next to PS 39 is getting a multi-use sports field, new hoops courts, a comfort station, and swing sets sized for different ages, plus equipment and spray showers.
Carmansville Playground — Harlem
151st Street and Amsterdam Avenue
Projected completion: December 2017
This small community park is getting a much-needed face-lift with reconstruction of its basketball and handball courts, plus brand-new playground equipment, safety surfacing, and a revamped comfort station.
If you're looking for updates on local parks projects in your neighborhood, check out the Parks Department's Capital Project Tracker.
Top photo: Grand Playground. Photo by Malcolm Pinckney. All photos courtesy of NYC Parks