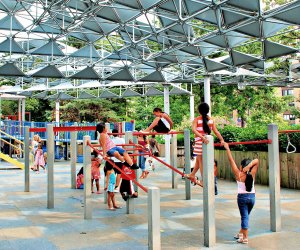 The Best Playgrounds in Queens
Alley Pond Park Playgrounds — Oakland Gardens
You get three-for-one with Alley Pond Park: Wild Flower Meadow, Horatio Playground, and Alley Pond are all located within. Alley Pond offers an adventure course and tree-house-themed set. Horatio has a bathroom. With sprinklers and jungle gyms at Wild Flower Meadow and Horatio, let's call this the complete package.
Astoria Heights Playground – Astoria
Reopened in summer 2018 after a $5.5 million renovation, Astoria Heights Playground, which sits adjacent to The Horace Greeley Middle School, offers plenty of active play for children ages 2-15. Separate playground equipment for ages 2-5 and 5-12 are situated near the park's border. There's a new spray shower, too, and a trio of courts for tennis or volleyball, plus a pair of basketball courts, a walking track, and adult fitness area.
RELATED: 30 Best Things to Do in Queens with Preschoolers and Toddlers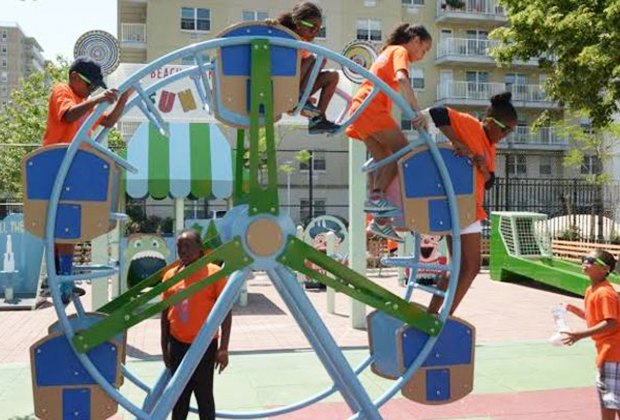 Hit the circus-themed Beach Channel Playground after the beach in Far Rockaway. Photo courtesy of NYC Parks.
Beach Channel Playground — Far Rockaway
This one-of-a-kind beachfront playground's main attraction is its circus theme, complete with small-kid sized Ferris wheel, but the rocking animals, colorful ground cover and carnival games are also a perfect post-beach treat.
Castlewood Playground — Bellerose/Jamaica
Castlewood is a neighborhood favorite, providing the residents of Eastern Queens with safe, colorful, and clean equipment. There's a double-slide (perfect for racing) and plenty of monkey bars. In the summer, the adjacent PS 186 Free Playground Pool opens for business as do the sprinklers.
Charybdis Playground — Astoria
Deep in Astoria Park you'll find Charybdis, a massive space with multiple jungle gyms and sprinklers. Named after a Greek mythological sea monster, it is an appropriate title for the playground that faces the river and sits near Astoria Park's public pool, in the heart of a historically Greek neighborhood. There are bathrooms on site, but beware (and excited!): Charybdis is about to undergo a makeover, bringing not only a new comfort station, but also a revamped water play area.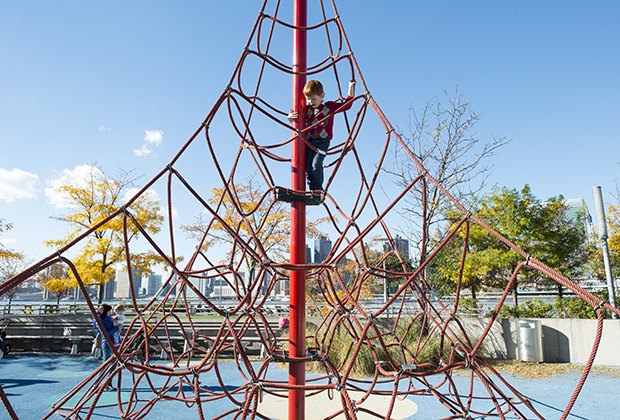 The playgrounds at Gantry State Park serve up harbor views and breezes, along with cool equipment. Photo courtesy of Nathan West
Gantry Plaza State Park Playground — Long Island City
Gantry Plaza State Park's views are enough reason to visit; the Manhattan skyline across the East River is breathtaking. But if you can peel yourself away from the iconic Pepsi sign, there's an amazing playground within, including a rope spider web for climbing and more modern equipment. There's a tot lot at 48th Avenue and 5th Street with additional playgrounds for the little ones, and the adjacent Hunters Point South Park's playgrounds and spraygrounds, are within walking distance, too.
Lawrence Playground — Flushing
This playground was just remade with at $400,000-plus reconstruction. Whimsical dolphins welcome climbers as they supervise the modern jungle gym. There are rope obstacles galore to scale, plus slides, and a kid-operated spray shower. Fresh landscaping offers plenty of greenery to protect from the park's perimeter. There are a pair of basketball courts on-site, too. One is full-sized for big kids, but littles will appreciate the junior-sized court even more.
Juniper Valley Playgrounds (North and South) — Middle Village
The playgrounds in Juniper Valley Park are a delight, especially for younger children. The equipment is colorful and low to the ground, perfect for those still honing their climbing skills, and there are twirling bucket seats and plenty of low, safe slides. There's a bathroom in the North location and alternatives throughout the Park.
Jurassic Playground — Forest Hills/Flushing
On the west side of Meadow Lake is a small but fun dinosaur-themed playground, a welcome relief for those visiting Flushing Meadows-Corona Park and looking for something less crowded. There are swings for both tots and older kids. Equipment is built to look like the frames of dinosaurs; you can point out Apatosaurus, Triceratops, Stegosaurus, and more.
RELATED: 10 Things to Do with Kids at the Long Island City Waterfront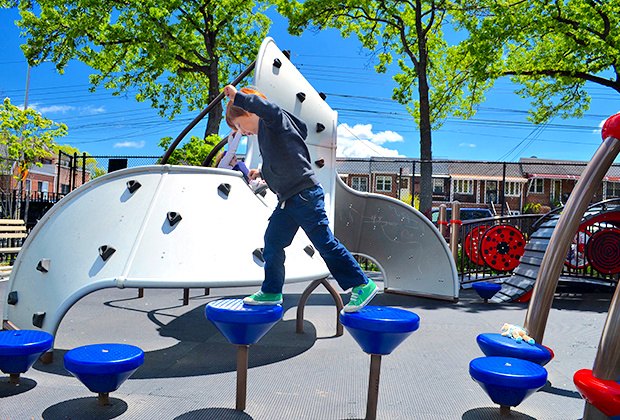 Neighborhood fave Paul Raimonda Playground offers sprinklers, climbing, and shady seating.
Paul Raimonda Playground — Long Island City/Astoria
Recent renovations revamped the sprinkler area here. Opened in 2016, the large sprinkler area takes the shape of a baby grand piano as a tip of the hat to Steinway and Sons, a longtime neighbor. Other innovative equipment includes the ring climb. Parents will appreciate plentiful shady seating. For older kids in tow, there are also hand ball and basketball courts.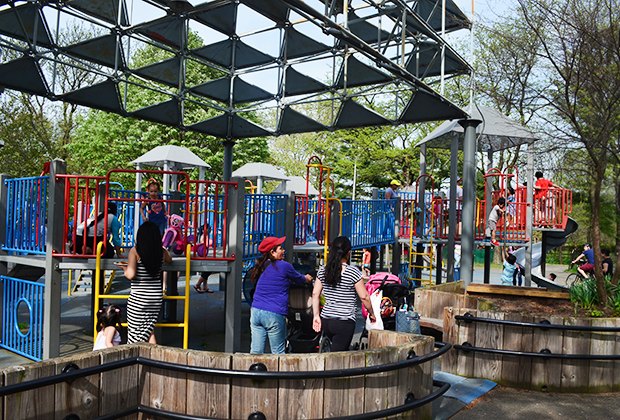 All ages can enjoy the massive Playground For All Children!
Playground For All Children — Corona
This popular playground is a destination unto itself. There's a toddler-friendly pretend hut town, with schoolhouse and post office included. It's was also designed to accommodate children who use crutches, canes, or wheelchairs. One of the playground's goals is to develop social, cognitive, sensory, and motor activities. There are swing areas and an expansive jungle gym, making this playground perfect to serve a kid throughout childhood.
Unless otherwise noted, photos by the author. This post, originally published in May 2017, has been updated for 2019. Jody Mercier contributed additional reporting.