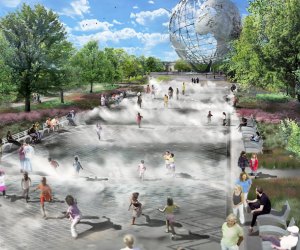 Mega Queens Splash Pad Finally Complete in Queens
Construction is now complete on the Fountain of the Fairs, the mega sprayground at the foot of The Unisphere in Flushing Meadows Corona Park. The unveiling of the long-awaited play feature on a rainy, gray October day seems fitting for 2020.
Nonetheless, this $6.8 million overhaul is worth celebrating, and the Fountain of the Fairs is sure to earn a spot on our list of favorite play fountains come spring 2021.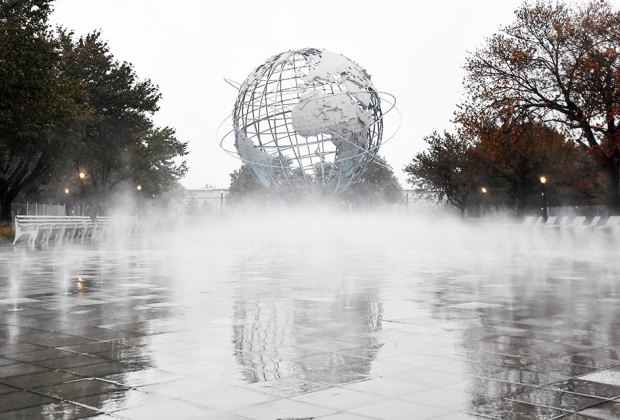 The Fountain of the Fairs debuted on a rainy, gray day, long after sprinkler season's end, and won't welcome visitors to play in its mist until spring 2021. Photo courtesy of Daniel Avila/NYC Parks
The Fountain of the Fairs project, which has been more than four years in the works, restores the Reflecting Pool into usable parkland, elevating its surface and installing specialized jets to create a cooling mist cloud over the entire area. While the jets were flowing earlier this week, Parks Department officials tell us the fountain will now undergo winterization, but New Yorkers can look forward to frolicking in the cooling spray come spring 2021.
In addition to the interactive water feature, new seating, landscaping, and drinking fountains have also been installed. Art-Deco pavers cover the space in a nod to the bygone era of 1930s New York and the 1939 World's Fair hosted on the site. The Fountain of the Fairs actually made its debut at the 1964 World's Fair and was previously restored in 2000, but fell into disrepair after sustaining flood damage in Superstorm Sandy.
"The Fountain of the Fairs is an iconic symbol of the 1964 World's Fair that keeps us connected to our city's rich history," said NYC Parks Commissioner Mitchell Silver upon the ribbon cutting. "We're thrilled to restore vibrancy to this historic site for the enjoyment of New Yorkers and visitors. Thanks to Mayor Bill de Blasio's investment, the revitalized Fountain of the Fairs will continue to serve as a symbol of Queens and place for peaceful respite for generations to come."