See the Mega Splash Pad in Flushing Meadows Corona Park
Summer's latest heatwave means it's the perfect time to plan a visit to the Fountain of the Fairs, the mega sprayground at the foot of The Unisphere in the kid-friendly Flushing Meadows Corona Park. Unveiled on a gray October day last fall, the fountain is now fully functional and a dreamy destination on a hot afternoon.
Subscribe to our newsletters to get stories like this delivered directly to your inbox.
The Fountain of the Fairs is unlike any other play fountain we've visited in NYC. Instead of sky-high sprinklers, the entire plaza is shrouded in a cooling mist, and indeed, you have to work hard to get totally soaked. My girls were underdressed in their bathing suits—it's perfect for kids and kids-at-heart to romp fully clothed without getting sopping wet and a great diversion when you're exploring the action-packed green space and need to cool off.
The Fountain of the Fairs project, which took more than four years to complete, restored the Reflecting Pool into usable parkland, elevating its surface and installing specialized jets to create a cooling mist cloud over the entire area.
RELATED: The 25 Best Spraygrounds and Sprinklers For NYC Kids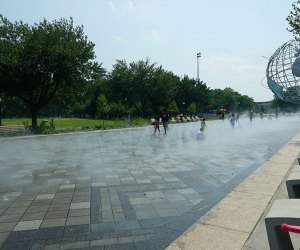 The Fountain of the Fairs attracts visitors of all ages to frolic in its mist at the foot of The Unisphere.
The spray is alluring on a hot day—even I couldn't resist—but if you're more comfortable watching from the sidelines, benches and lounge chairs line the plaza. The gentle mist cools the entire area despite its very sunny location. A Mr. Softee truck cruised by when we visited, and the addition of soft-serve made for a perfect summer afternoon outing.
In addition to the interactive water feature, new seating, landscaping, and drinking fountains have also been installed. Art-Deco pavers cover the space in a nod to the bygone era of 1930s New York and the 1939 World's Fair hosted on the site. The Fountain of the Fairs actually debuted at the 1964 World's Fair and was previously restored in 2000 but fell into disrepair after sustaining flood damage in Superstorm Sandy.
RELATED: The Best Free Swimming Pools in NYC for Families

Run, scoot, or play in the mist at the Fountain of the Fairs.
While the Fountain of the Fairs is a fun destination in its own right, there's plenty to explore nearby. The whole plaza sits in the shadow of the Queens Museum with its famed panorama of NYC. The Queens Zoo is located within the park, too. And last but not least, the New York Hall of Science has just reopened and debuts a new exhibit: The Happiness Experiment.
Originally published in October 2020.
Photos by the author