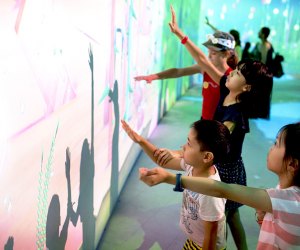 9 NYSCI Exhibits Every NYC Kid Needs To See At Least Once
Queens natives know where to find the best pizza and the best dim sum. They know the best outdoor playgrounds and the best indoor play spaces. Knowing that the New York Hall of Science (NYSCI) is one of Queens' best places to visit with kids comes as no surprise to us. So it's shocking to learn how many people outside of the borough haven't ever stepped foot into NYSCI!
Serving families since 1986, NYSCI is an outstanding, educational, hands-on learning center with over 450 interactive exhibits. Some children's museums might go light on education, but NYSCI is 100% dedicated to learning and the love of science and STEM.
My family and I recently had the pleasure of returning to the museum for a guided tour of its top exhibits, so we could share with you what's new, plus all our old favorites and upcoming events. Check out permanent exhibits you can rely on one year after the next, top outdoor activities for when the weather gets a little more agreeable, and temporary events arriving for a limited time only.
Find more of NYC's latest exhibits and top art spots in our Museum Guide for Families.
Permanent Exhibits
Connected Worlds
One of NYSCI's latest exhibits, Connected Worlds, is an unbelievable interactive animation. Children can use their gestures and motions to build colorful worlds with the point of a finger or stomp of the foot, and engage with animals, rivers, and plants while learning about how our ecosystems work.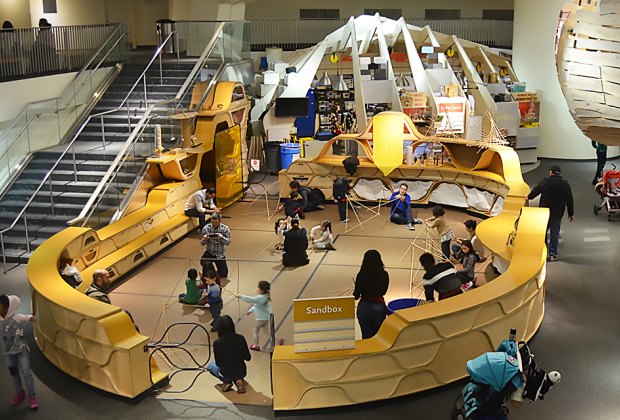 The Design Lab is chock-full of hands-on creating like this area dedicated to building structures out of wooden rods and rubber bands. Photo by the author
Design Lab
Children ages 2–15 can find hours of entertainment here in one of our favorite sections of the museum. Consisting of four classrooms and a large main area, the space promotes cooperation, collaboration, and problem-solving. Build structures out of PVC pipe, connect and build with wooden dowels, or check out a rotating list of themed classes, like fashion design, Lego, and Zoob building. "Explainers," the facilitating staff, are there to help provide guidance.
Maker Space
Kids are encouraged (with proper supervision) to use hot glue guns and power tools at this NYC maker space. Kids ages 6 and up can create their own working, glowing lightsabers in the 90-minute Make It! Lightsabers class. Other upcoming workshops include robotics and needle felting. Check the website for the most updated class schedule. Maker Space often has a small fee for supplies, but you get to take your projects home with you.
RELATED: 25 Things to Do with Kids in Flushing Meadows Corona Park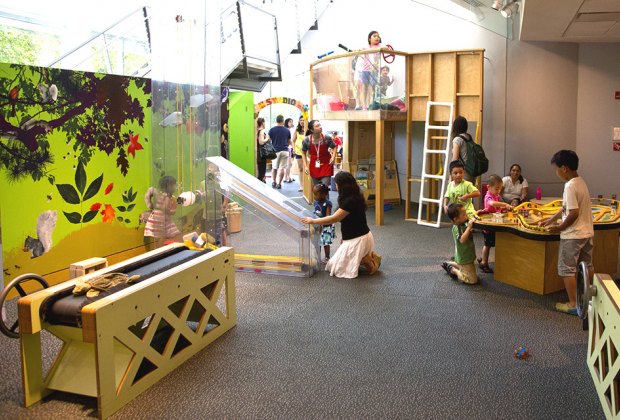 Preschool place is the perfect outlet for your littlest tot, where they can safely wander, play, and discover.
Preschool Place
Those with kiddos ages 6 and younger can frolic freely with their tots in this safe, enclosed area. Toys include wooden racetracks, books, and other sensory play things. Visit on the weekends and holidays for special sing-alongs, storytimes, and art activities.
The Search for Life Beyond Earth
This exhibit is all about our solar system; the environment on Earth, Mars, and Europa; and how life survives on each. Use interactive stories to move from one extreme Earth environment to the next as visitors explore each environment's unique characteristics and discover organisms that live there.
RELATED: MoMath: The NYC Museum That'll Make Your Kids Fall in Love with Math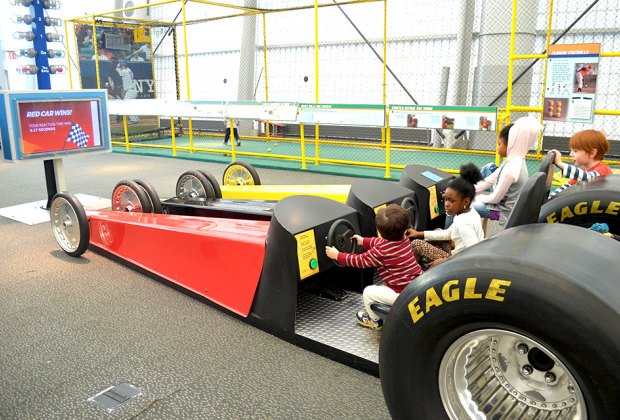 Sports Challenge is an exciting area where kids can get those muscles flexing and those reflexes going all while taking in basic science concepts. Photo by the author
The Sports Challenge
Balance, bounce, race, and pitch your way through scientific principles that are crucial to making each sport work. It's also my 5-year-old son's favorite area, because it's the best spot to get moving via rock climbing, baseball, car racing, all the while learning. (Win-win.)
The Hidden Kingdom: The World of Microbes / Mathematica: A World of Numbers / Seeing Light
This classic area of NYSCI consists of dozens of small exhibits that teach youngsters about light, perception, biology, mathematics, geometry, and more. A popular area is Seeing the Light, where visitors can explore optical illusions that fool the human eye, see the "invisible" colors of the spectrum, and reveal how shadows are created.
Outdoor Exhibits
During the warmer months, and when weather permits, the outdoor areas of NYSCI are open for business.
Rocket Park Mini Golf
Play mini golf while learning about space travel ($6 adult/$5 child). Bonus: The whole family can join in.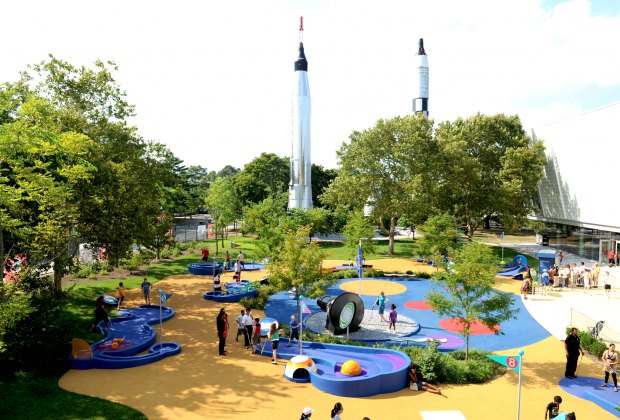 Science Playground is perfect in the warmer months, where kids can shake their wiggles out.
Science Playground
The largest science playground in the Western Hemisphere—60,000 square feet!—is all about combining play with the basics of the subject ($5 per person).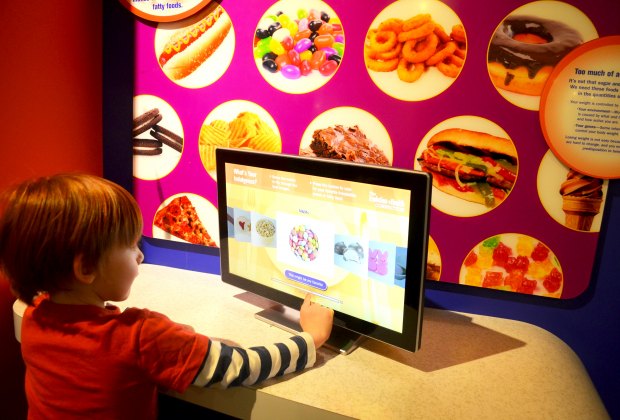 In the evolution exhibit, children can explore touch-screen videos on everything from migration to food habits. Photo by the author
Annual and Upcoming Temporary Exhibits
Bon Appétit
February 16–May 13
Families can explore the world of food; learn about how we eat, the origin of food, the digestive track, and how to eat healthy.
Brick Fest
April 7–8
This ultimate Lego experience is perfect for brick lovers young and old.
Annual World Maker Faire
Dates TBD, but typically takes place in September
This is a family-fun festival celebrating Makers and all the things they love. Music, food, crafts, and more make this an all-day event.
Little Makers Series
Ongoing, check for specific dates
Children ages 18 months and older explore exciting themes such as paper clay sculptures and making rainbows with prisms (small fee applies).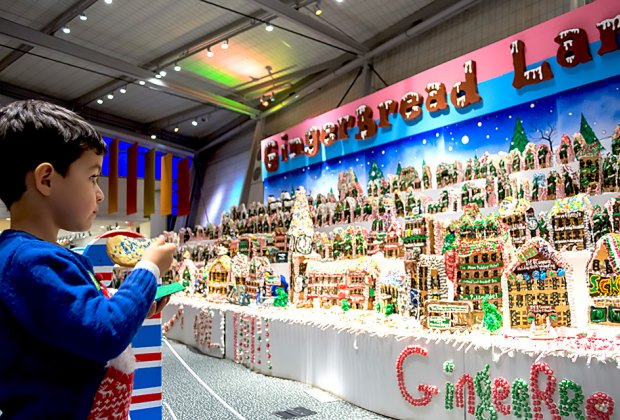 Gingerbread Lane entertains families every holiday season with its handmade, original gingerbread houses.
Gingerbread Lane
Winter Holiday Season
Marvel at the record-breaking collection of gingerbread houses. Tons of fun to get you into the holiday spirit!
Good to Know Before You Go
Tip: Weekdays after 1pm is the best time to visit, as the busy field trips have cleared out. Winter weekends and the majority of September are also great times to beat the crowds.
Getting there: The 7 train at the 111th St. Station is the closest stop, but driving has always been our preferred method as there is parking available.
During the U.S. Open there is no parking at the museum. Otherwise, there is paid parking ($10) and free street parking available.
There are plenty of handicap-accessible bathrooms with changing tables.
There is a coat/stroller check ($2 for non-members/members free).
Strollers are welcome in the museum, and there are ramps and elevators to help your journey.
There is a café inside the museum with light fare, but the choices are limited. Outside food and beverages are not permitted.
Regular admission: adults, $16; students, children (2-17), and seniors are $13
Every Friday (2pm–5pm) and every Sunday (10am–11am) general admission is FREE. General admission does not include the Science Playground, Rocket Park Mini Golf, 3D theater shows, or programs and workshops that require additional fees.
The New York Hall of Science is located at 47-01 111th Street in Queens near Flushing Meadows Corona Park, and is open Monday–Friday 9:30am–5pm and Saturday–Sunday 10am–6pm.
Al photos courtesy of NYSCI unless otherwise noted