Queens Museum: 6 Fun Things To Do With Kids
1/29/20
- By
Elena M
Native New Yorkers may remember childhood visits to the Queens Museum when it was well-known for its Panorama of the City of New York and not much else. The museum felt quite tight, and exhibitions were crammed into small rooms, but that's no longer the case.
A significant transformation in 2013 helped the museum realize a long-term goal, doubling in size to 105,000 square feet. The expansion created the necessary space for growing permanent collections, changing exhibitions, and educational programs. In addition, the renovated venue now has scenic views of Flushing Meadows Corona Park, and an entire wing of the museum provides studio space for its artist in residence program.
In short, the Queens Museum makes for an awesome outing with the whole family. Read on for six fun things to see and do at the Queens Museum.

Express your creativity at the Art Lab.
The Art Lab is an interactive space where kids and adults can engage with Queens Museum exhibition topics and express their creativity. Visitors to the Art Lab not only get to look at art, but also write, draw, and discover the topics on their own. Activities cater to a diverse cross-section of Queens Museum guests with materials provided in English, Spanish, Bengali, Mandarin, and even braille.
A visit to the Queens Museum wouldn't be complete without a stop at its famous panorama of NYC. First built in 1964, the exhibition features every building, park, street, and bridge in the city, constructed to a 1:1200 scale. The Panorama has transformed over the years, adding new miniature models of Citi Field, Yankee Stadium, Brooklyn Bridge Park, and 27 buildings in Battery Park City. The exhibition is sure to bring awe to every parent and child. Try to spot your neighborhood or even your building. In 2009, an adopt-a-building project launched, allowing visitors to purchase a plot of the Panorama and help contribute to the exhibition's upkeep.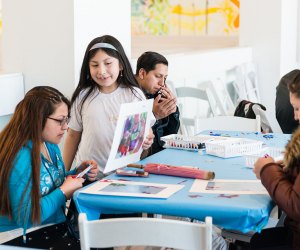 Plan a family art day.
Drop-in Family Art Workshops take place Sundays from 1:30-4:30pm and are included with suggested admission. No advance registration is required. The workshops, intended for children ages 4 and up, take place in different art studios throughout the museum each week. Kids can build monsters, create their own puppets, and design city blocks as they work together with family members under the guidance of teaching artists. Visit the Queens Museum calendar for upcoming topics. The third Sunday of each month features programming led by licensed art therapists and geared toward special needs children.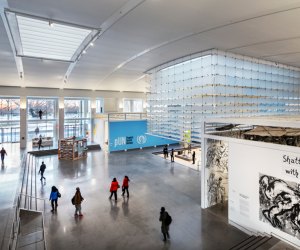 The large, open spaces make this a very kid-friendly museum.
The museum has large open spaces for families to enjoy. These spaces are transformed into exhibitions where kids can look, listen, and (sometimes) touch the art. The Large Wall series, for example, features a 40-foot wall with year-long commissions by female-identifying artists. Another spacious room lets museumgoers hang out under its skylight in a large, carpeted area full of thought-provoking creative expression.
Since the museum's expansion, the outdoor space has been extended to include 12 trees and outdoor seating. There is also a large lawn for family recreation. It's a perfect place for kids to blow off some steam or to take a break and have a picnic. Additionally, the museum offers outdoor programming during the warmer months, so check the calendar for more details.
When you're done exploring the museum, head over to the shop to check out the merchandise and score some unique art-themed souvenirs. You can also recharge at the museum's cafe by grabbing a bite from Coffeed. The New York-based chain, known for its single-origin coffee and locally sourced food, opened its Queens Museum location in 2017.
Know Before You Go
The museum is open Wednesday through Sunday, 11am-5pm. It's closed on Mondays, Tuesdays, and national holidays.
Suggested general admission is $8 for adults; children ages 18 and under enter for FREE. College students and DOE employees with valid IDs also enter for FREE.
Guided Queens Museum tours take place on Sunday afternoons in English and Spanish. Visit the website for a current schedule.
Limited parking is available for free in the lot adjacent to the museum. The Queens Museum also located within walking distance of the 7 train to Mets-Willets Point or 111th Street.
Places featured in this article:
Click Here to Sign Up!
i