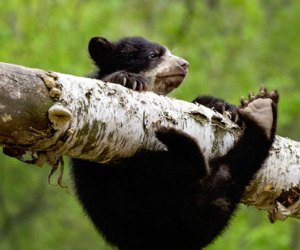 Queens Zoo: Full of Surprises for Little and Big Kids
Tucked inside Queens' largest park, Flushing Meadows-Corona Park, is the lovely 18-acre Queens Zoo. Unlike other city zoos (read: sometimes crowded and overwhelming), families can tour the entire grounds in just a few hours. Take a leisurely loop around the whole complex and you'll find eagles, puma, bears, sea lions, coyotes, an aviary filled with exotic birds, and more.
If zoos are high on your summer to-do list, check out these other borough favorites in the Bronx, Manhattan, and Brooklyn.


The Queens Zoo welcomes it's first ever endangered Andean bear cub. Video courtesy of the zoo.
One of the most exciting exhibits is the brand-new Andean bear cub, who was born in November and made his arrival to the public in May. You'll see him swing from tree branches and climbing the rocks with his parents, Nicole and Bouba.
Another must-see requiring a little planning in advance: Three times a day, the sea lions are fed buckets of fish and interact with their trainers. They'll do a few small tricks like wave and jump in and out of the water. Check the feeding times to time your visit.
RELATED: Socrates Sculpture Garden: A Hidden (and FREE) Gem in Queens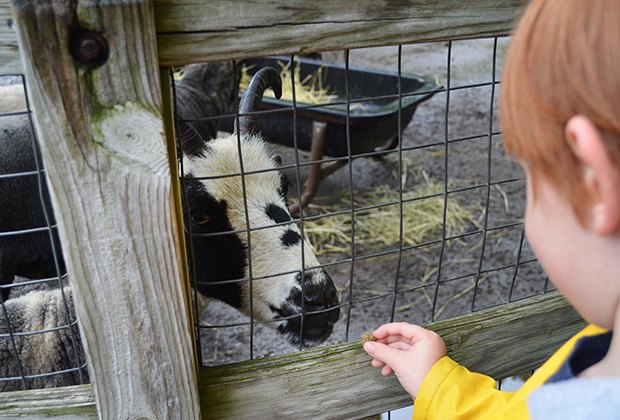 Kids love feeding the goats and sheep in the Domestic Animals section.
My family also enjoyed the aviary, which was built for the 1964 World's Fair. Inside, it hosts birds from across the Western Hemisphere including some beautiful and colorful parrots that my son loved. Entering the glass dome structure is like being transported to a rainforest, with humid air and the sweet song of hundreds of birds.
My son's favorite part of the zoo is the Domestic Animal section that's housed across from the main zoo. Admission is included in your ticket. Food pellet dispensers are a quarter and your children can directly feed goats, sheep, and other farm animals. There are also a few horses, a mule, hogs, and some chickens, though not every animal can be fed. Just don't forget to wash your hands!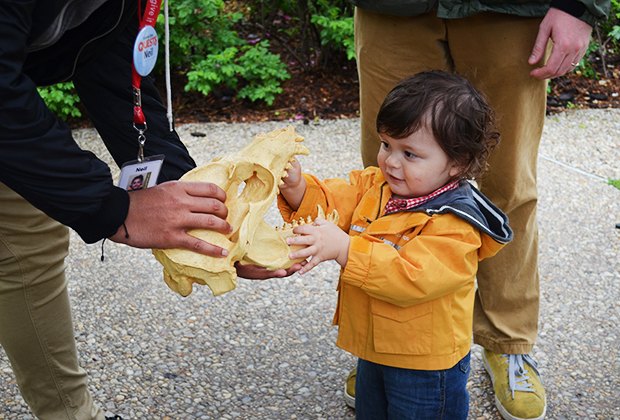 Queens Zoo Quests will be hosting games and informative booths across the zoo.
This summer, the zoo is hosting a collection of pop-up games and information kiosks call Queens Zoo Quests. Children get a quest passport and at every kiosk they visit, they receive a stamp. After completion, they receive a small prize. Kids learn about what the differences are between omnivores, carnivores, and herbivores, what domestic animals produce, and how sharks have multiple rows of teeth. All the quests have a hands-on element and are kid friendly even to the youngest tot who may just want to touch.
Want more hands-on time? The zoo, of course, hosts various camps for kids and even birthday parties.
RELATED: Best Things to Do in Queens with Preschoolers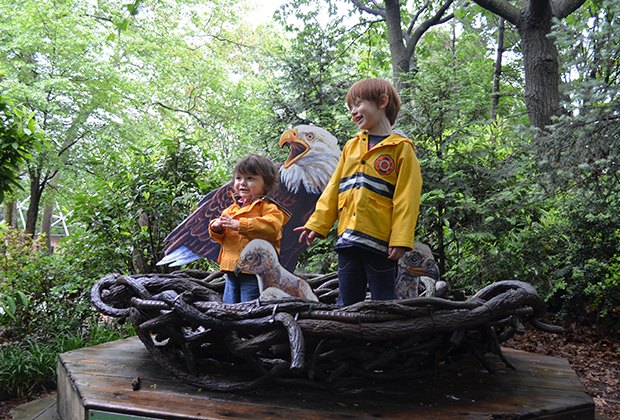 Hanging out in an eagle's nest makes for a good photo op.
Tips for Your First Visit
Strollers and wheelchairs are welcome, though there are some dirt paths to contend with.
The park has a small café that offers coffee, sandwiches, and a few snacks. Feel free to bring your own and sit in the picnic area across from the sea lions.
Of course, feeding the animals (besides the ones in the Domestic Animal area) is strictly forbidden.
If you're visiting Flushing Meadows-Corona Park, please leave your park paraphernalia in the car. There are no bikes, skates, rollerblades or selfie-sticks allowed.
A car is probably the easiest way to get to the zoo. There's parking in nearby lots off the park on 111th St. You can also take the 7 train to 111th St. and the Q58 bus to Corona Avenue.
There is ONE restroom area in the zoo by the café and ONE restroom area in the Domestic Animal section.
Queens Zoo is open seven days a week from 10am - 5pm, kids under 2 are FREE, and is located at 53-51 111th Street, in the Corona section of Queens.
Top photo: The new Andean bear cub gets his bearings on a branch. Photo by Julie Larsen Maher/courtesy of WCS. Unless otherwise noted, photos by the author.