Queens Zoo: Full of Surprises for Little and Big Kids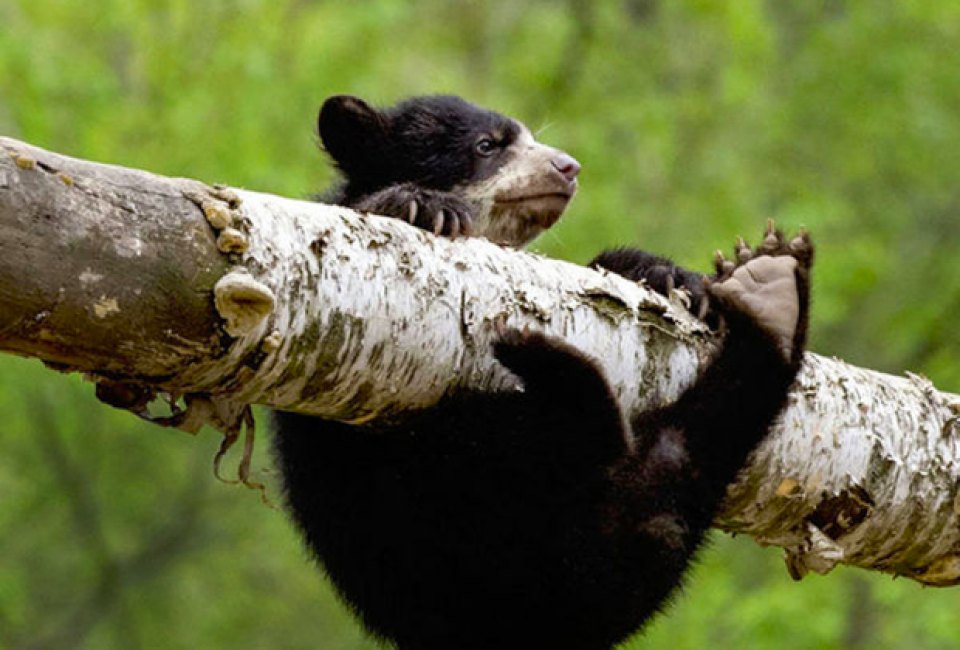 5/10/21
- By
Sydney Ng
Tucked inside Queens' largest park, Flushing Meadows Corona Park, is the lovely 18-acre Queens Zoo. Unlike other city zoos (Read: sometimes crowded and overwhelming), families can tour the entire grounds in just a few hours. Take a leisurely loop around the whole complex, and you'll find eagles, puma, bears, sea lions, coyotes, an aviary filled with exotic birds, and more.
While the Queens Zoo is smaller than its sister zoo in the Bronx, it is definitely worth the trip. Unlike the Bronx Zoo, which can be taxing on little legs, the Queens Zoo is a perfect size. The main zoo runs in a loop, making it easy to see everything without backtracking. Lush greenery and landscaping surround the trail, and there is less travel time between exhibits.
If zoos are high on your to-do list, check out our other borough favorites at the Bronx Zoo, Central Park Zoo, Prospect Park Zoo, and Staten Island Zoo.
Editor's note: While we are trying to promote safer activities that occur outdoors or with social distancing guidelines in place, please keep your family and others safe by always wearing a mask and practicing social distancing. If you arrive at an event that appears too crowded, try using the "nearby" search feature on our Event Calendar to find something else to do.
One of the most exciting exhibits you'll see—the Andean bear—is at the tail end of the path around the zoo. When they're not sleeping, the bears are a blast to watch since they love to play and put on a show. Andean bears are smaller than black bears and grizzlies, and the spectacled markings on their faces make them unique.
Sea lions are always a fan favorite. Plus, their pool is gorgeous and even features a waterfall. Pre-pandemic, there were three sea lion feedings a day for visitors to see. Currently, the public feedings have been suspended, but keep checking here for updates.
RELATED: Socrates Sculpture Garden: A Hidden (and FREE) Gem in Queens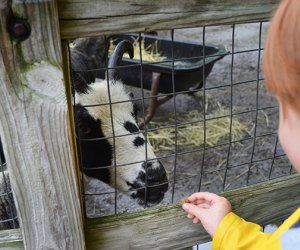 Kids love feeding the goats and sheep in the Domestic Animals section.
The Domestic Animal section is housed across from the main zoo. Admission is included in your ticket. Food pellet dispensers are 50 cents, and your children can directly feed goats, sheep, and other farm animals. There are also a few horses, a mule, hogs, and some chickens, though not every animal can be fed. Don't forget to wash your hands when you're done!
RELATED: Petting Zoos Near NYC Where Kids Can See Farm Animals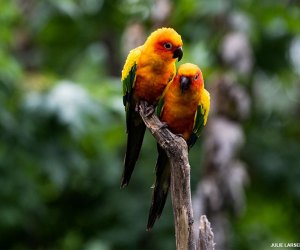 Meet the cute conures in the aviary. Photo by Julie Larsen Maher
The aviary, built for the 1964 World's Fair, hosts birds from across the Western Hemisphere, including some colorful and raucous parrots. Entering the glass dome structure is like being transported into a rainforest, with humid air and the whistling, tweeting, and singing of hundreds of feathered friends. Kids love spying all the different birds flying above and hanging out in the trees.
Normally the zoo hosts various camps for kids and even birthday parties, though the pandemic has put camps on hold and moved parties online. There are plans to restart the programs soon, so check with the zoo for updates.
RELATED: Best Things to Do in Queens with Preschoolers

Goofy and fun, the Sea Lions never fail to amuse zoo guests. Photo courtesy of the zoo
Tips for Your First Queens Zoo Visit
Timed-entry tickets are required for entry.
Currently, the zoo is utilizing a one-way path with directional arrows to control the flow of visitors. You can circle the exhibits as many times as you like.
Sanitizer stations are located throughout the park, and masks are required for entry.
The café is only serving chips, ice cream bars, and bottled drinks. Interactive features and exhibits, like the eagle nest and sea lion feedings, are currently on hold.
There are outdoor picnic tables that allow for social distancing.
Strollers and wheelchairs are welcome, though there are some dirt paths to contend with.
Of course, feeding the animals (besides the ones in the Domestic Animal area) is strictly forbidden.
If you're visiting Flushing Meadows-Corona Park, please leave your park gear in the car. There are no bikes, skates, Rollerblades, or selfie-sticks allowed.
If you drive, there's parking in nearby lots off the park on 111th Street. You can also take the 7 train to 111th Street and the Q58 bus to Corona Avenue.
There are two restroom areas: one by the café and one in the Domestic Animal section. The restroom by the café has a stall big enough to fit a stroller inside (the other does not).
The Queens Zoo is open seven days a week from 10am-5pm on weekdays, and 10am-5:30pm on weekends and holidays. During the winter, it closes at 4:30pm. Kids under 2 are FREE.
This article, originally published in June 2017, has been updated.
Places featured in this article:
Click Here to Sign Up!
i