30 Best Things to Do in Queens with Preschoolers and Toddlers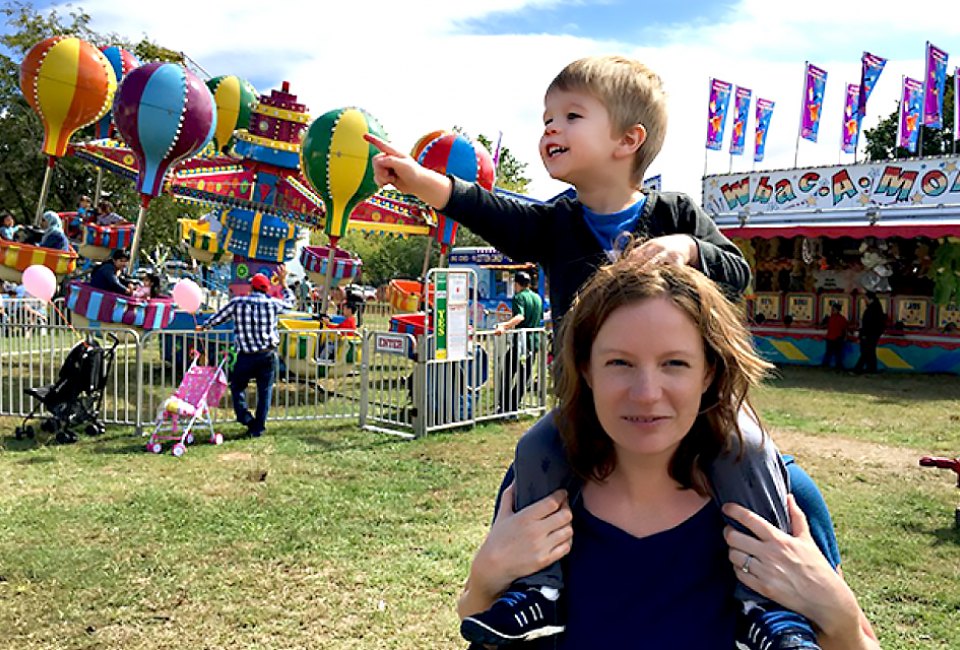 3/7/19
- By
Sydney Ng
Living in or visiting the borough of Queens is a nonstop international learning experience for little kids, filled with diverse sights, sounds and tastes—and it's super family-friendly.
It's famous for being the most ethnically diverse county in the United States where hundreds of languages are spoken daily. From eating dumplings in Flushing to feeding a goat on a farm, Queens can inspire, teach and feed the spirits of your little ones.
Children of all ages can enjoy Queens, but traveling around the city with a kid 4 or younger can be a challenge. We've compiled a list of the best things to do in seasonal order, so you can enjoy Queens like a king, including parks and playgrounds, museums and play spaces, the beach, and even amusement parks perfect for toddlers and preschool-age kids.
1. Explore Long Island City's waterfront, including the playgrounds and public art in Gantry State Park.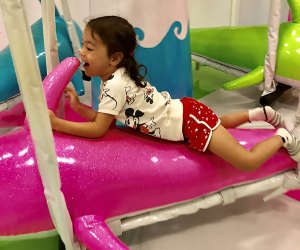 Ride the dolphin at Mini Land Play. Photo by Janet Bloom
2. Test out one of the many indoor play spaces, bounce houses, and jungle gyms for Queens tots. If you're feeling creative, pop into one of the borough's art centers for a class.
3. Learn to swim with these Queens aquatics programs.
4. Don your green to watch the St. Patrick's parade go by in several Queens nabes.
5. Meet the Easter Bunny, do some crafts and have a beer at Bohemian Hall and Beer Garden.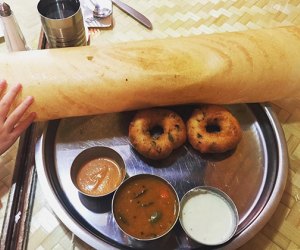 It's hard to resist a massive dosa at Samudra Restaurant. Photo by thelisareid via Instagram.
6. Eat around the world in Jackson Heights, from vegetarian Indian dosas to sweet Colombian cholados.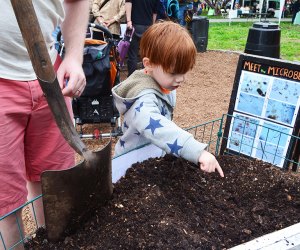 Or investigate the compost at the Queens Botanic Garden. Photo by Sydney Ng
7. Stop to sniff the flowers at Queens Botanical Garden.
8. Make a stop-motion flip book at the Museum of the Moving Image.
9. Cuddle up at a FREE storytime session at a branch of the Queens Public Library, or another local story hour.
10. Join a local summer camp just right for preschoolers, or even a forest-themed preschool program.
11. Introduce fine motor skills with chopsticks at some great Flushing eateries.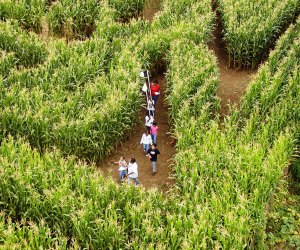 Don't get lost in this fun and unique Maze of Maize!
12. Feed a goat and watch a cow being milked at the Queens County Farm Museum, which also hosts seasonal fairs and carnivals, plus the city's only corn maze.
13. Take a short hike through the wilderness at Jamaica Bay Wildlife Refuge or Alley Pond Park.
14. Play soldier and enjoy the views at the preserved Civil War-era fortress of Fort Totten.
15. Visit Socrates Sculpture Park during one of their seasonal festivals and stay for the outdoor art.
16. Root for the dragon boats and eat Asian street food at the Hong Kong Dragon Boat Festival.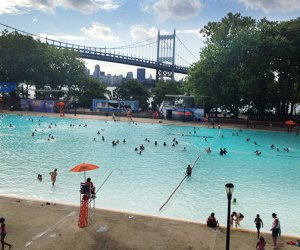 Astoria pool has a wide shallow area for little ones. Photo by Shira Kronzon
17. Take a dip to cool off at one of the free public pools, including Astoria Park Pool, the largest in the city.
18. Nibble funnel cake and win some prizes at one of Queens' many street fairs.
19. Enjoy a special treat after a day of play at Eddie's Sweet Shop or another amazing ice cream location.
20. Take the subway to Rockaway Beach to build a sand castle, swim in the waves, and sip lemonade.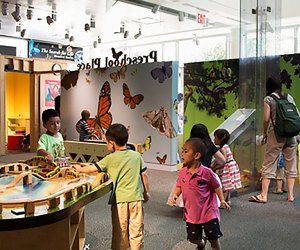 Drop-in to Preschool Place for an area dedicated to tots. Photo courtesy of NYSCI
21. Drop in for maker workshops at the New York Hall of Science, or check out the Preschool Place area dedicated to tots. Little ones will also enjoy the seasonal outdoor Science Playground.
22. Bring a picnic and take pictures in front of the Unisphere at Flushing Meadows-Corona Park.
23. Walk through the aviary or feed some sheep at the Queens Zoo.
24. Ride the merry-go-round at Fantasy Forest, or another of the kiddie rides at this local amusement park.
25. Splash around for FREE at a Queens water playground.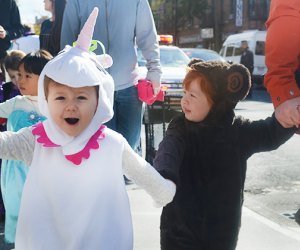 Wear your costume to the Astoria or Jackson Heights Halloween parades. Photo by the author
26. Proudly march down Ditmars Boulevard in Astoria during its annual Halloween Parade, or check out the Jackson Heights parade, one of the largest in the city.
27. Little ones can work with therapists or join an open play at three Queens sensory gyms: Big Stride, Extreme Kids & Crew, or Theraplay.
28. Grab your sled and head to the hills of Kissena Park on an official snow day, or one of these sledding hills.
29. Warm up after the snow with a mug of hot chocolate at one of Queens' many cocoa experts.
30. See the over-the-top Christmas decorations at these Queens houses.
Click Here to Sign Up!