8 Swim Lesson Options for Kids and Babies in Queens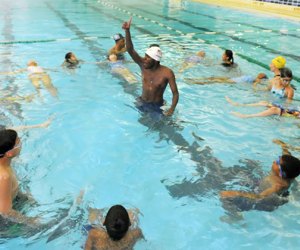 Summertime splashing is right around the corner. Queens parents looking to give their kids a pool refresher or just introduce their tot to the water, will find a number of affordable and grow-with-you swimming classes across the borough. Kids can advance from baby-and-me sessions on up to competitive racing at these community and private pools.
Read on for great swim classes in your neighborhood, from FREE sessions hosted by the city to a safety-first nonprofit that offers a 30-minute basics lesson. Be sure to check out our Queens Kids Guide for even more ways to explore the borough with kids and find more NYC classes in our Classes Guide and Directory Listings.
The Community House — Forest Hills
15 Borage Place
Ages 6 months and up
With lifeguards always on duty and group lessons for every skill level, the nonprofit Community House in Forest Hills offers is great option for children. Babies ages 6-48 months get a nice intro to the pool with "Pamper Paddlers" sessions that have them kicking, bobbing and blowing bubbles alongside parents. Kids ages 4 and up are evaluated and placed in a group lesson according to their ability. Membership is not required, but members get perks, including first-priority registration for classes. Registration is done in person. Check the pool website or reach out directly to get the details on upcoming enrollment periods.
Queens College Acquatics Center — Flushing
65-30 Kissena Boulevard
Ages 1 and up
Enjoy swim lessons at the Olympic-sized indoor pool housed at the Queens College's fitness center. Six Learn to Swim classes, as well as parent-child lessons for toddlers ages 1-3 are available. A Tiny Tots class introduces water exploration to 4- and 5-year-olds at the shallow end. Level courses start with the basics—freestyle and backstroke—and progress to endurance training, diving and more. There is also a competitive level for those that qualify. Registration is done in person.
RELATED: 13 Queens Play Spaces and Kiddie Gyms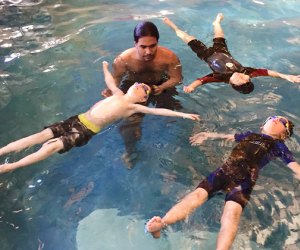 Learn to float at one of Take Me to the Water's swimming classes offered at several Queens pools.
Take Me to the Water — Flushing, Forest Hills
Forest Hills Jewish Center, 106-06 Queens Boulevard
75th Road, 111-20 Queens Boulevard
Holiday Inn LaGuardia, 37-10 114th Street
Ages 6 months and up
Take Me to the Water offers swim lessons for babies and kids in three locations in Queens. It boasts certified teachers and lifeguards on duty for extra parental assurance. Baby and parent classes help infants and tots, 6 months to 2.5, feel comfortable in the water by singing songs and blowing bubbles. Three and 4-year-olds enjoy a near-private lesson with one instructor for every two children, while those 5 and up are placed in classes depending on skill level as they rack up their strokes. More experienced swimmers can join the competition level team. Private lessons for children with disabilities can also be arranged. Register online or in person for year-round sessions.

Queensborough Community College — Bayside
Robert F. Kennedy Hall, 222-05 56th Avenue
Ages 2-14
Parents join their kids in the pool through age 6 at this Queensborough Community College swimming program. The Tiny Tots sessions help kids develop basic water skills through songs and water games. Children graduate to a lesson of their own at age 7, as long as they reach a height requirement (they must be able to stand in 3.5 feet of water). Competition level swimmers will be coached on swimming techniques and explore style, racing, diving and more. Bonus: Parents can watch from a nearby dry balcony in the pool area. Many of QCC's swim students are return again and again, so classes fill up fast. Register online, in person or by phone.

Your Local YMCA — Various
Varies but generally babies and up
You'll find myriad swim offerings at the Queens branches of the YMCA, including at the the Central Queens Y in Forest Hills and the Long Island City Y. In addition to the myriad class offerings, the Central Y will even let you design your own class. Find two other parents/kids and create a class with a specific niche—the Y will provide the instructor! Standard swim classes include mommy and me options for infants and tots 7-36 months, options for preschoolers and tiered levels for kids and teens through age 18. Swim caps are required for everyone!
RELATED: Queens Dance Classes for Kids: Ballet, Tap, Hip-Hop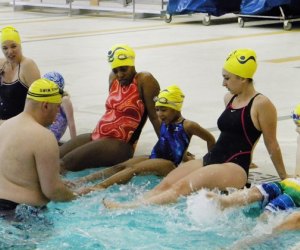 The Swim Strong nonprofit places an emphasis on water safety and affordability with its family classes.
Swim Strong Foundation — Richmond Hill, Far Rockaway, Flushing Meadows
Far Rockaway High School, 8-21 B25 Street
Richmond Hill High School, 89-30 114 Street
Flushing Meadow Aquatic Center, 131-04 Meridian Lane
Ages 3 and up
Nonprofit Swim Strong emphasizes water safety in its lessons like a 30-minute Get Ready Get Wet program for preschoolers that teaches survival swimming with tricks like flipping onto your back and floating. With a mission to spread it message of safety, it tries to keep classes affordable and even provides a scholarship option. Classes vary with location, but you can pick from its hourlong Learn to Swim basics to Competitive & Stroke Enhancement. There are even adaptive, personalized swim lessons for kids with special needs; reach out directly for more information or to arrange a class.

Astoria Sports Complex Kids — Astoria
Astoria Sports Complex, 34-38 38th Street
Ages 6 months and up
Parents know the Astoria Sports Complex is a go-to local spot for sports and recreation like batting cages, indoor soccer and, yes, swimming lessons. Join a parent-and-me class, build confidence in a Pee-Wee class for the 4 to 6 year olds or graduate to a big kid class (ages 7-10 and ages 11-17). Private and semi-private options are also on offer. Note: You must be a member of Astoria Sports Complex to register for swim classes. Call or email for full schedule.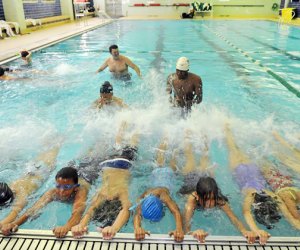 The NYC Parks Department offers free swim lessons to kids of all ages, but you have to snag a spot via lottery.
NYC Free Swim — Various
Ages 1½-17
The New York City Parks Department offers FREE swimming programs at pools across the city for children younger than 18. Registration is done via lottery, which opens at various times throughout the year. Keep an eye on the registration page to see when a location in Queens offers a lottery. While these programs are free for kids, a parent/guardian must be a member of a Queens rec center for kids under 6 to take swim lessons, as guardian participation is required. (Note: The spring 2016 lessons will take place at the indoor pool in Roy Wilkins Recreation Center. The online lottery is open until March 29.) Children will be evaluated prior to the first session to determine which class level to attend.
Top image: Pay attention to the calendar, so you don't miss the window to register for FREE swim lessons from the Parks Department. All photos courtesy of the programs.