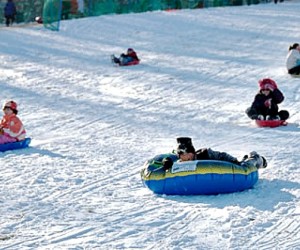 NJ Pond Ice Skating, Snow Tubing, Ice Fishing, and Snow Shoeing
Do you know how many calories you can burn snow shoeing? Have you ever gone out on the ice not to skate, but to sit and fish and drink hot chocolate? If you're interested in winter sports beyond the realm of skiing and snowboarding and tubing, check out these fun for the family winter alternatives, and don't forget to check out our Winter Fun and Activities Guide for even more off the beaten path cold weather enjoyment!

Pond Ice Skating
Interested in outdoor skating on a real, frozen pond? Remember: Safety comes first, so make sure conditions are appropriate and children are always supervised.
Tenafly Nature Center (Tenafly)
For ice skating, visitors should call the TNC visitor center to learn if the ice is safe; ice skating is allowed only when the ice exceeds four inches. Some years there are no safe days--thick enough ice for safe skating usually takes several days of sustained below freezing weather. Please call (201) 568-6093 for more information.
Parks Lake (Rockaway)
During the Winter months, Parks Lake is monitored for public ice skating when conditions permit. Check signage posted at the park to ensure conditions are acceptable. For more information on this park and available activities, contact the Rockaway Twp. Recreation Dept.
Turkey Swamp Park (Freehold)
When the conditions are right and the ice is at least five inches thick, start looking for the "Skating Today" signs at Holmdel, Shark River and Turkey Swamp Parks. It normally takes at a week to 10 days of subfreezing temperatures to produce safe skating conditions. For details and advisories on Turkey Swamp Park, please call (732) 462-7286.
Shark River Park (Wall)
Open year-round for various activities, Shark River Park is home to a popular skating area. For additional details, please contact the Ranger Station at (732) 922-4080.
Holmdel Park (Holmdel)
For info about pond skating at Holmdel Park, call the Ranger Station at (732) 946-9562
Edgemont Park (Montclair)
When conditions permit, Edgemont Park is open for unsupervised skating. For information, please call Montclair's Department of Recreation at (973) 509-4914 regarding the pond's conditions.
Heistein Park (Randolph)
This 44-acre park includes a lake area encircled by the township's bike trail. The Heistein Park lake is available for ice skating during the winter months, conditions pending. For additional questions, please call (973) 989-7100.
Manasquan Reservoir (Howell)
More than one million visitors travel to the Manasquan Reservoir annually, which includes pond skating. Ice skating permitted when the ice reaches 5 inches of thickness. For information and conditions, please call the visitor center at (732) 919-0996.
Wilson Park and Veterans Memorial Park (Linden)
Weather permitting, ice skating will be held at the following locations: Wilson Park and Andrew Beno's Pond at Veterans Memorial Park in Linden. For information on both locations, please call Linden's Department of Recreation at (908) 474-8639.
Snow Tubing
Want to hit the slopes, but not ready for the family ski rental fees? Try out snow tubing! Most locations require children to ride in their own tubes, so this is only recommended for children ages 5+. See our full post on Snow Tubing in New Jersey.
Snowshoeing
Given some snow, chances are any place you can hike is also a good place to snowshoe. Beware: this family-friendly activity is also an extreme workout.
Local rentals are available at Pelican Shops (Morris Plains), Eastern Mountain Sports (Paramus) and REI (East Hanover). All provide rentals.
Allamuchy Mountain State Park (Hackettstown)
The Northern section of the park has more than 20 miles of trails. A great place for sporting opportunities year round. For trail info, call (908) 852-3790.
Pyramid Mountain Natural Historic Area (Morris County)
Offering several scenic overlooks, including views of the Manhattan skyline, Pyramid Moutain Natural Historic Area has approximately 30 miles of marked trails. For more information, please call the Morris County Park Commission at (973) 334-3130.
Ramapo Mountain State Forest (Bergen County)
Bordering the towns of Oakland, Pompton Lakes, Ringwood, Wanaque and Passaic, this NJ state park offers trails up to nine miles long. Rated mostly difficult, Ramapo Mountain's easiest trail circles around Ramapo Lake.
Lamont Reserve (Bergen County)
With 4.5 miles of trails adjacent to Palisades State Park, the Lamont Reserve trail system is described as 'circles within circles.' Contact the NY/NJ Trail Conference at office@nynjtc.org with questions.
Stokes State Forest (Sussex County)
Along with ice fishing and snowmobiling, Stokes State Forest also offers many showshoeing trails in the winter. The crest of Sunrise Mountain is one of the most visited areas in the park, due to its breathtaking views. Please call (973) 948-3820 with questions.
Jockey Hollow Park (Morristown)
Morristown's Jockey Hollow area includes a wealth of American history, along with a nature center and several trails. With its easiest trail running 1.3 miles and the most difficult covering 6.5 miles, this park has options for everyone. Please call with Jockey Hollow visitor center at (973) 543-4030 with questions.
Round Valley Recreation (Hunterdon County)
Home to a 70 ft reservoir, this area attracts sports enthusiasts from all over the world. For trail info, ca;; 908-236-6355.
Ice Fishing
NJ residents can travel to one of several lakes to gain public access for ice fishing. Fishable ice needs to be three inches or thicker, so make sure conditions are safe. To see recent temperatures or jump onto a message board for advice, visit Ice Shanty for local information.
Budd Lake (Morris County)
Deer Park Pond at Allamuchy State Park (Warren County)
Lake Hopatcong (Morris & Sussex Counties)
Lake Wawayanda (Sussex County)
Shepherd Lake at Ringwood State Park (Passaic County)
Spruce Run Reservoir (Hunterdon County)
Originally published January 2012