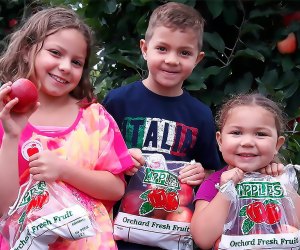 Where To Go Apple Picking with Kids at NJ Farms and Orchards
With the kids heading back to school and fall on the horizon, it's time to go apple picking. No matter where you live in New Jersey, there's bound to be a pick-your-own farm nearby and many also offer fun activities like corn mazes, hayrides, and petting zoos.
So, grab a few baskets and head out to one of these great Jersey apple orchards and farms.
Sign up for our FREE newsletters to get the latest local events and activities delivered right to your inbox.
Note: Please contact the orchards before heading out to confirm hours and available amenities. Keep in mind most venues require face coverings and social distancing, and many orchards are small, family-run establishments that can close suddenly. Weekday hours are often limited and vary greatly. Also, please leave animals at home or you may be asked to leave apple-free.
Where To Go Apple Picking in Northern New Jersey

Alstede Farms offers apple picking and tons of special attractions. Photo by Rose Gordon Sala
2020 update: Apple picking season is underway and wagon and pony rides are currently running.
Talk about agritainment: In addition to being open for daily apple picking, the farm offers all of its special attractions (a corn maze, pony rides, hayrides, and a bouncy house) every single day—not just on weekends. The farm does charge an admission fee (which includes a hayride). Keep in mind the farm tends to get very crowded on peak fall weekends.
2020 update: Apple picking season begins Saturday, September 5, and is open daily. Reservations are required. The playground and hayrides are currently unavailable.
This popular farm boasts 14 varieties of pick-your-own apples. Apple picking is permitted on Saturdays and Sundays, beginning in early September, and the entrance fee gets you a hayride, playground access, and face time with the farm animals; pay an additional fee for a bag to hold all the apples you can pick. Stop in the farm store before leaving for some treats, including ice cream and apple cider doughnuts.
RELATED: See Baby Animals and More at Family-Friendly NJ Farms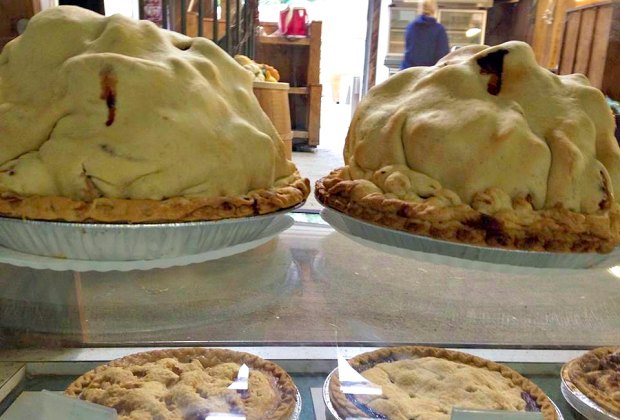 Each mile-high apple pie is made with 5- to 6-pounds of apples! Photo courtesy of Mackey's Orchard
2020 update: Apple picking season begins after Labor Day. The bakery is open, but playground status is uncertain.
Mackey's Orchard offers apple pickers a 15-minute hayride with scenic views to the picking area, located behind the farm. There's also a playground and a full apple bakery that offers apple cider doughnuts, dumplings, and more, including a mile-high apple pie! Mackey's grows more than 100 varieties of apples that ripen between August and November. Pick-your-own is offered on weekends in September and October. Owner Holly Mackey advises visitors to call in advance before coming—because we Garden State residents know how wonky the Jersey weather can be.
2020 update: Apple picking starts generally starts the Thursday before Labor Day. Hayrides have not yet been scheduled.
Choose from more than 30 varieties of apples, ranging from traditional classics to heirloom specialties to modern favorites. There are no bouncy castles or petting zoos here. Riamede is all about the apples, with the only extra being a complimentary hayride on weekends. For tried-and-true apple lovers, a weekly trip to Riamede is necessary to catch each variety at its tree-ripened best. The best thing to do is call the farm early every day—Riamede's telephone message always tells you what is ripe and being picked on any day.
2020 update: Apple picking begins around the third weekend of September.
Kids will love to visit the animals and take a hayride at this great family-friendly farm. A variety of apples, including Cortland, Macintosh, Honeycrisp, and Empire are sold by the pound, so grab only what you want to buy. Before visiting, be sure to check to see if there are any online coupons. Cap off the day with a trip to the farm stand for some homemade ice cream.
2020 update: Apple picking season begins around the second week of September. Fall activities, including the hayride and maze, are uncertain at present.
Heads-up: A membership is required to enter this orchard, but it buys you access all season long for up to five people. Membership privileges include discounts on purchases and weekend attractions like a pumpkin slingshot, hayrides, and a corn maze. Before leaving, try some freshly squeezed apple cider, pressed from apples picked right at the farm. Apple picking is permitted only on Saturdays and Sundays.
Where To Go Apple Picking in Central New Jersey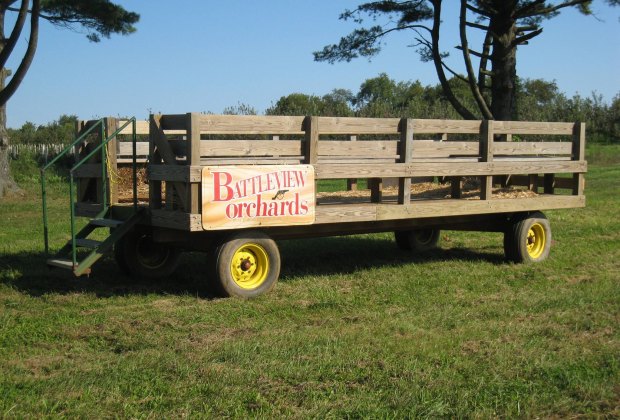 Enjoy a family hayride on weekends at Battleview Orchards. Photo courtesy of the farm
2020 update: The country store is open, but no date has been set for apple picking. Follow its Facebook page for updates on the crop and seasonal attractions.
Battleview Orchards, a family-owned and operated farm, invites you to pick your own apples beginning at the end of August. Enjoy a family hayride on the weekends, or schedule a group tour and learn how its delicious apple cider is made. Battleview is also known for its adorable Country Market & Bakery, which features a variety of treats, including its popular apple pie.
2020 update: Apple picking season starts in early September.
Eastmont Orchards has been growing apples since 1923. The farm, which is open daily, offers 19 different types of apples. Call ahead or visit its Facebook page to see which apples are available. Pricing is by the pound, and payment is cash or check only.
RELATED: 10 Best Family Farms for Fun and Entertainment in New Jersey

Enjoy non-GMO apples at Giamarese Farm and Orchards. Photo courtesy of Giamarese Farm
2020 update: Apple picking season begins late August. Pony ride and corn maze status will be updated in early fall.
Enjoy apple picking at Giamarese Farm from the end of August to Columbus Day. All of the apples grown at the farm are non-GMO. Hayrides are available during the farm's Fall Harvest Weekends, which also feature pony rides and a corn maze. The farm is closed Mondays. Follow the farm on Facebook or subscribe to its newsletter for current news, farm photos, and coupons.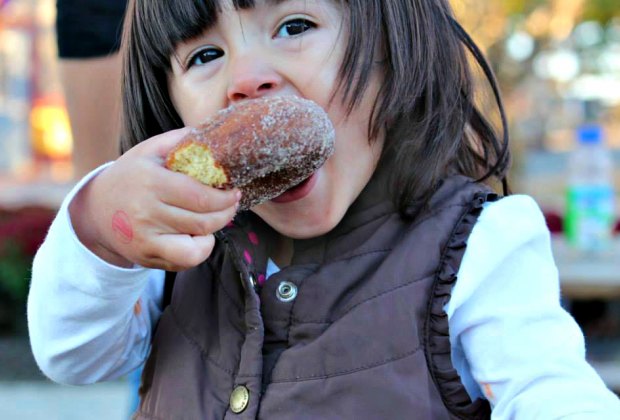 Perhaps the best part of the apple picking season: apple cider doughnuts. Photo courtesy of Johnson's Corner Farm
2020 update: Apple picking and hayrides are planned to begin September 7.
Apple picking at Johnson's Corner Farm begins in early September when the Fuji apples ripen. Throughout September and October, nine additional apple varieties are ready for picking, including Red Delicious and Granny Smith. Apple-picking hayrides begin in September, and the farm's popular Fall Festival Weekends include live music, a corn maze, moon bounce, and a food tent. Its animal farm and discovery barnyard are also fun to visit, and the farm market sells freshly baked pies, caramel apples, and cider donuts. Stop at one of the ice cream windows for an apple cider slush or some pumpkin ice cream.
2020 update: Apple picking starts the second week of September. The corn maze and pumpkin patch are not yet scheduled.
Bring your own bags or bushels to collect apples at this small farm, open seven days a week from 9am-6pm. Don't forget to stop by the farm market for other fresh produce and baked goods. From the end of September through October, Krowicki's visitors can also take advantage of the corn maze and pumpkin patch.

Pick apples and enjoy family-friendly events at Terhune Orchards. Photo courtesy of Terhune Orchards
2020 update: Apple picking season starts in early September. The annual harvest festivals have not yet been scheduled.
Beginning in September, Terhune Orchard's pick-your-own-farm on Van Kirk Road, just around the block from its home farm, is open every day. Sold by weight, the farm's apples are juicy, crisp, and delicious. Apple Days Fall Harvest Festivals take place on weekends.
14. VonThun Farms – South Brunswick and Washington
2020 update: Apple picking starts Saturday, September 19 at both locations, along with the corn maze and pumpkin picking.
VonThun Farms offers apple picking from mid-September through the end of October. Apple trees at the farm are dwarf trees that grow very close to the ground, which makes picking easy for kids. Family activities include a corn maze, an inflatable obstacle course, hayrides, face painting, pony rides, and a pumpkin blaster.
Are you in South Jersey? Check out these apple orchards recommended by our Philadelphia Mommy Poppins team.
This article was first published in September 2009 and has since been updated.