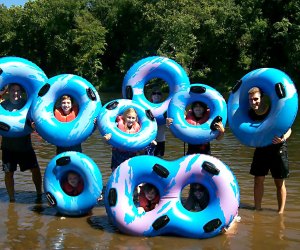 25 Fun Ways To Beat the Heat with NJ Kids in August
If you're suffering from hot-weather burnout, don't sweat it: New Jersey has tons of cool activities to help the whole family chill out when the temperatures soar. From beaches and splash parks to blissfully air-conditioned bowling alleys and arcades, we've got the best ways to beat the heat during the sizzling second half of summer.
Check out even more refreshing activities in our New Jersey Kids Summer Activities Guide. Stay cool, NJ!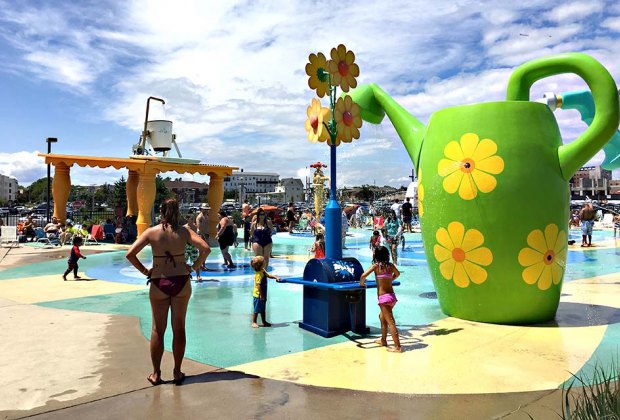 Find relief at Asbury Park's Sprayground. Photo by Rose Gordon Sala
1. Take the kids to one of NJ's many spraygrounds and splash parks, including the newly opened John Russell Wheeler Park in Linden.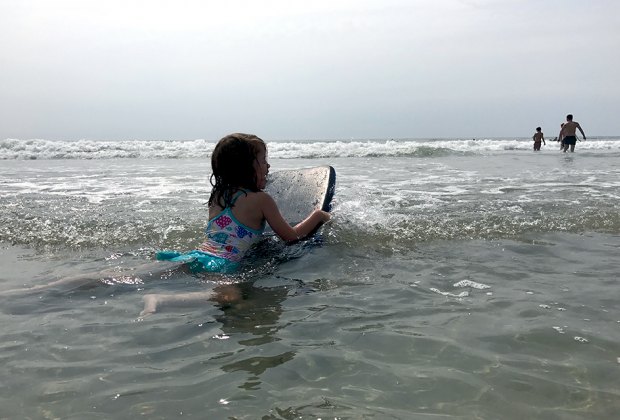 Hit the waves on Long Beach Island. Photo by Rose Gordon Sala
2. Spend a day at a Jersey Shore beach. In August, the temperature of the water is perfect for a refreshing dip. Don't forget about the free beaches!
3. Cool off in a swimming pool that offers day passes for non-residents.
4. Skip the Shore traffic and head to one of New Jersey's lakes for a day of swimming.
5. Hit the water slides and lazy rivers at one of these 15 awesome water parks. Or, plan an overnight trip and stay at one of these great hotels with outdoor water parks.
6. Visit the state's awe-inspiring waterfalls, including Tumble Falls and Silver Spray Falls.
7. Spend the day tubing or rafting on the Delaware River. Try Twin Rivers Tubing, located in Phillipsburg, which offers family-friendly tubing excursions.
8. Bait a hook and go fish!
9. Chill—literally—with the adorable penguins at Jenkinson's Aquarium, or watch Button and Genny the hippos glide through the water at Camden's Adventure Aquarium.
10. Duck into an awesome shaded playground.
11. Head underground to the Sterling Hill Mining Museum. Always a cool 56 degrees, the mine offers individual, group, and family tours.
12. Try one of these 25 water games to play with kids right in your backyard.
RELATED: 100 Free Things to Do with NJ Kids this Summer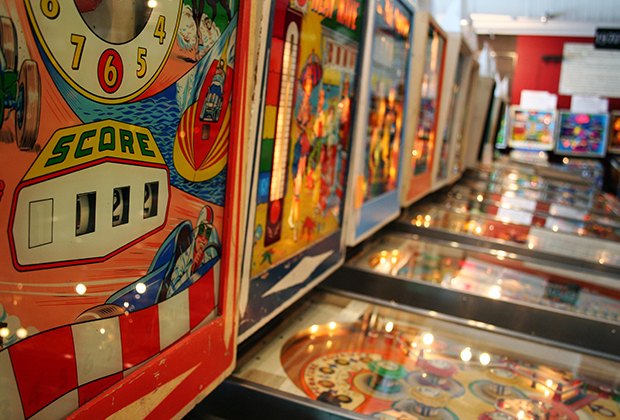 Play some of the vintage games at the Silverball Museum on Asbury Park's boardwalk. Photo by Debbie R. via Flickr
13. Enjoy some indoor gaming at Yestercades or the Silverball Museum.
14. Take in a free summer movie indoors—the Count Basie Theatre in Red Bank and the CityPlex 12 in Newark are just two of the many NJ theaters showing free summer flicks.
15. Check out one of the state's many indoor play spaces. Find a fun one near you in our Guide to Indoor Play Spaces for NJ Kids.
16. Enjoy some boardwalk-style rides in the indoor amusement park iPlay America.
17. Play a round of indoor mini-golf.
18. Grab some friends, gear up, and play some laser tag.
19. Refresh yourself with a blast of winter and go ice skating at an indoor arena.
20. Relish the air conditioning while the whole family figures a way out of these NJ escape rooms.
21. Create a masterpiece at a drop-in pottery or painting studio.
22. Hit the lanes at one of NJ's family-friendly bowling alleys, which range from thoroughly modern to charmingly retro.
RELATED: End-of-Summer Bucket List for NJ Kids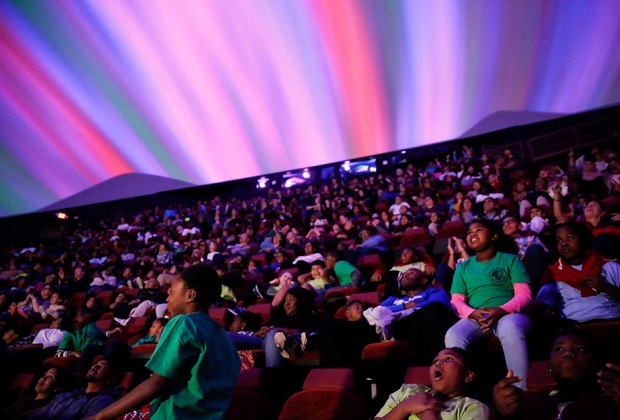 Liberty Science Center has all kinds of cool exhibits to see and activities to try. Photo courtesy of LSC
23. Spend a day at the Liberty Science Center or try another great museum in northern NJ, including the Morris Museum and the Newark Museum.
24. Jump and play without breaking (too much of) a sweat at one of NJ's indoor trampoline parks and bounce houses.
25. Check out the world's coolest bugs at Insectropolis, or visit one of these other children's museums in Central and Southern NJ.
This article first published in 2014 and has been updated since.