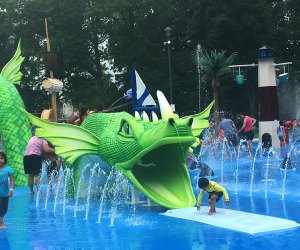 Huge New Spray Park in Union County Is a Water-ful Wonderland
Linden is now home to Union County's largest sprayground, and boy, is it worth a visit! Located in John Russell Wheeler Park, this 11,000-square-foot water playground, which opened in May 2019, boasts 33 kid-pleasing attractions and water features, including slides, sprinklers, sprayers, a dumping bucket, waterfall, pirate ship, and a giant water serpent. Admission is FREE.
One caveat: It gets crowded! So before you pack up the kids and head down the Route 1 corridor, check out this must-have info to help you plan your visit.
Getting There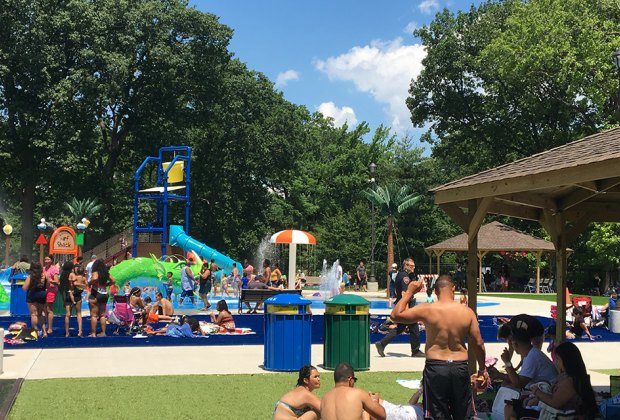 Gazebos, picnic tables, and soft, artificial grass on the outskirts of the spray park offer families a place to rest.
While the park is located on Route 1 South, access to Wheeler Spray Park is a couple of streets west. Take South Wood Avenue or South Stiles Street, and look for the parking lot at the corner of W. Stimpson Avenue and Kennedy Drive.
Timing your trip is everything. My family arrived on a late-June Sunday around 2pm. To my surprise, a huge line wrapped around the entrance building. For safety reasons, the park keeps the number of visitors to 500 at a time. They carefully count every person going in and out of the gate, so the lines definitely build. After waiting 30 minutes, and only halfway through the line, I convinced my three disappointed kids to try again another day. On our second attempt (a weekday, 15 minutes after opening), it took only 10 minutes to get in. Whew!
At check in, the staff gives out bracelets and spot-checks bags. Leave the glass containers and toys at home. The family ahead of us was asked to return a small sand pail to their car because of this strict policy.
Fun in the Sun
Once inside, we settled our blanket on the soft, artificial grass. There are plenty of shady areas within this fenced park. In addition to trees, there are large gazebos with nice picnic tables; reserve them for two-hour slots for parties. A few separate picnic tables with umbrellas were also available.
RELATED: Top New Jersey Playgrounds for Toddlers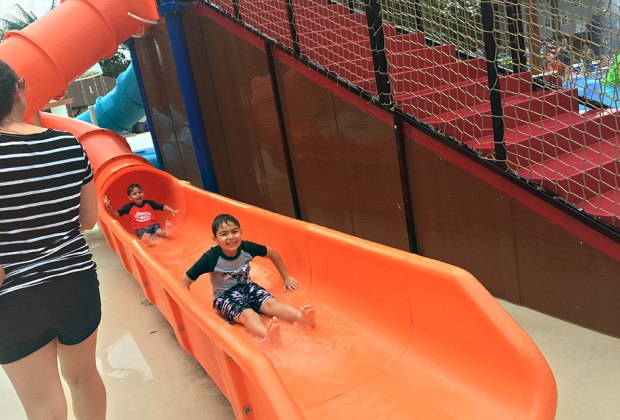 The twisty water slide tunnels are a favorite!
After slathering on sunscreen on my kids, the Surf Shack caught my boys' eyes (ages 5 and 8). This tower holds two twisty water slide tunnels, and an enormous bucket that dumps water on people below. I was very impressed that the park dedicates two staff members to this feature. One stays at the bottom of the steps, carefully allowing only two people to climb the stairs at a time (no pushing or elbowing here!), while another staff member keeps an eye at the bottom of the slide to prevent crashes from lingering riders.
RELATED: 10 Fun Things To Do in Warinanco Park in NJ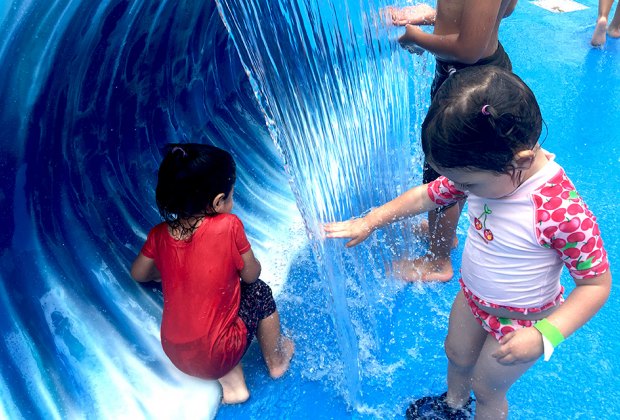 My little one was mesmerized by the waterfall.
This area had plenty of sprays and springs to keep my three-year-old busy, and this super cool waterfall caught her eye. Children can sit completely immersed behind the falls, if they wish, or poke a finger through the outside. Another favorite for little ones in this area were connecting basins of running water with a little STEM bonus, as kids can see how opening and closing the levers affected the water flow.
RELATED: Best Water Playgrounds and Splash Pads in New Jersey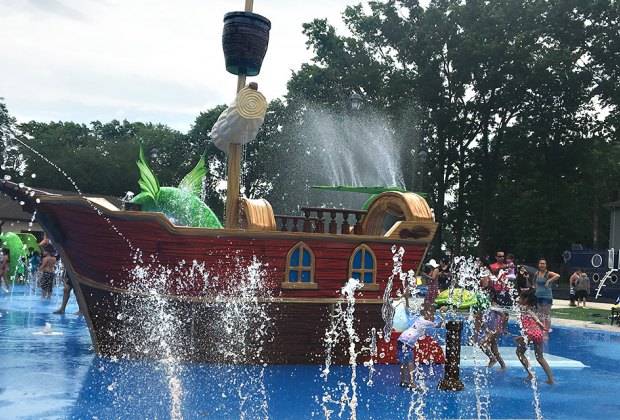 The pirate ship is one of the sprayground's main attractions.
Nearby is another crowd pleaser: a giant water serpent covered in sprinklers. His mouth features a tame waterslide. My kids also loved playing on the pirate ship, with sprayers and side-by-side slides. I loved that this slide was also watched by a staff member for safety and that the kids slide onto a thick foam pad, since the whole spray area has concrete flooring.
All throughout the park are water sprayers that you can maneuver to squirt a friend; small dump buckets; ocean- and pirate-themed springs to play on and touch; palm trees and mushrooms with light rain; and more. No matter the age, kids (and their caregivers) are in for some wild, wet fun!
Taking a Break
Immediately next to the spray area is a small ship for some water-free fun within the fence. There are slides and places to climb. And just outside the gated area is a large playground with tons of climbing features, swings, and slides.
My only disappointment with this beautiful park were the bathrooms. They were completely new and very clean, but I didn't see a clothing changing area. The locker room has benches, but is completely open without doors. I didn't see a family bathroom, either. You'll find some beverage vending machines in this area, but no other concessions are available.
Park hours are 12–6pm, Mondays-Fridays; and 11am – 7pm on Saturdays, Sundays, and holidays. Note that the park starts shutting down some of the water features about 30 minutes before closing.
Photos by the author