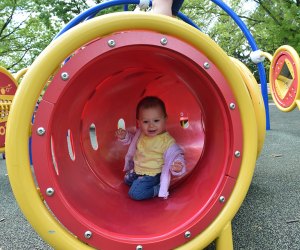 Top New Jersey Playgrounds for Toddlers
Toddlers may be tiny, but their sense of adventure is enormous. On the playground, this can mean near-heart attack moments for us parents and caregivers! Luckily, NJ has a bunch of great playgrounds that have age-appropriate equipment for the littlest daredevils. Here, we've rounded up some of the best NJ playgrounds for toddlers to enjoy.
Best Toddler Playgrounds in North Jersey

The playground at Brookdale Park has plenty of climbing and swinging options for tots.
Brookdale Park – Montclair/Bloomfield
Whether you want to soar on a butterfly, ride on a turtle, or enjoy snack time on a mushroom, Brookdale has plenty of options for little ones (some under a built-in sun shade!). This whimsical park has a slide for kids under 5, and even a platform swing that accommodates wheelchairs, strollers, and assistive devices. A slightly larger structure has a climbing wall with large footholds instead of rocks, a short ladder, a swinging bridge, and side-by-side slides for buddies.
Grover Cleveland Park – Caldwell
This newly renovated shady park has some neat options for toddlers, including bongos to bang on, climbing features, a disk swing, and even an adult/child tandem swing. Sit face-to-face to watch your little one's expression when you soar together toward the sky!
Farm Playground – Cedar Grove Park, Cedar Grove
This recently renovated farm-themed playground is a blast for little kids. There's a giant cow and pig to climb on and a huge play structure that looks like a barn. Ramps and a small staircase lead to the slides on one side (with more challenging climbing features on the other side for older kids). If this area is too overwhelming, a separate toddler climbing area and swings (including bucket and backed styles) are right next to the barn.
South Mountain Recreation Complex – West Orange
Ahoy, mateys! Regatta Playground features an enormous pirate ship, and toddlers will love peeking through the port holes, slipping down the slides, running over the bridges, climbing short ladders, and scaling a small rock climbing wall. One side of the ship has larger slides and a higher rock wall for older kids. If the pirate ship is too intimidating, there's also a smaller toddler slide and climbing structure nearby, complete with a telescope. Little ones will love the musical play area and bouncing and balancing on a trail of tree stumps and mushrooms.
Van Saun Park – Paramus
This massive park is truly a boredom-buster, complete with a mini-train ride, carousel, pony rides, and zoo. The playground is also not to be missed. There are mushrooms to bounce on, small slides, bridges, and even a splash pad in the summer. Pack a picnic lunch and spend the day!
Best Toddler Playgrounds in Central Jersey
RELATED: 10 Awesome Accessible Playgrounds for New Jersey Kids

Daring tots can tackle the spider climb at Colonial Park's playground.
Colonial Park – Somerset
This park is definitely worth a day trip. Enjoy pedal boats, mini-golf, and, of course, a super fun playground with inclusive equipment. Your toddler will love the tunnels, slides, climbers, and music toys. Caregivers will love the spongy rubber floor and the plentiful seating! The large platform swing is great for little ones in strollers, as well as grandparents. For more daring toddlers, try the spider webs and ropes with low platforms to balance on.

Little ones can drive the wooden truck at KidStreet Playground.
KidStreet – Bridgewater
This awesome playground stirs the imagination with a huge wooden pirate ship and cars to climb on, an amphitheater structure, a vibraphone, a "play city," and more. But, what's really nice about this large playground is a separated area for toddlers with a large sandbox, swings for the younger set, play houses, low slides that toddlers can climb by themselves, tire climbers, and even a mini zip line! The area is fenced in on three sides, with a small opening in the fourth side to keep kids somewhat contained. There are other areas for older siblings to burn off energy, too. Bonus: The toddler area is nextdoor to the bathrooms, which are pretty clean. If you want to grab a bite nearby, the Bridgewater Commons Mall is less than a mile away.
Best Toddler Playgrounds on the Jersey Shore
RELATED: 10 Great Beachfront Playgrounds in New Jersey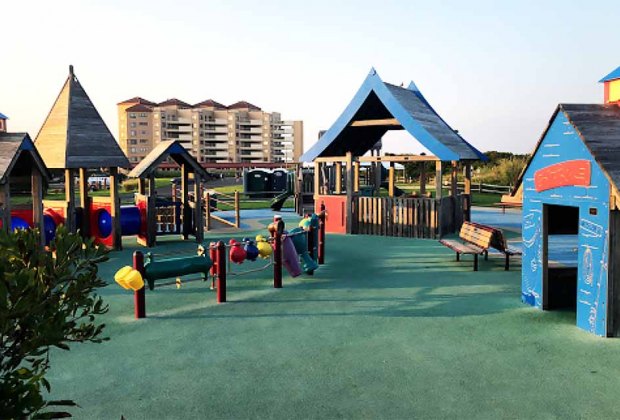 Tony's playground is a short walk from the beach. Photo courtesy of Seven Presidents Oceanfront Park
Tony's Place – Long Branch
For a memorable day in the sun, it's hard to beat Tony's Place. This huge playground is just a two-minute walk to the beach. It boasts several bucket and chair-style swings, tunnels, sea animal–inspired climbers, a music station, and more. The spongy, rubberized flooring makes it safe for anyone to enjoy.
Best Toddler Playgrounds in South Jersey
Clark Field – Washington Township
This super-cute neighborhood playground is the perfect size for toddlers. Climb through a fire truck, slide down a pirate ship–inspired slide, or climb on a mini rock wall. Whichever one your little picks, you're bound to have a great time.
Jake's Place – Cherry Hill
This accessible playground, intended for people of all abilities, has ramps that lead to play areas and slides so kids in wheelchairs or with assistive devices can play beside others with ease. You'll also find bridges, a balance beam, stepping circles, swings with backs, and more. The whole play area is fenced in, and there are lots of shady areas.
Photos by the author unless otherwise noted