Essex County's New Accessible Playground Lets All Kids Play Together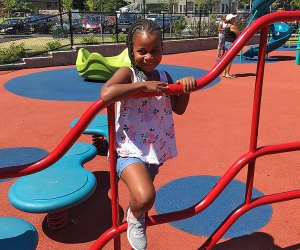 All children can benefit from outdoor play in a park or playground, and lucky for us, there's a new accessible playground in Bloomfield, NJ, designed with the needs of kids with physical and developmental disabilities in mind.
Watsessing Park's all-access playground opened at the end of July after a seven-month, $4 million renovation. This new addition to the 69-acre Essex County park, located at the intersection of Bloomfield Avenue and Conger Street, boasts inclusive features such as wheelchair-friendly surfacing and ramps, a seated merry-go-round, special swings, and much, much more—all in delicious, candy-colored hues.
Already fans of Watsessing Park's splash playground, my 6-year-old and I spent a perfect summer afternoon at this updated play space where all kids can play together and have fun. Read on for the scoop.

Watsessing Park's playground is filled with colorful play structures for all ages and all abilities.
I'm not sure who was more excited to visit the new Watsessing Park playground—my daughter or me. After driving by the park during my morning commute the past couple of months, I witnessed the renovation take shape firsthand. Once I saw the colorful play structures go up a few weeks ago, I knew we would all be in for a treat. And that was before I even learned that the playground would be ADA-compliant and accessible to kids of all abilities.
"When we modernize our playgrounds, we have always included some elements that can be used by children with limited physical abilities—but all children should have a place to play, and having an all-access playground will bridge the gap between mainstream children and those with handicaps, create a better understanding, and foster social relationships," said Essex County Executive Joseph DiVincenzo at the playground's July 26 ribbon-cutting ceremony.
The first of its kind in Essex County, this all-access playground is truly a special place. The vibrant teal blue, red, and lime green colors immediately draw you in. Once we entered the gates, my daughter literally screamed for joy before running around in a dizzying circle of excitement over all the cool new equipment, most of which is pretty unique to this playground.
RELATED: Beat the Heat at the Watsessing Park Splash Playground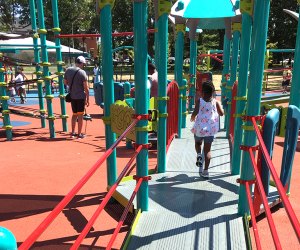 A ramp allows easy access for kids in wheelchairs, as well as little ones.
I immediately noticed that the jungle gym is built lower to the ground, which is great for kids with mobility issues and toddlers. Wide-open spaces give little ones more than enough elbow room to shimmy through tunnels, slide down slides, and romp across the wobbly bridges. A ramp leading to the play structure allows kids in wheelchairs to play with ease on the play panels, drums, and puzzles.

In addition to the dazzling array of colors, textures play a large part in the playground's design. A big draw here are the two roller slides that deliver a bumpy ride. One even sits horizontal for kids to crawl through instead of slide down. Spinning color wheels in rainbow and black-and-white themes add to the playground's elevated sensory experience.
RELATED: 10 Awesome Accessible Playgrounds for Kids of All Abilities

The playground includes traditional, high-backed, and two-seater swings.
Under a giant misting water tent—perfect for enjoying the park on a hot summer day—oversized xylophones provide some terrific tunes. The swing section includes a mix of traditional, high-backed, and a two-seaters for double the fun. A lot of the playground equipment at this playground is meant to be shared by two or more, including a seated merry-go-round, four-person seesaw, disc swing, and a giant rotating net climber that's just as much fun to spin as it is to ride. I had never seen anything like this before, but the playground is also home to a huge moving glider that offers room for wheelchairs to roll right on, plus two large benches for other passengers.

The preschool set love playing in this little house.
The adorable fairy house was popular with the pint-sized preschool set. The farmer's market theme is carried out through puzzles, veggie-shaped climbing steps, and a cafe table for two where you and your little one can enjoy your (pretend) meals. But big kids certainly won't be bored here. The older crowd will gravitate toward the sky-high tower, which invites thrill-seekers to scale the outside, or test their agility by shimming up through the circular cutouts at the center to reach the top.
As I looked around the park and saw all the kids playing happily, no one stood out as being different. And that's what I think is the magic of Watsessing Park's new playground—it gives all kids, no matter their ability—an equal playing field for having fun!

Take a spin in this cool contraption.
Good To Know
While street parking is available, there's also a parking lot with multiple handicap spots helps to facilitate transportation and ease of access to the playground. The convenient lots sits in between the playground and the park's brand-new community center, which is where you'll find larger, family-sized, and handicap-accessible bathrooms for playground visitors.

You can pack a picnic and spend the day here. A covered gazebo with tables and benches sits directly outside the playground gates for families to take a break and enjoy lunch or a snack.
Worked up a sweat? Jump in the car for a three-minute ride to the Watsessing Park splash playground, located on the other side of the park. There's always an ice cream truck parked outside there, as well—sweet!
Photos by Margaret Hargrove