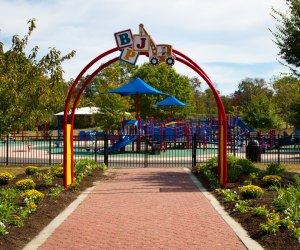 10 Awesome Accessible Playgrounds for New Jersey Kids
New Jersey has a growing number of parks and playgrounds that cater to every outdoor adventurer, particularly children with special needs. Every child has a right to play in his or her own special way, so we're recognizing some of the best all-access playgrounds the state has to offer.
Featuring ground-level playthings, wide ramps for wheelchairs, belts and buckles for added protection, and plenty of rest and reflection areas to retire to between bouts of fun, these playgrounds are beyond special and well-deserving of their shout-outs!
And now that summer is on the horizon, find more inclusive outdoor fun at the Watchung Sensory Trail, and at Van Saun Park's Harmony Playground, featuring a pond-themed, ADA-accessible splash pad.
Thanks to the tireless, pioneering pursuits of a number of park departments and dedicated volunteers in the Garden State, the dream of integrated, uninhibited play for ALL children is becoming a reality in more towns. Toms River's Field of Dreams, for instance, is just one of several highly anticipated accessible playground and greater park blueprints awaiting final green lights. Read on for accessible playgrounds you can visit today.
Northern New Jersey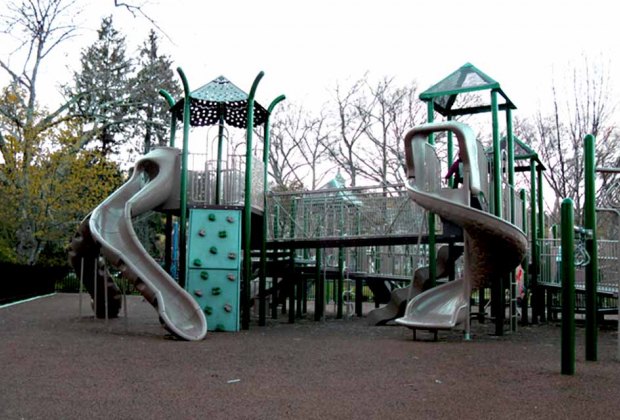 All-Children's Playground features accessible swings, Braille panels, and lots more.
All-Children's Playground at Edgemont Memorial Park – Montclair
The sensory experience at Edgemont Memorial Park's All Children's Playground is out of this world, starting with the light-as-air overall feel of the whole park. The surface of the playground is smooth throughout, paving an easy way for wheelchairs and providing a soft, durable landing in the event of falls. Ramps are set up throughout the entirety of the play space, so that children can maneuver easily from one spot to another. There are dynamic features, like Braille panels, intriguing textures, and even fragrances for young ones with visual impairments, as well as accessible swings safeguarded with high backs and harnesses. Parents can feel comfortable with the single entrance and safety fence that surrounds the park and ensures that much more protection.
Central Park of Morris County – Parsippany-Troy Hills
There's not much that this park doesn't offer. From artificial turf fields and in-line skating rinks, to a plethora of picnic areas and a Challenger League, fully-accessible ball field, the park is just as adventurous as it is athletic. The prized part of it all, though, is the all-access playground, sponsored by the New York Jets. Offering swings, slides, a music stand, and crawl tunnels, this extraordinary facility is accessible to children in wheelchairs and was specifically designed so that they could play alongside their friends and siblings.
Milton A. Votee Park – Teaneck
All of the playthings at this colorful, all-inclusive playground are educational and take a cue from musical keyboards, sign language lessons, fire safety tips, and much more. In addition to handicap swings and wheelchair ramps park-wide, the colorful scene boasts a variety of imaginative inventions for 2–12-year-olds: balancing floating stones, a log roll, upper body challenges, plenty of play panels (both elevated and ground level), spring animals, and a special cache of ground-level animal bouncers. Everything is fenced in, for added peace of mind, and directly next door is an auxiliary climbing area—great for older siblings and tweens who crave more challenging obstacle courses.
Phil Rizzuto Park – Elizabeth
There is accessible, and then there is boundless. And this 10.4-acre recreational area represents one of Jersey's above-and-beyond boundless playgrounds (where wheelchair access is only one of the differentiating factors, plus a whole lot more). Its namesake, New York Yankee and local legend, Phil Rizzuto, was a philanthropist and well-known supporter and advocate for blind youth, so the playground is appropriately ballpark-themed. Not only is the park rife with ramps and ride-ways, it has transfer platforms, full-body positioning support swings, and a number of safe, sit-down spring-riders shaped like cars and planes, too.
Central New Jersey
Ann Van Middlesworth Park – Hillsborough
Built in 2011, this universal playground packs a fun time for the entire family. Handicap-accessible ramps, variable-height monkey bars, swings with extra support straps, and a beautiful sensory garden all bring smiles to children with special needs. Meanwhile, the park is also home to a pair of baseball and softball fields, a skate park, hiking trails, a fishing lake with a floating pier, a horseshoe pit, and a phenomenal picnic grove with grills, a covered pavilion, and wheelchair-capable picnic table. So, even if families split up to diversify their fun, they can reunite over food and laughs later on!
Challenger Place – Colts Neck
This universally accessible playground opened in June of 2004 (as a joint venture of the Monmouth County Park System and Challenged Youth Sports Middletown), and has been an example to every parks department across the state—to build and foster experiences for ALL children to play, learn, and grow, together. It includes elevated surfaces accessible to those in wheelchairs, Braille signs for little ones who are visually impaired, and a variety of play structures with "challenges" for kids of every ability. Next door sits the Dorbrook Recreation Area Sprayground, which organizes "Spray and Play," the only summer group offering for camps and communities serving individuals with disabilities.
RELATED: Watchung Reservation Sensory Trail Caters to Kids of All Abilities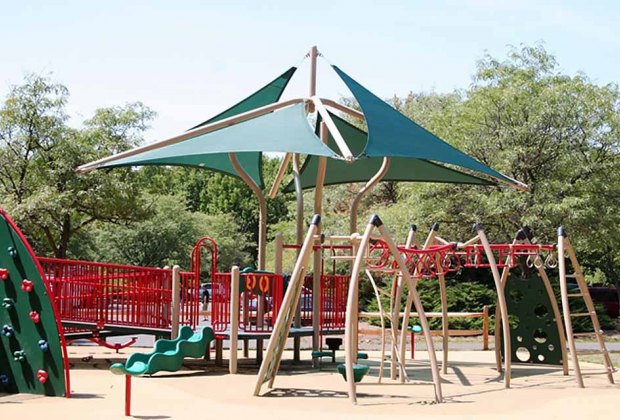 The playground at Veteran's Park was designed with all children in mind.
Hamilton Township's Accessible Playground at Veteran's Park – Hamilton
Children are extremely perceptive and hardly naive to separated environments; understanding that reality, the Hamilton Township Park & Rec team designed its all-inclusive playground to give children with special needs the freedom to play alongside peers of ALL abilities. The setting is truly magical, with wide wheelchair-accessible ramps, adaptive swings (equipped with safety belts), a soft, rubber mat surface for increased safety, a low-height "Toss-n-Score" Basketball Basket, several slides and climbing areas, bouncing stationary cars, a seesaw, and a large "Sunblox Sail Roof" to provide cover from the sun on hot summer days.
Jersey Shore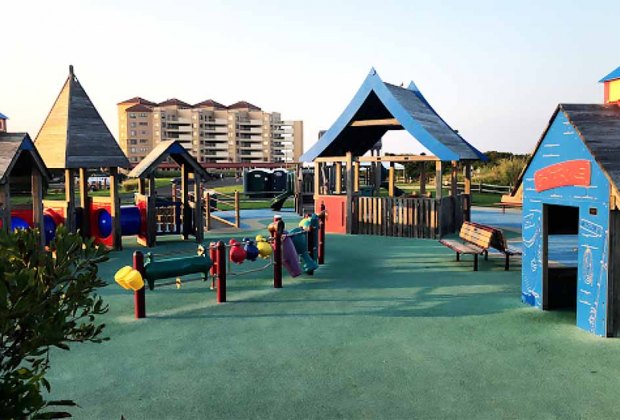 Family-favorite Tony's Place offers fun for various ages and abilities—within walking distance of the beach!
Tony's Place at Seven Presidents Oceanfront Park – Long Branch
This universally-accessible playground is part-two of the Monmouth County Park System and Challenge Youth Sports Middletown collaboration to bring fun, imaginative play to children of ALL abilities. This one is within walking distance of the beach, so it has a distinctly sea-like vibe. Colorful foam flooring is featured throughout, and there are three dedicated areas for age/skill-based play: 2–5-year-olds, 5–12-year-olds, and babies. Kids can pretend they're stopping by the ice cream parlor to pick up a cool cone, ride on a sea animal, or beat on the drums and shimmy with the shakers stationed inside. Throughout the summer, "Summer Fun at Tony's Place" provides free access to the playground for littles with special needs and their families. There is no fee, but a permit is required (call 732-842-4000 ext. 1 for more information).
Southern New Jersey
Fort Medford Playground at Bob Meyer Park – Medford
This park trades castles in the clouds for forts, teepees, and totem poles—and beyond the physically accessible portions of the playground, there's even a small stage and puppet theater for tykes to team up and perform together. A Sway Boat and a roller slide, which helps children with no lower-body mobility, make up some of park's all-star features, and an interactive musical wall keeps kids of all skill levels occupied.
RELATED: Best Water Playgrounds and Splash Pads in New Jersey

The creators of Jake's Place want to make sure that all children feel welcome.
Jake's Place at Challenge Grove Park – Cherry Hill
While it's true that all playgrounds are required to be ADA-compliant, it doesn't mean that they're all accessible. For a child who uses a wheelchair or requires other assistive devices to get through the day, being able to see the playground, but only from a far, is absolutely no consolation. Jake's Place was dreamed up by a set of parents and grandparents who lost their sweet baby boy too soon to a rare cardiac condition. His greatest joy was visiting the playground and carrying out his physical therapy under the sun, and even though he couldn't see any of the heartbreaking barriers to entry, his caretakers sure did. After completing the first Jake's Place in Cherry Hill, the family has made it their mission to bring an all-inclusive experience to every county in New Jersey. The second location in Burlington County is on deck to open soon.
And as for the playground? It's a whimsical wonderland, full of fun and enriching opportunities to learn and play. There are lower monkey bars and climbing walls and ramps connecting all of the play structures, which are strong and resilient enough to hold children and their adult caretakers, too. The "Sway Fun" simulates a boat on water, and can accommodate two or three children in wheelchairs at the same time (this is a favorite!).
All photos courtesy of the parks.