Beat the Heat at the Watsessing Park Splash Playground in East Orange, NJ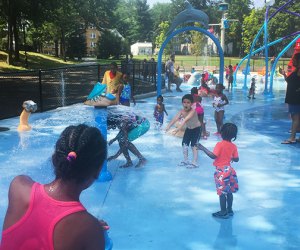 After months of construction, the highly anticipated Watsessing Park Spray Park opened on July 20. Located on Glenwood Avenue near Dodd Street in East Orange, the 3,000-square-foot addition to the 69-acre park provides deep sea–themed water adventures to keep your kids cool this summer.
While New Jersey residents are no stranger to the cheap thrills provided by local spraygrounds, those living in Essex County have been forced to drive to neighboring communities for free water fun. But thanks to this new spray park, now you can cool off not too far from your own backyard.
Making its debut right in the middle of a string of 90-plus-degree days, I couldn't think of a better place to take my 4-year-old daughter to beat the heat. With her swimsuit on and beach towels in tow, we were excited to check out this cool new spot.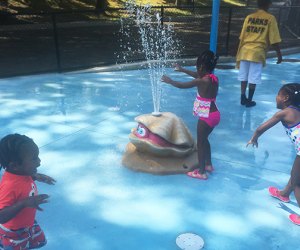 Sea creatures shoot water into the air.
Spray Park
The sea life–themed splash playground transported us to the ocean—without the Jersey Shore traffic. Fun water features include colorful, fish-shaped buckets that tip surprise showers on the kids below, sprinkler tunnels, and geysers that send water sky-high.
Little guppies will enjoy climbing on the low-to-the-ground sea creatures and beach rocks that shoot water up into the air. A 360-degree water jet soaks little ones romping around the softly padded ground. Kids can aim the spray cannon to get their friends wet and run hand-in-hand through a dolphin misting tunnel.
Two tall water tubes loom over the middle of the the splash pad, sending out sheets of cool water below. The unpredictable spouting water feature is also a fan favorite. My daughter loved stomping on the water jets to predict where the water would pop up next.
RELATED: Best Jersey Shore Beaches for Families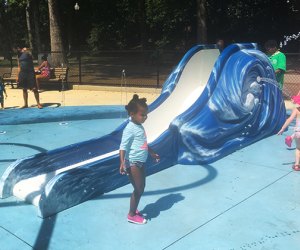 The snail slide is everyone's favorite.
The main draw is the snail-shaped slide. Expect a long line, but it moves quickly. Two park attendants are stationed here to keep the pace and prevent line-cutters. While easy enough for toddlers to do on their own, it still provides enough of a thrill for bigger kids, too.
Seating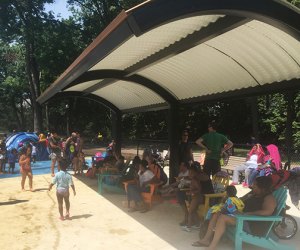 Come early to snag a seat.
The spray park is open daily from 11a.m. – 7 p.m. Plan to get there early if you want to snag a seat under the shade. Colorful Adirondack chairs allow you to comfortably lounge while keeping an eye on your kid. We arrived at 10:30 a.m., and all of the seats were taken. One mom told me she had been there since 9:30 a.m. (the gate opens at 10 a.m.) to secure her spot. Throughout the day, I noticed several families who brought their own beach chairs, so that's an option, too.
Playground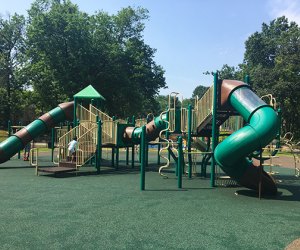 An adjacent playground keeps the kids busy until the water turns on.
A large playground adjacent to the spray park will keep kids occupied while you wait for the water works to start at 11 a.m. Slides, swings, and multiple climbing structures provide a nice warm-up to the wet activities (or a place to dry off before getting in the car for the drive home). My daughter enjoyed going back and forth between the playground and the spray park, and it was easy to keep up with her since they're only steps away from each other.
Food
An unexpected bonus at this water playground are the free meals served Monday–Saturday. For lunch on Saturday, my daughter received a sandwich, fruit cup, apple juice, and carton of chocolate milk. Of course, feel free to bring your own food and snacks—plus there is an ice cream truck parked near the entrance to the park on Glenwood Avenue selling popsicles and other sweet treats.
Good To Know
Restrooms are located in the field house next to the playground, so you won't have to venture too far for potty breaks. The water is turned off between 1–2 p.m. for maintenance, so plan your arrival accordingly. Luckily, the adjacent playground should head off any meltdowns during the water break. Open daily now through Labor Day (September 4), the spray park will close in the event of inclement weather.
Photos by the author.