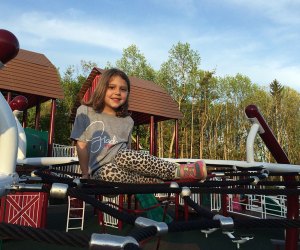 10 Themed Playgrounds in NJ that Take Fun to New Heights
Now that playground season has arrived, it's time to pack your sunscreen, hats, and bottled water and head to the park. If you're looking for some new options to captivate your kids, both young and old, choose an outdoor play space with a cool theme to keep them entertained. From a supersized sailing ship to an entire wooden village for tots, these unique playgrounds go beyond the usual swings and slides.
For more ideas, check out our Guide to Playgrounds & Parks in New Jersey.

Hop aboard a DC-8 and pilot a plane.
Ed Brown Playground – MacLearie Park, Belmar
Transportation is the theme of this all-inclusive play area. Kids can explore a recreated DC-8 and take turns piloting the plane. They will also love sliding down from the top of the control tower and climbing a sculpture of stacked suitcases. Little kids have a train of their own to man.

Kids can be king for a day at the Castle Playground.
Castle Playground – Hopewell Borough Park, Hopewell
Kids will have a royally good time at this medieval-inspired playground. They can use their imaginations to storm the castle as they climb, jump, and swing around. And if they're trying to elude the bad guys, a quick escape down the slide will leave them victorious.
Cherry Blossom Playground – Branch Brook Park, Newark
In tribute to Branch Brook Park's popular Cherry Blossom Festival, this play space boasts a cherry blossom theme. Nature-inspired play structures include a tree house; animal sculptures; and nature discovery table; plus vine, conifer, cloverleaf, and river rock climbers. Located near the Cherry Blossom Welcome Center.
RELATED: New Jersey Playgrounds Cool Enough for Big Kids

Play in prehistoric times at Dino Playland.
Dinos Playland – James G. Atkinson Memorial Park, Sewell
Young dinosaur lovers will appreciate this tot lot, where purple plastic dinosaurs decorate the landscape. Kids can climb a Triceratops, explore a Stegosaurus, and slide down a T-rex.
Farm Playground – Cedar Grove Park, Cedar Grove
Take a trip to the farm at this bucolic-themed playground. A bi-level barn structure keeps kids in the shade on hot days, as do misters over shaded benches. Sweeping valley views to the east will also relax visitors. There are oversized pig and cow statues for kids to climb, and little ones can pretend to operate a mini tractor.
Fort Medford Playground – Bob Meyer Memorial Park, Medford
If your family is more about forts than castles, this Indian reservation–inspired play area will wow them. Check out the totem poles, teepees, and other creative American Indian details. A totally handicap-accessible playground is adjacent.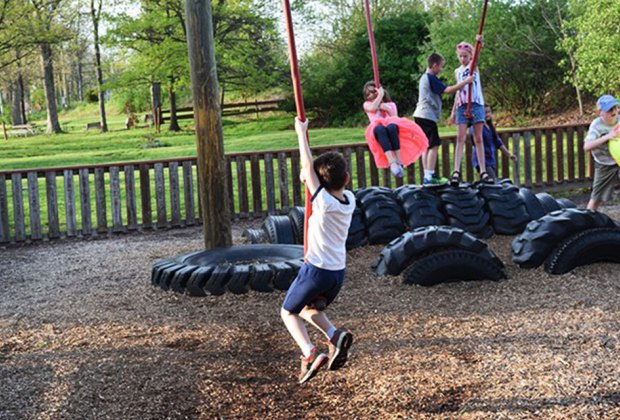 Kid Street Playground offers fun for even the most intrepid adventurers. Photo by Kaylynn Chiarello Ebner
KidStreet – Bridgewater
You'll find lots of wooden structures and rubber tires throughout this impressive play village. There's a fire station, police station, and jail to tickle kids' imaginations. There are also airplane, ship, and car structures to explore. And if that's not enough, there's always swinging, sliding, and even zip-lining.
Regatta Playground – South Mountain Recreation Complex, West Orange
This waterside play area has a grand sailing vessel as its anchor. Beneath the towering masts, kids can climb rock walls, zip down slides, and peer through telescopes. There's a mini boat for smaller kids to enjoy, too. Parents can relax in one of the Adirondack chairs skirting the playground while kids peek through portholes to say hi.
RELATED: Kidstreet Playground: Playdate Perfection in Bridgewater, NJ

Tony's Place Playground embraces its shore setting with an ocean-themed playground.
Tony's Place Playground – Seven Presidents Oceanfront Park, Long Branch
It's only natural that a beach-side playground offers an ocean-themed place to romp. But the seal statues, shoreline-inspired surface, boat structure, sea-cave-like rock structures, and fishing shack take this universally accessible play area to the next level.
The faux logs and trees at the Treehouse Playground are even more fun than the real thing!
Treehouse Playground – Timber Creek Park, Gloucester Township
Head to the back of the park, where a wooded trail leads to a small play area created of faux trees. Climb a stack of logs to a platform that has a thick trunk growing through, then slide down a hollowed-out half-log. There are also rocks and ropes to tackle, and a slide pole.
Photos courtesy of the parks unless otherwise noted.