Artificial Intelligence with Scratch Online Camp
Young Gates - Kids Online Personalized Classes

Online Robotics Camp
Young Gates - Kids Online Personalized Classes
Thompson Park's Annual Creative Arts and Music Festival
Thompson Park
Sign up for our free newsletters.
KidStreet Playground: Playdate Perfection in Bridgewater, NJ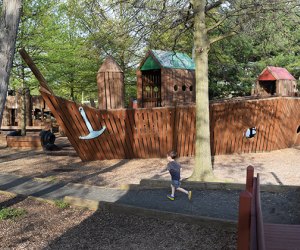 5/11/17
- By
Kaylynn Chiarello Ebner
Slides? Check. Swings? Check. Two-story pirate ship, zip lines, and enormous climbing structures? Check, check, and check. KidStreet isn't your average playground.
Located minutes from Bridgewater Commons Mall at the Bridgewater Municipal Complex, this unique spot is one that your family will want to visit again and again. KidStreet is a favorite hangout for my kids, ages 6, 3, and 9 months. It has a fantastic layout with special playground equipment you won't come across just anywhere, and it's perfect for playdates, with plenty of parent seating areas and fun things to do for kids of all ages—even the big kids. Read on for an inside look at this hidden gem.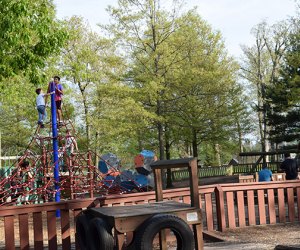 KidStreet has something for all ages.
The park has a long entrance area that's semi-fenced in to protect little ones from straying too close to the street. Love that! At the entrance, you'll find some pretty clean bathrooms, picnic tables, and beverage vending machines.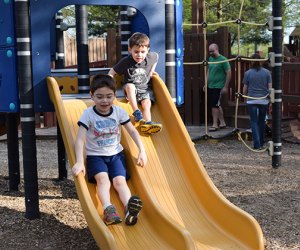 Small slide structure for little kids.
Once inside, you'll see there are three sections of the park that are very loosely segmented by age appropriateness. The first area on the left is perfect for very small children. It has a huge sandbox, several small jungle gyms with slides, four swings (two bucket style), and more.
A big draw in this zone is a large wooden climbing structure that connects two slides, bridges, and the popular junior zip line. In keeping with the city theme, small permanent cars and trains are sprinkled throughout.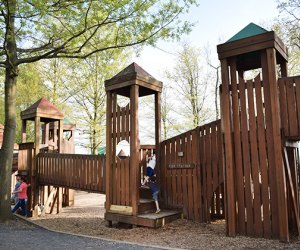 Wooden climbing structure with a fire station, police station, and more.
Across from this area is a section that's perfect for kids ages 5 and up. There's an enormous wooden climbing structure with a police station, jail, wooden cars, and more—all with interconnecting tire climbs, slides, and bridges.
Kids won't want to miss the two-story pirate ship, especially the exit route, which has a slippery, fast slide.
This area has about four swings and plenty of benches where kids and parents can take a load off and recharge. One of our favorite break spots is a huge platform swing where everyone from newborns to seniors can swing on benches together.
Nearby is a grid of color blocks for making patterned designs and a huge xylophone for kids to play tunes that span an octave. Also in this area is a large amphitheater-style seating area, where parents can enjoy some quiet time while the kids play.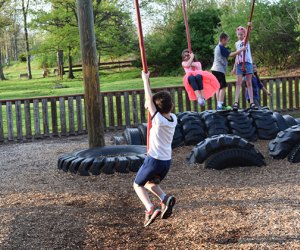 Older kids will enjoy the zip lines and taller climbing structures.
Expect older kids and tweens to bolt to the back of the playground, where they can try a small obstacle course and longer zip lines. Climbing fans will love the large hexagonal climbing area and a tall, web-like structure.
There's so much to love about KidStreet, but one small source of frustration is that it's not very stroller-friendly. Each area is sectioned off by wooden barriers designed to contain the wood chips, so wheeling around trying to chase my kids from one section to another is always a workout.
Aside from that, consider KidStreet to be a playground destination worthy of a day trip to-do list. You can combine KidStreet with a shopping trip at nearby Bridgewater Commons Mall, grab a bite at the mall's food court or restaurants (kid-friendly choices include California Pizza Kitchen, Cheesecake Factory, and Maggianos), catch a movie at AMC Dine-In Movies, or avoid the mall crowd completely and head over to nearby Downtown Somerville for even more fun.
Top photo: Pirate ship. Photos by the author.