20+ Things To Do with Kids in Somerville, New Jersey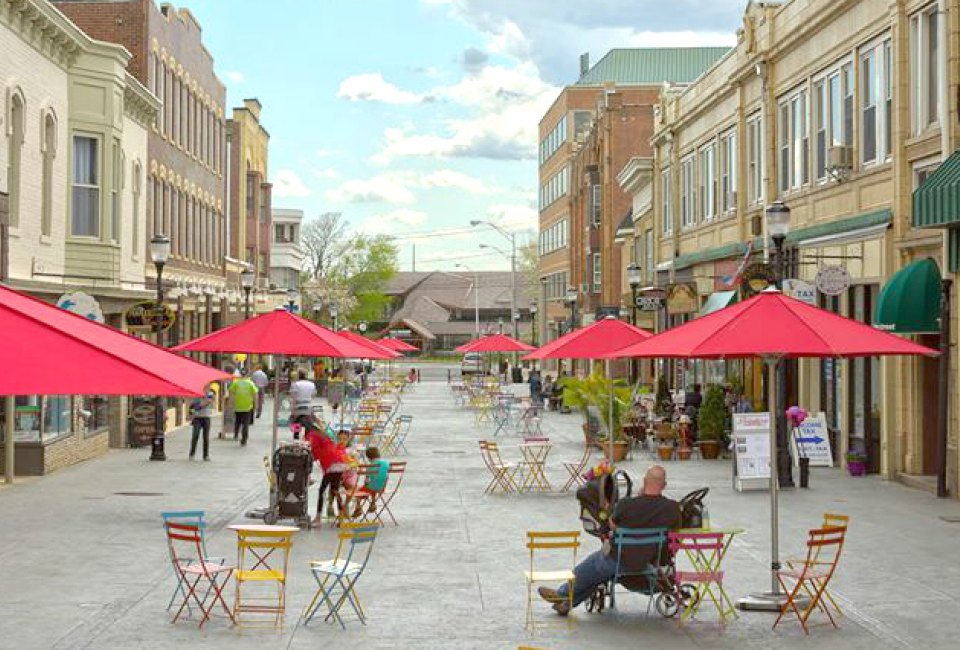 4/12/17
- By
Kaylynn Chiarello Ebner
Good things come in small packages. Somerville may be only two square miles, but there's a lot of fun packed into this charming Central Jersey borough. With a vibrant and redeveloped downtown, a minor league baseball team, and some amazing historical sites, there is plenty to see and do. Here are 20+ ways for your family to have a blast in and around Somerville.
1. Stroll down Main Street and enjoy the many clothing boutiques, restaurants, consignment shops, and specialty stores that Downtown Somerville has to offer.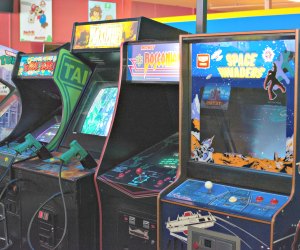 Yestercades arcade games. Photo by Rob DiCaterino / CC BY 2.0
2. Take a step back in time and introduce your kids to some fun classic arcade and pinball games at Yestercades in Downtown Somerville.
3. Hang out in the alfresco dining area on cobblestoned Division Street with gourmet cupcakes from Blue Sheep Bake Shop.
4. See tons of classic cars and trucks line Main Street on Somerville Cruise Nights every Friday between Memorial Day and Labor Day.
5. Watch the fast-paced Tour of Somerville Bicycle Series roll into town on Memorial Day, and let the little ones enjoy special kids' activities.
6. Memorial Day, Nighttime Winter Lights... there's no shortage of parades in Somerville. Perhaps the biggest draw is the annual St. Patrick's Day Parade, which features 150+ marching groups.
7. Every December, the Somerville Holiday Jubilee delights families with free horse-drawn carriage rides, Santa pics, entertainment, refreshments, and more.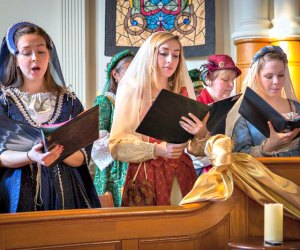 Photo courtesy of the Boar's Head Festival
8. In January, don't miss the very unique Central Jersey Twelfth Night Boar's Head Festival at the historic United Reformed Church on West Main Street. Community members in full Elizabethan garb take part in a traditional boar's head feast and retell the Christmas story by candlelight in celebration of the Twelfth Night of Christmas. The pagent includes a 125-member cast plus vocalists and instrumentalists including handbell, bagpipe, drum, organ, harp and brass players.
9. Head to Grove Street on Wednesdays from June 7 to October 25 for Somerville's popular open-air farmers' market.
10. Enjoy a good book at the Somerville Public Library, which often hosts storytime and crafts for children on Saturday mornings.
11. On hot and steamy summer days, keep cool at Michael Lepp Park, which has a new sprayground with water shooters that kids can control, dumping water buckets, and more. Wear shoes with traction, as the surface tends to get slippery.
12. Older children will enjoy visiting the Old Dutch Parsonage and Friends of Wallace House, the site of George Washington's headquarters in the winters of 1778 and 1779. Free admission.
13. Bring a lawn chair and blanket, and take in a beautiful summer evening by watching a free outdoor movie on Division Street. In years past, six family-friendly movies were shown as part of the Starlit Cinema on Thursday evenings in July and August.
14. Division Street often becomes the site of free outdoor concerts in summer months.
15. Take a hike through the 1.5-mile-long Somerville section of the Peters Brook Greenway gravel trail (Mountain Avenue to High Street), which runs along the canal.
16. While you're in the Greenway, use Van Fleet Gardens as the backdrop for some gorgeous photo ops!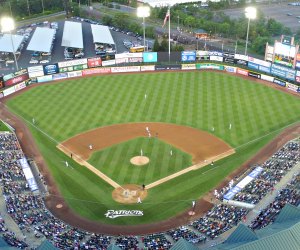 Root for the home team at the Patriots Stadium. Photo courtesy of Somerset Patriots.
17. Bring the whole family to cheer on the Somerset Patriots minor league baseball team, just minutes from the downtown area.
18. It's not a large place, but the Somerville Fire Department Museum showcases some fire trucks from the 1850s. Open Saturdays 10 a.m. – noon.
19. Enjoy a meal while listening to musicians perform at the Dragonfly Music and Coffee Cafe, which has kid-friendly options like grilled cheese, personal (and bagel) pizzas, egg sandwiches, and smoothies.
20. The Central Jersey Jazz Festival heads to Somerville every September for a weekend of free outdoor entertainment at the Somerset County Courthouse Green.
21. Enjoy Halloween at the annual Spooktacular, which draws more than 1,000 locals for music, games, and trick-or-treating downtown.
22. If you're planning to drive to Downtown Somerville, note that the parking lots (and many sidestreets) have metered parking. Skip the lots and add to the fun of a Somerville trip by taking a train ride to the picturesque Somerville train station just off Main Street.
23. Before leaving Somerville, get a treat for Fido at The Hungry Hound, which features a "bakery" for four-legged friends.
Top image: Division Street pedestrian promenade is a great place to people-watch in Somerville. Photo by Zen Image Studio.
Sign up for the Mommy Poppins Newsletter today!