Must-See Cherry Blossoms in New Jersey's Branch Brook Park
You don't have to travel to Washington, D.C., to see a stunning display of cherry blossoms this spring. You can enjoy the lush pink blooms right here in New Jersey this month at the 2020 Essex County Cherry Blossom Festival, held in Newark's Branch Brook Park from Saturday, April 4 – Sunday, April 19.
The event features two festivals-within-the-festival—Essex County Family Day and Bloomfest!—both of which offer plenty of family fun, including performances, bounce houses, a nearby playground, live music, and Japanese cultural demonstrations. It all takes place under the fragrant canopy of the sprawling park's 5,000 cherry blossom trees—the largest collection in the country.
Read on for an overview of Branch Brook Park and the festival, along with tips for visiting with kids.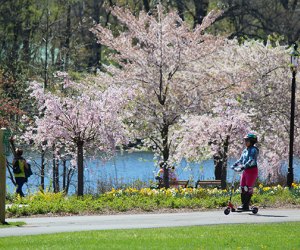 Branch Brook Park boasts the country's largest collection of cherry trees.
Branch Brook Park is an expansive, 360-acre green space located in the North Ward of Newark, just north of Route 280 and stretching into Belleville. The park is listed on both the New Jersey and National Registers of Historic Places, and it was designed by the renowned firm of Frederick Law Olmsted to feature graceful, curving paths and roadways, stately stone entrances, gazebos, and concert lawns. The Japanese cherry blossom trees, which rival the pink beauties at the Tidal Basin in Washington, D.C., were gifted to the park by a Newark philanthropist in 1927.
OUR LATEST VIDEOS
A fenced-in playground near the Cherry Blossom Welcome Center features a tree house–inspired play structure for older kids with a covered, twisting slide, monkey rings, and a hideout in the tree "trunk" decorated with pink blossoms. A toddler play area has lower slides and climbers as well as two stone lions to explore. There are bucket swings, sling swings, and plenty of benches for caregivers. An adjacent children's garden has stone seating and artwork by local schoolchildren. Ample parking is available directly in front of the playground, and paved trails invite families on an easy hike through the park.
RELATED: 50+ Things We Can't Wait To Do with Kids This Spring in NJ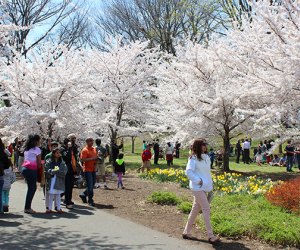 Stroll through the park, take in the sights, and take part in free family fun.
Cherry blossom festivities are scheduled from Saturday, April 4 – Sunday, April 19, though the mild winter means peak bloom dates may be a bit earlier than usual. The festival kicks off with an official NJBA bike race on Saturday, April 4, and a USATF-certified 10K on Sunday, April 5. Throughout the week, visitors can stroll through the park at their leisure, stop by the welcome center, and learn all about the history of the trees and park by dialing in to a cell phone audio tour with signposts along the trails.
The festival's Essex County Family Day on Saturday, April 18 starts with a popular one-mile fun run, a race that drew 1,000 runners between ages 6 and 14 last year. All participants will receive a T-shirt and award. Following the race, families can gather near the Prudential Concert Grove for crafts, contests, face painting, performances, and festival food. A free fishing derby is also scheduled for children ages 15 and under. Bring your own poles and bait, and see what you can reel in for a prize.
The festival culminates on April 19 with Bloomfest! from 11am to 5pm near the Cherry Blossom Welcome Center, which can be accessed from the park's northern Mill Street entrance in Belleville. Bloomfest! features children's activities, food vendors, live music, a crafter's marketplace, and Japanese cultural demonstrations including kimono-draping, sushi-making, traditional Japanese dance, contemporary Koto music, and handling samurai swords. Our kids were mesmerized by the booming taiko drummers and dancing one year.
For a detailed schedule of events and registration for the bike race and 10K, please visit the Essex County Park's website.
Note: The festival days draw huge crowds, which can make parking tough. You can park within the park, but some sections might be closed off for the event. On-street parking around the park is also available.