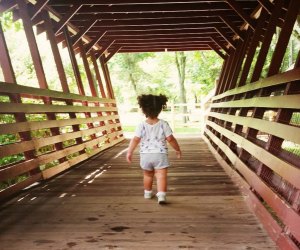 Day Trip to Van Saun Park: 10 Things to Do with Kids
Looking for an outdoor play adventure beyond the local playground? Make Bergen County's Van Saun Park your family's day trip destination. My own family makes this hour-away journey a few time a year, and it never disappoints. With its massive playground, splash pad, carousel and train rides, plus a zoo, a trip to Van Saun almost feels like a theme park visit (minus the admission fee). The playground and zoo are open year-round, while some of the activities, such as the rides, are seasonal (April through October). A little tip-- there's plenty of parking, but weekends get pretty crowded; you may want to arrive early. Please note that admission to Van Saun Park is free, including the playground and splash pad, but some features do require an additional fee, as noted. Here are 10 awesome things to do on your next Van Saun Park adventure: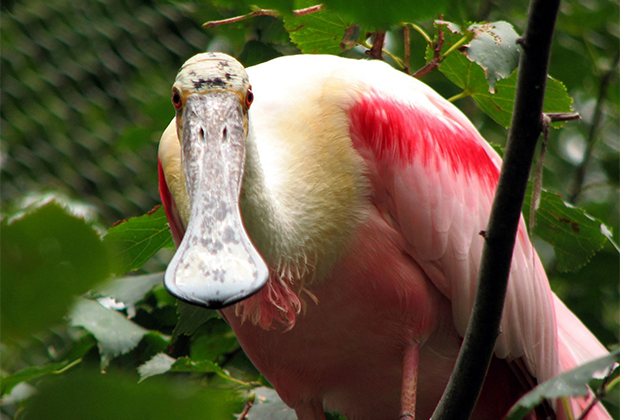 Visit a Spoonbill at the aviary within the Bergen County Zoo. Photo by egwenna via Flickr.
1. The Bergen County Zoological Park is conveniently housed right within Van Saun's perimeters. Visitors can explore wild and domestic animals, such as bison, lions, reptiles, birds and farm friends, throughout the smaller-scaled, shady grounds. The zoo's outdoor amphitheater presents live shows in the summer months. And here's a little tip-- visit the zoo prior to the official April opening, and pay no admission! (open year round with seasonal fee)
2. Bring the tricycle to get exercise year-round on the 1.5 mile bike and walking path. The scenic trail passes by the zoo, carousel, duck pond and lush Washington Spring Garden. The trail boasts a bit of history too; rumor has it that George Washington and his army marched through the area during the American Revolution.
RELATED: South Mountain Reservation with Kids: Zoo, Fairy Trail, Playgrounds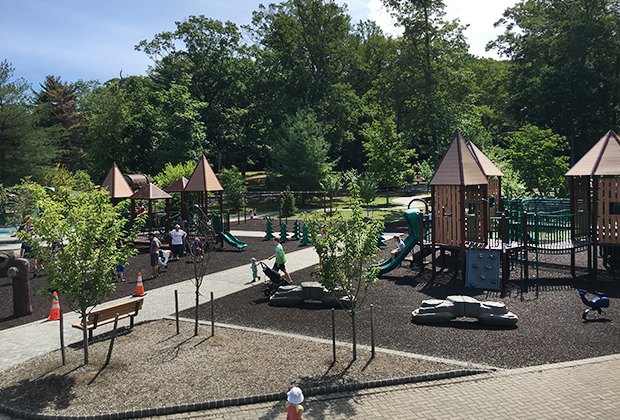 The massive playground includes all the latest modern amenities and includes multiple structures for varying ages. Photo by Rose Gordon Sala.
3. Van Saun's destination playground is huge and has something to please kids of all ages. The intricate climbing structures, tunnels, swings and slides, all on soft ground, are grouped into several independent play structures by suggested age ranges. Note that the play area is ADA accessible, including wide ramps.
4. The shady picnic benches, some of which are covered, make it the perfect spring/summer spot for an outdoor lunch or birthday party. Barbecue grills are available (may require a permit). In the warmer weather, snack trucks are often parked throughout the property.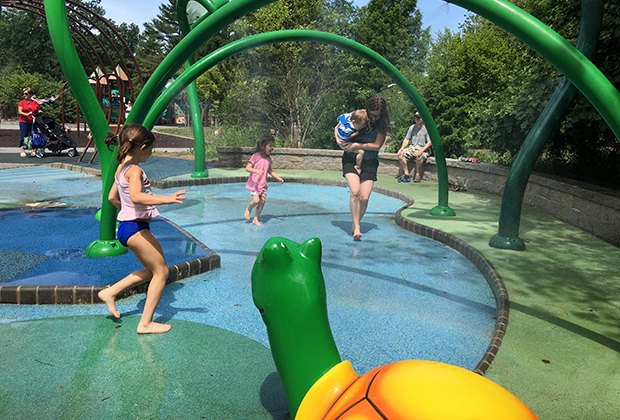 Hit the splash pad while it's still hot outside. Photo by Rose Gordon Sala.
5. Cool off at the aquatic-themed splash pad, which debuted two summers ago in Van Saun's playground. Kids will have a blast running through the oversized misty lilies, cattails and sea creatures while dancing in the puddles.
6. Have a ball at Van Saun, which houses three fields for baseball, soccer and softball, plus tennis courts. Come back in the winter for a sledding adventure.
RELATED: Great Day Trip Ideas for NJ Kids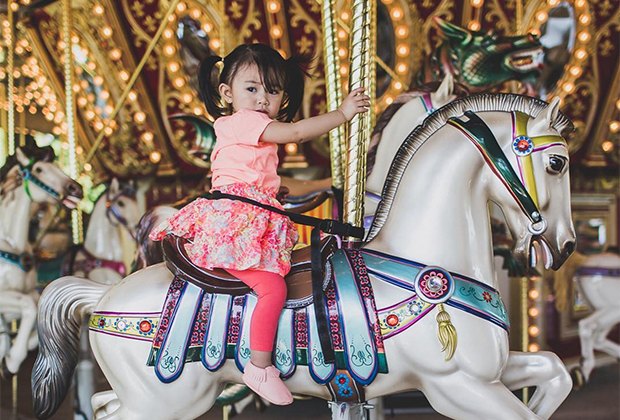 The colorful carousel goes at a pace just right for tots (and parents). Photo by seanguzman via Instagram.

7. Hop on a horse, zebra or even an elephant, and take a spin on the park's Millennium Carousel. The old-fashioned carousel, which operates seasonally, offers a fun and breezy break from the playground. (fee)
8. Ride a real horse at Van Saun. Ironside Farm, within the park, offers children over 2 the opportunity to ride ponies on a small path from April through October. (fee)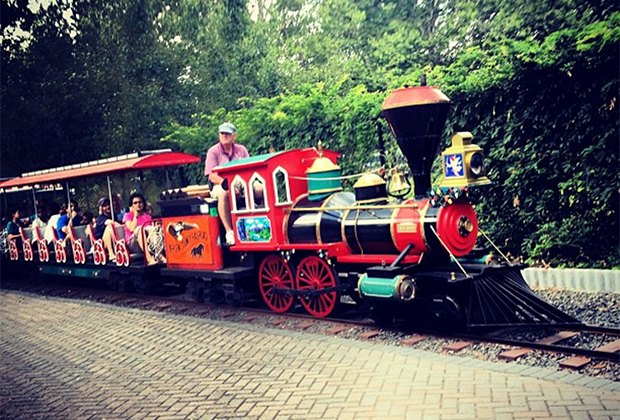 Go for a mini train ride. Photo by anitamarie18 via Instagram.
9. Perfect for little ones, climb aboard Van Saun's miniature train ride, and catch a glimpse of zoo animals and park views. Wave to the buffalo! (fee)
10. Van Saun is the hot spot for all kinds of exciting events throughout the year. In the summer, the park hosts free kid-friendly movies after dark as part of their Zoo-Flix program. In the fall, bring the costumed kiddies to Zoo Boo for trick-or-treat fun.Throughout the year, little ones can attend story times and workshops at the zoo, including the free Playtime at the Zoo for toddlers in the winter and spring.
What's nearby: While you're in the area, grab lunch or take a stroll in downtown Ridgewood, minutes away from Van Saun. The downtown streets are lined with restaurants and shops. Our favorite is Country Pancake House. For an indoor break, Paramus is home to a plethora of shopping malls and centers.
Top image: The covered bridge at Van Saun. Photo by mammabarrios via Instagram.