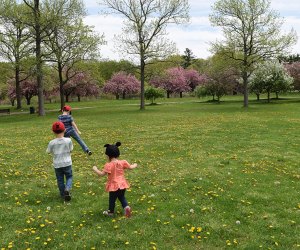 10 Fun Things To Do with Kids at Warinanco Park in NJ
I have fond childhood memories of my dad lacing up my ice skates and guiding me around the rink at Warinanco Park on the border of Roselle and Elizabeth, New Jersey. Much has changed about this Union County park since that time, but what remains constant is that families have tons of ways to have a great time at this 205-acre park—including sports classes, skating, trails, and paddle boats.
Read on for 10 fun things to do at Warinanco Park with kids. And don't miss our Guide to NJ Playgrounds and Parks for even more options.

The indoor rink at the Warninanco Sports Center offers fall and winter fun. Photo courtesy of the facility
1. In the late fall and winter months, ice skate on the iconic indoor rink at the Warinanco Sports Center ($5 for kids, $6 for adults, $4 for skate rentals). The center—which underwent a $7-million renovation and modernization in 2017—has lessons for kids of all ages and can be rented out for birthday parties.
2. Check out a hockey game at the rink, where five Union County high school teams play during the winter months.
RELATED: 10 Great Picnic Spots for Families in Northern New Jersey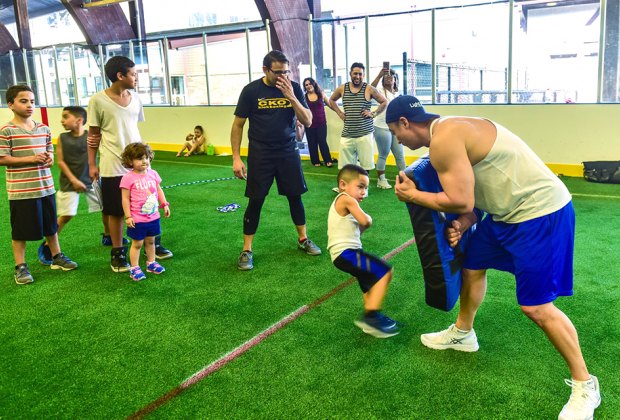 In the spring and summer, the turf field hosts classes, games, craft activities, and lots more. Photo courtesy of the facility
3. As part of its 2017 renovation, the 11,000-square foot Warinanco Sports Center transforms from a skating rink in the fall/winter to turf fields in the spring/summer. The turf field is open to the public and is used for the Sunday community farmers' market, sports camps, leagues, tots soccer and sports classes, stroller fitness classes (FREE), backyard games, craft activities, and more, with some requiring registration fees. Check out the calendar for the full schedule.
4. Grab a snack or meal at the Cafe & Snack Bar in the Sports Center, which serves burgers, salads, fajitas, wings, sandwiches, homemade salsa/guac, and their specialty: house-made empanadas. Rent out the snack bar for parties and showers.

Go for a spin around the lake on a paddle boat.
5. Pedal around the lake in a four-person paddle boat (April 1 – October 1, weather permitting) for $10/hour. The boathouse snack bar is open daily for drinks and snacks, and serves breakfast on weekends.
6. Pack a picnic lunch, and enjoy a peaceful afternoon around the lake. There are picnic tables, and some areas have grills.
RELATED: Best Water Playgrounds and Splash Pads in New Jersey

Cool off at the splash pad when the temperatures soar.
7. On hot summer days, check out the splash pad, featuring a water-spewing tree surrounded by tons of water jets. A snack bar and restrooms are located adjacent to the splash pad.

Warinanco Park has two playgrounds, including this animal-themed spot with activities for all ages.
8. Warinanco has a couple of playgrounds, including one animal/safari-themed playground near the splash pad by St. Georges Avenue. There are swings, a climbing area for kids under 5, and a larger structure with slides for older kids, all on padded ground. A smaller playground is located near the rink.

The paved paths are perfect for a family stroll.
9. Take a walk around the picturesque park with modest hills, all on paved paths.
10. Stop in at the Chatfield Gardens, where kids can walk a maze surrounded by beautiful flowers.
Whatever way you choose to enjoy Warinanco, the entire family is bound to have a great time.
Photos by the author unless otherwise noted.