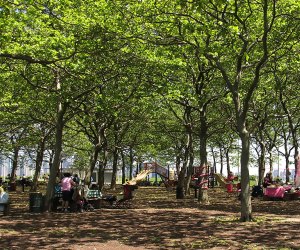 10 Great Picnic Spots for Families in Northern New Jersey
Picnics are simple pleasures that kids of all ages can enjoy, so grab a blanket and your favorite goodies and head out to one of North Jersey's best spots for family gatherings. From majestic views and wooded trails to tranquil lakes and shady playgrounds, these parkland treasures are worth a visit. Whether you are celebrating a birthday, planning a family reunion, or just heading out for an afternoon of fun, New Jersey's parks will not disappoint.
For even more warm-weather activities, check out our spring fun guide, featuring our top picks for family campgrounds and more.
Darlington County Park – Mahwah
Featuring three lakes, wooded picnic areas, a new playground, and rolling lawns, this park at the foot of the Ramapo Mountains is a winner. Two lakes with sandy beaches allow swimming, and the third lake is designated for catch-and-release fishing. Basketball, tennis, and handball courts are also available. Open 10am–6pm.
Hacklebarney State Park – Long Valley
Rustic picnic tables shaded by hemlock trees dot the landscape of this rocky park, a favorite with hikers, anglers, and picnickers. A deep ravine carved out by the trout-filled Black River remains cool, even in summer, and the area is home to 100 species of birds and other wildlife, including bears, woodchucks, deer, and foxes. Charcoal grills are available at scenic picnic areas, and a small playground is located near the ravine. Open dawn to dusk.
High Point State Park – Sussex
Panoramic views of forests and farmland from the highest point in New Jersey, combined with lush trails and quiet picnic spots, make this spot a nature-loving family's dream. Picnic shelters, large-group rentals, a playground, visitors' center, and concessions are all available at this stop along the Appalachian Trail. After taking in the view of New Jersey, Pennsylvania, and New York, try fishing, swimming, or boating in one of two lakes, or even overnight camping in designated areas. Open 8am–8pm.
RELATED: Day Trip to Van Saun Park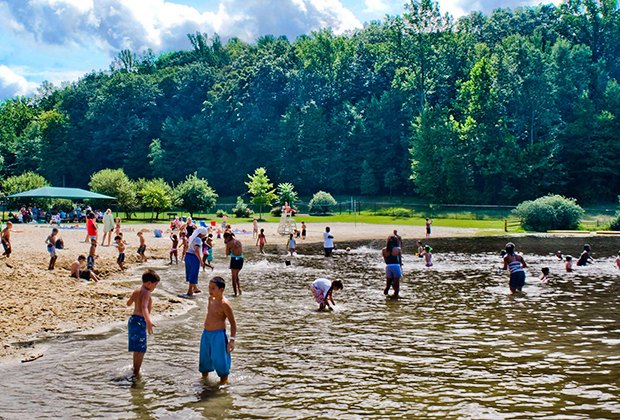 Go for a dip in Sunrise Lake at Lewis Morris County Park. Photo courtesy of Morris Parks Dept.
Lewis Morris County Park – Morris Township
Open lawns, shaded trails, and covered picnic areas with benches and grills abound in this 2,196-acre park. With 12 miles of walking, biking, and equestrian trails, plus swimming at Sunrise Lake and a great playground, this park is a perfect family destination. And it's not too far from Jockey Hollow if you want to add some Revolutionary War history to your outing. Open sunrise to sunset.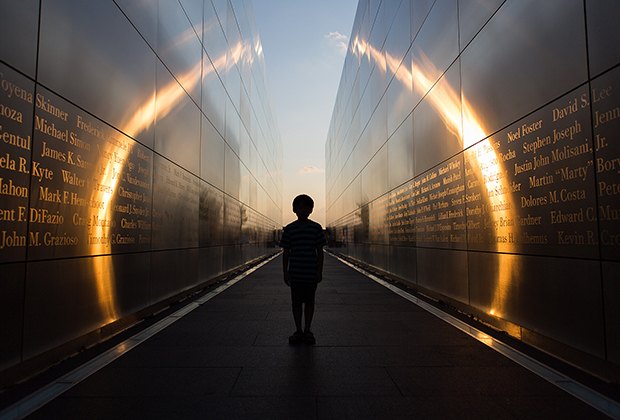 The Empty Sky Memorial is not to be missed. Photo by saebaryo/CC BY-ND 2.0
Liberty State Park – Jersey City
Spread out your blanket and take in views of the Hudson River, New York skyline, and of course, the Statue of Liberty. After lunch, board a ferry to Ellis Island or stroll through the historic Central Railroad of New Jersey Terminal. The park's flat, riverfront paths are ideal for strollers and beginning bike riders. Don't miss Empty Sky, New Jersey's powerful September 11th Memorial. For even more adventure, you can schedule a canoe or kayak ride on the Hudson. Check out our Liberty State Park favorites. Open daily 6am–10pm.
RELATED: Liberty State Park: A Perfect Family Day Trip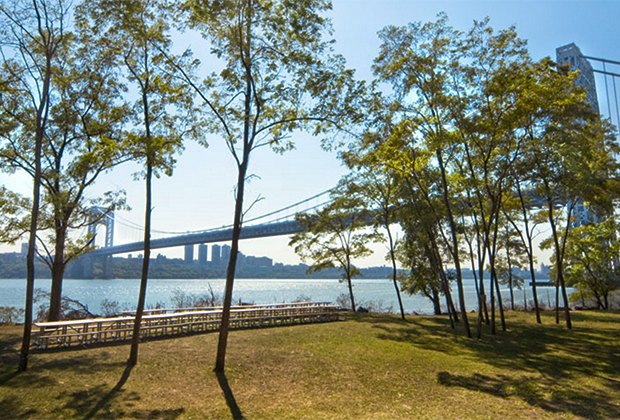 Enjoy a gorgeous view of the bridge at Carpenter's Grove at the Ross Dock Picnic Area in the Palisades. Photo by Anthony Taronto/courtesy of the park.
Palisades Interstate Park – Englewood, Alpine, Fort Lee
Hugging the eastern edge of New Jersey along the Hudson River, this ribbon of parkland features picnic areas, boat basins, nature and wildlife lookouts, miles of trails, and historic sites. There are access ramps to the Hudson for crabbing, fishing, and personal canoes and kayaks. Four large picnic areas draw visitors from across North Jersey. Don't miss our highlights of Palisades Interstate Park. Operating hours and parking fees vary within the park; check website for details.
Ringwood State Park – Ringwood
Home to the state botanical garden and sweeping views of the Ramapo Mountains, this Northern Jersey gem also boasts Shepherd Lake, a 74-acre, spring-fed lake where swimming, boating, and fishing are permitted Memorial Day through Labor Day. Picnic tables and grills are also available. Tours of the historic Ringwood Manor and Skylands Manor are offered on weekends at $5 per person. Park entrance is free. Open daily, 8am–8pm.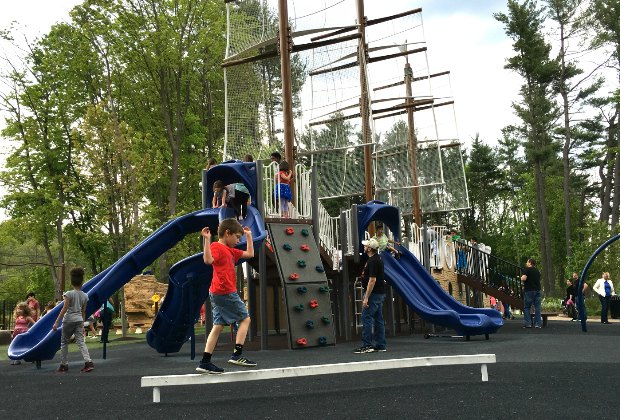 South Mountain Reservation in West Orange has picnic spots, hiking, a zoo, and an epic playground. Photo by Rose Gordon Sala
South Mountain Reservation – West Orange, Maplewood, Millburn
Beyond the Turtle Back Zoo, this 2,112-acre Essex County Park also boasts 19 miles of hiking trails and 10 picnic areas. The reservation is home to Washington Rock Lookout historic site and a hidden, 25-foot waterfall. Look for picnic areas at Mayapple Hill, Turtle Back Rock, Oakdale, Tulip Springs, Shady Nook, Bramhall Terrace, and Summit Field. The recreation center in West Orange includes the zoo, mini-golf, Treetop Adventure Course, Codey ice arena, paddle boat rentals, and playground. Check out our list of South Mountain highlights. Hours are 8:30am–4:30pm.
Stokes State Forest – Branchville
Part of the Appalachian Trail, Stokes offers two large picnic areas at Stony Lake and Kittle Field, with shelters that can be reserved in advance for large groups. If your young hikers cannot make it up the steep trail to the top of Sunrise Mountain, you can drive up and still enjoy breathtaking views. The Kittle Field area has playgrounds and baseball fields, while Stony Lake has plenty of picnic tables and grills, as well as newly added horseshoe pits. Camping is also permitted. Open daily, sunrise to sunset.
Related: Best Water Playgrounds and Splash Pads in New Jersey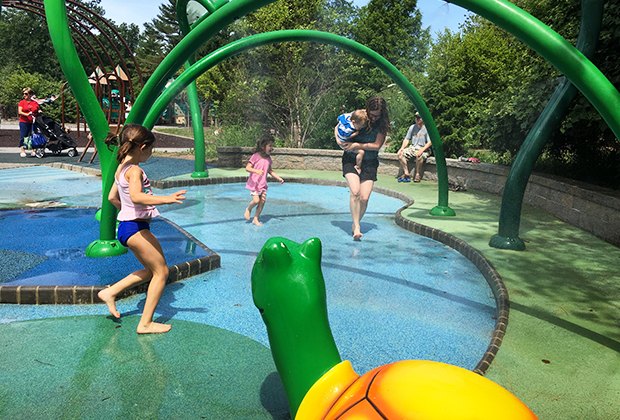 Cool off at the Van Saun sprayground. Photo by Rose Gordon Sala
Van Saun County Park – Paramus
Tucked away not far from North Jersey's busiest highways (Routes 4, 17, and the GSP), this family favorite cannot be beat for easy access to summer fun. With 146 acres of green space featuring walking trails, picnic areas, a pond, flower garden, zoo, train ride, sprayground, and carousel, Van Saun has something for everyone in the family. Check out our top picks at Van Saun Park. Hours are 10am–4:30pm.
This article was first published in 2013 and has since been updated.