The Adventures of Tortoise & Hare The Next Generation
The Sheen Center

The Very Hungry Caterpillar Show
DR2 Theatre

NYC Easter Brunch Cruise 2023
Event Cruises NYC
Sign up for our free newsletters.
Mommy Poppins Launches in Miami and the San Francisco Bay Area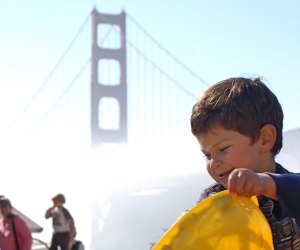 7/10/22
- By
Meghan Rose
Did you start to go a little stir crazy in your city during the past few years? Everyone here at Mommy Poppins felt a bit housebound, and got excited talking about the places we couldn't wait to visit with our kids. A couple of places kept coming up, one on each coast. These are cities we've played in, dreamed about, and maybe even left our hearts in, just a little bit. So, we got to work and now we can announce that Mommy Poppins San Francisco Bay Area and Miami are here!
Our two new sites join our growing family of cities that includes NYC, Long Island, New Jersey, Westchester, Connecticut, DC, Chicago, Boston, Los Angeles, Philadelphia, Houston, Orlando, and Atlanta. Also expanding: the cool things you can do on our site. We recently redesigned our search pages with a cleaner, easier-to-use design and new functionality. You can now find camps and classes on your local calendar of events and even buy tickets directly from our website — if an event has a red "Book It" tag, you can purchase tickets immediately, with no added fees.
In short, we've been busy...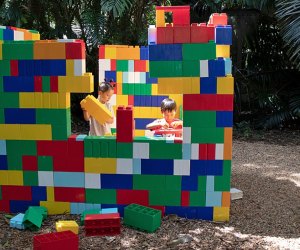 The Fairchild Tropical Botanic Garden boasts larger-than-life Lego installations from artist Sean Kinney. Photo courtesy of the garden
You may wonder why we've chosen San Francisco Bay Area and Miami as our next cities, but it's pretty easy to explain; these are simply areas we love and spent the past few years thinking about. Pretty quickly we moved from thinking to planning, and we were making lists of the things we wanted to do and places we wanted to visit—like the Top Splash Pads and Spraygrounds in Miami, the 10 Best Restaurants in San Francisco Where Kids Can Play While Parents Eat, 50 Fun Things To Do in Miami with Kids, and the Top-Rated San Francisco Tours for Families. And we thought if that's where we wanted to be, you just might agree.
If you have friends or family living in or visiting Miami, San Francisco—or any of our cities—please let them know to check out our event calendars and summer activity ideas. Local families can sign up for our weekly emails to get activity updates for every weekend and subscribe to our free newsletters, too.
Thank You, We're Listening
Thank you for being part of the Mommy Poppins community, whether you are brand new or have been watching your kids grow along with our own for over fifteen years. Many of us on the team started tracking local family activities for you with our toddlers, who have mysteriously become teens; what hasn't changed is the satisfaction we get knowing that more kids and parents are having more fun and creating family memories using the information they found on Mommy Poppins. And welcoming new parents with little ones in San Francisco and Miami helps us spread the joy even further!
Many of you have grown with us, and we truly value your input and opinions. Have you seen our new Earth Kids Guide that we launched earlier this year? Are there stories you'd like us to explore about sustainability and teaching our kids to be environmentalists? We'd also love to know what you think about our search redesign with new classes and camps categories to make it easier to find ways to keep kids educated, entertained, and busy. Let us know, we're always listening.
Here's to more adventures together!