Family Dinner Secrets from Savvy Parents: Weekly Menu Planners and Meal Planning Made Easy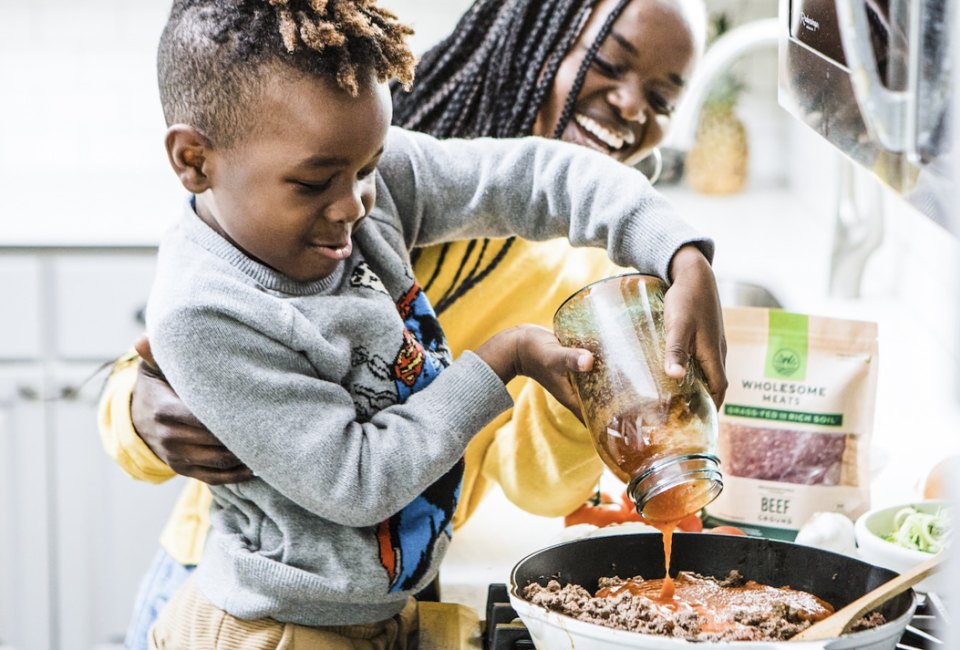 8/23/22
- By
Ally Noel
Meal planning night after night for family dinner is, frankly, the worst. Maybe you're that rare meal magician whose kitchen is stocked with everything you need to whip up a healthy meal that your entire family will enjoy. But probably you're a mere mortal: the kind of parent who struggles at the very thought of coming up with one meal, let alone an entire weekly menu plan. I mean, ugh—why are these little humans always so hungry?!? We asked readers how they tackled the monumental task of meal planning family dinners everyone will eat, week after week. These tried and true tips from seasoned parents are amazing and help answer the never-ending question of what's for dinner.
After you read these tips, peruse our 100 Top Easy Recipes for Kids and other kid-pleasing fare in our Guide to the Best Recipes for Kids.
Subscribe to our newsletters to get stories like this delivered directly to your inbox.
Theme Nights Make Meal Planning Easier
Many parents told us that designating at least one night a week as a theme night helps plan the entire week. We were surprised by how many parents told us that Sunday night is always fajitas! So even if there's no cute moniker, you can just pick a family favorite meal and have that one night a week!
1. Taco Tuesday
There's one day a week that we can all agree on: Tuesdays are meant for tacos. It's the one night that we can all agree on what's for dinner! Check out these Taco Tuesday recipes for taco inspiration.
From Taco Tuesdays to Friday Night Pizza, having a theme night makes planning easy. Photo courtesy of the Montana Beef Council
2. Meatless Monday
Start the week feeling good about your health choices. Meatless Mondays aren't just good for the environment, they are also good for the entire family's health. Check out these meatless recipes that the whole family will love. No love for the veggie food in your house? Then make it a Meatloaf Monday!
3. Breakfast For Dinner
Family dinner doesn't have to mean dinner food, as one reader said, "I always always always make breakfast for dinner on Tuesdays (waffles or pancakes, with fruit or yogurt or eggs)."
RELATED: 15 Easy Trader Joe's Recipes for Families

Call for delivery or make your own, if Friday night is always pizza, you're set! Photo by Ally Noel
4. Pizza Friday
One reader told us they like a semi-homemade approach to pizza night: "Make your own pizza night. Buy personal-size Boboli, sauce, and a bunch of toppings. Kids and parents make their own and pop them into the oven to bake. Kids eat theirs all the time!" To make your own pizza, check out our favorite pizza night ideas! But we won't tell if you just call for delivery. You made it to Friday, you deserve it.
5. Crockpot Night
How you cook is as much of a theme as what you cook. One reader said, "My grandma always did hotdogs and beans on Saturday night, she'd get the Crockpot going with baked beans in the morning, and throw in hot dogs a few minutes before dinner." We've got great easy Crockpot recipes, Instant Pot recipes, sheet pan recipes (no clean up!), and even air fryer recipes.
RELATED: 5 One-Pot Recipes to Make With Kids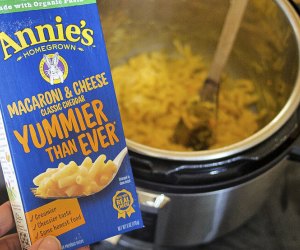 Is there anyone who doesn't like boxed mac and cheese? Photo courtesy of thispilgrimlife.com
Prepared Foods Make Meal Planning Easier
Keeping your fridge and pantry stocked with a few family dinner favorites means there's always something everyone will eat at your fingertips. Here are some great tips for foods almost every kid will eat.
6. Boxed Mac & Cheese
Boxed macaroni and cheese was a favorite among many Mommy Poppins readers. The most popular brands to make it to your tables are Annie's and Kraft.
7. Frozen Pizzas
Sometimes even getting a pizza delivered takes too long. That's where frozen pizzas, like Newman's Own Pizza, come in handy. They are ready in 10-12 minutes, come in a variety of toppings and crusts, and got name-checked by several tired parents.
8. Trader Joe's Frozen Foods
We all know about the magic of Trader Joe's Orange Chicken, but there are so many more TJ's frozen foods just waiting to become part of your meal plan!
9. Fake N Bake
"Semi-homemade is our go to! Pick up prepared or marinated proteins from the market or Italian deli and pair them with a salad or veggie/starch sides made at home!"
RELATED: Easy Mug Cake Recipes to Make With Kids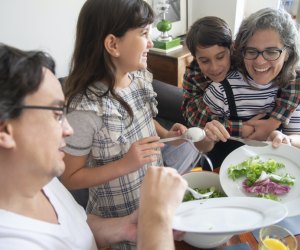 Get kids helping in the planning stage and they're more likely to eat everything! Photo courtesy of Kampus Productions, via Pexels
Tips and Tricks to Make Meal Planning Easier
TBH, these are my personal favorites among all the tips, and that's because they're mostly great ideas for getting other members of the family involved, which not only spreads out the work but also teaches kids how to do this for their future lives when we're not there to cook for them!
10. Let the Kids Help
"When my son was old enough to cook with supervision, we let him pick one not too complicated recipe per week that he would make. He found new recipes for us to try and learned to cook as well."
11. Plan Meals As a Family
"We take turns picking in order of birth month (this way it is alternating adult/kid/adult/kid so we don't eat McDonald's two weeks in a row). Each kid can suggest one meal a week on the days that aren't claimed, but adults have veto power. Luckily, one kid's favorite meal is white cheddar bacon risotto and the other's is breakfast for dinner."
"I've started making each kid pick a meal each week—but it has to be something everyone in the family will eat!"
12. Plan for Leftovers
​​"The only secret I have is that we always do fajitas on Sunday and then have leftovers on Monday which turn into quesadillas." (Honestly, like 5 people in different cities mentioned fajitas on Sunday nights. It must be a thing!)
RELATED: Our Favorite Homemade Butter Recipe (3 Easy Steps)

Does your family have a rule about trying new things? Photo by Vanessa Loring, via Pexels
13. Try New Things
"I keep a list on the fridge of meals everyone eats, and every time we try something new that's a hit, I add it to the list. Probably 5 nights a week we eat something from the list, one night is takeout, and one night we try something new—and hope it ends up on the list!"
14. Plan to Plan
"Make a list of your family's go-to dinners (have recipes) and refer to them. Meal plan one day a week."
"We menu plan as a family every few months and then make the same thing every week. Everyone gets a say, and anyone can eat leftovers, but we don't cook more than one meal a night."
15. Wait Until the Last Minute (Ha ha ha!)
"Wait until 4pm. That forces you to choose quicker."
Do you have some great meal planning tips? Or do you have a problem you'd like to brainstorm with us? Head over to
Facebook
to join or start a conversation!
Click Here to Sign Up!
i