15 Easy Trader Joe's Recipes for Families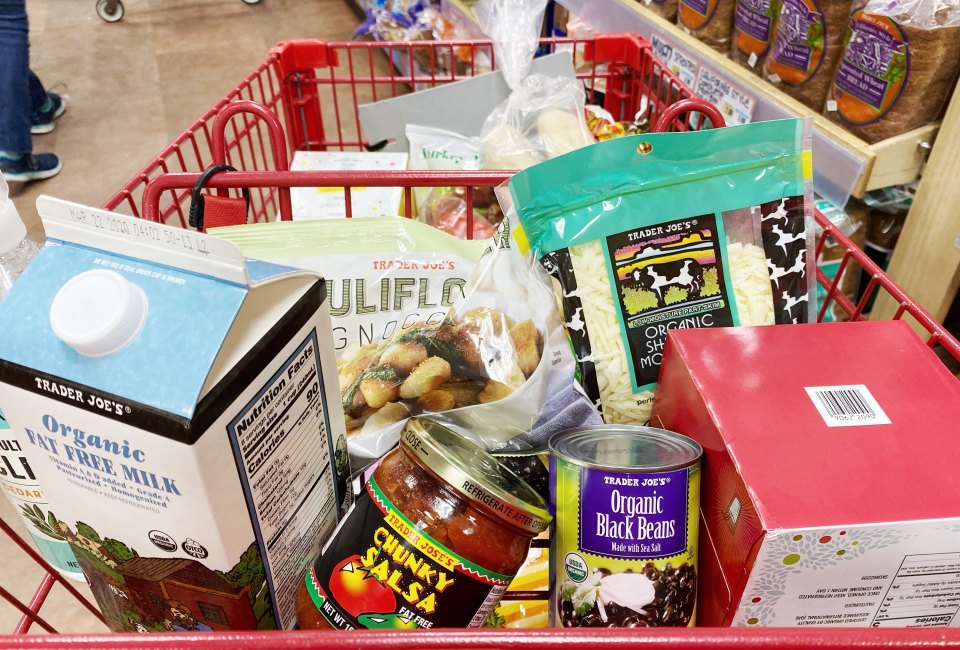 3/12/20
- By
Ally Noel
For families, creating a pantry with enough staples that you can make several meals when you don't have time to hit the store can be a lifesaver. We're big fans of Trader Joe's recipes for easy weeknight cooking, so whenthings get busy, I turn to Trader Joe's to start stocking up.
Kids may love going to Trader Joe's for the free stickers, hidden stuffed animals, and lollipops. But, for me, I have always loved the number of convenience foods this specialty food store provides, aka, entire gourmet meals I can microwave or throw into a single pan from frozen—and have ready sometimes in as little as 7 minutes. The packed shelves can seem overwhelming for anyone to navigate, so we've created this list of 15 best meals from Trader Joe's recipes, combining veggies, proteins, whole grains, and flavor.
1. Creamy Tomato Basil Pasta Sauce Over Tortellini
Trader Joe's Creamy Tomato Basil Pasta Sauce is one of our favorites for a reason: it turns basic pasta noodles into yummy kid-approved gourmet meals! A quick Trader Joe's recipe that we turn to over and over again is this protein and veggie-packed option: add ground turkey and baby spinach to the sauce while cooking and serve over your favorite pasta (ours is cheese tortellini).
2. Gyro Flatbreads
I love how Trader Joe's allows me to introduce a variety of spices and flavors to my family, and these gyro flatbreads pack a ton of flavor. Trader Joe's frozen Gyro Slices, frozen Garlic Naan, and Tzatziki Sauce are anything but bland. Serve with a salad and your plate will be bursting with flavor.
RELATED: ​52 Easy Lunch Ideas for Kids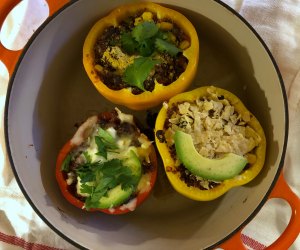 Among our favorite Trader Joe's recipes is this flavorful set of stuffed peppers!
3. Cowboy Caviar Stuffed Peppers
Stuffed peppers are one of those meals that can look really complicated. By using half a jar of Trader Joe's Cowboy Caviar and half a bag of Trader Joe's Harvest Grains as your filling, this meal comes together in about 10 minutes. Roast the peppers in a 375-degree oven for roughly30 minutes and serve with sour cream, avocado, and some cheese.
4. Orange Chicken & Rice
There is a good reason the frozen Mandarin Orange Chicken ranks high among Trader Joe's recipe fanatics—it's just that good! Serve it on a bed of Trader Joe's Frozen Jasmine Rice, sprinkle some sesame seeds on top, and you will never need to order take-out again!
5. Sheet Pan Pork Loin
This Trader Joe's recipe from kitchn may taste like you spent all day roasting over a hot oven, but it's a family-friendly one-sheet meal that can be assembled in about five minutes.
RELATED: How to Make Rock Candy with Kids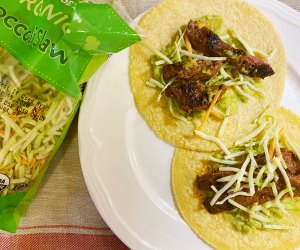 Time for Taco Tuesday? Taco Thursday? Trader Joe's tacos every day!
6. Steak Tacos
Is it really Tuesday if you don't serve tacos? Trader Joe's Carne Asada grills up really quickly. We have used it as the base in a variety of taco recipes. Try sprinkling in some Broccoli Slaw for a little bit of extra crunch.
7. Gyoza Stir Fry
Mix a bag of frozen Chicken Gyoza Potstickers, a bag of frozen Stir-Fry Vegetables, and cook until thawed. Remove from heat and coat in about a cup of Gyoza Dipping Sauce to create this Gyoza stir fry.
8. Tomato Gnocchi Soup
I love it when you can throw simple ingredients into a pot, let it sit, and have a crowd-pleasing meal in no time. Tomato Gnocchi Soup combines a pack of frozen Outside-In Stuffed Gnocchi and Creamy Tomato Soup. There's no need to defrost the gnocchi beforehand, just toss them in the pot and let them cook while the soup heats up.
RELATED: 24 Fun Snack Ideas for Kids

No need to thaw these frozen turkey meatballs before cooking.
9. Turkey Meatball Subs
On those busy weeknights when you are rushing between dance practice and softball, this Trader Joe's recipe is one of the fastest ways to get dinner on the table or eat on the run. In my house, we make these turkey meatball subs, wrap them in tinfoil, and hop in the car. Simply cook the Frozen Turkey Meatballs according to the directions (we drop them into a saucepan with sauce on the stovetop), warm up a Half Baked Fielle, add a sprinkle of mozzarella, and voila!
10. Pizza Night
There are so many ways to enjoy pizza at Trader Joe's that you may never have to call your local pizza joint again. Its Organic Pizza Crusts are all rolled out and waiting for you to plop your favorite toppings on. Make it a family night by setting out a bunch of different choices and letting the kids pick their own.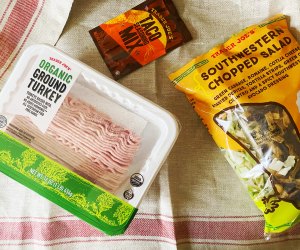 TJ's bagged salads are an essential side item on our dinner table.
11. Southwestern Turkey Salad
My family loves this salad! The Southwestern Salad Mix is one of my Trader Joe's must-haves. It's the perfect mix of romaine, cilantro, toasted pepitas, a little cotija cheese, and some tortillas for crunch. Add a punch of protein by mixing in some taco-seasoned turkey meat.
12. Chicken Fried Rice
Take this Trader Joe's Fried Rice Hack to the next level by adding in some Just Grilled Chicken Strips to create a balanced meal.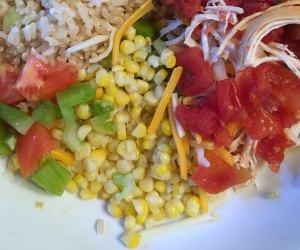 A burrito bowl comes together with several quick-cooking Trader Joe's items.
13. Burrito Bowl
The base of these burrito bowls is this delicious slow-cooked salsa chicken. Microwave some frozen Organic Brown Rice and scoop a serving into a bowl. Top with chicken, corn, and any other veggies you can squeeze into this easy weeknight meal.
14. Cauliflower Gnocchi
Cauliflower Gnocchi is a relatively new addition to the shelves of Trader Joe's, but in a short amount of time, it has developed a small cult following. We like pan-frying it with a little oil, tossing it in pesto and serving with Grilled Chicken Strips.
15. Spicy Sausage Kale Soup
Spicy Sausage Kale Soup can be prepped in about five minutes thanks to the already prepared mirepoixmix.
t Click Here to Sign Up!