The Best Trader Joe's Food for Families: 50 Favorite Products and Reader's Tips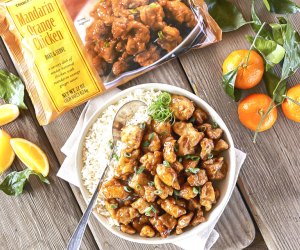 7/26/22
- By
Ally Noel
Everyone has their own idea of what the best Trader Joe's foods are, and while we all know about the magic of Trader Joe's Orange Chicken, the shelves at Trader Joe's are lined with products that make meal time, snack time, and just about any other time more enjoyable. Eager to get some new easy dinner ideas, we asked readers what they think the best Trader Joe's foods are. We were overwhelmed by the responses. Start this week's grocery list off with these best Trader Joe's foods, from frozen treats to snacks to easy meal ideas. Meal planning just got a whole lot more fun!
If you need more meal inspirations, check out these 15 Easy Trader Joe's Recipes, and other favorite recipe ideas from taco recipes to sheet pan dinners kids love, in our Guide To Easy Recipes for Kids and Families.
Subscribe to our newsletters to get stories like this delivered directly to your inbox.
The Best Trader Joe's Foods for Families: Freezer Edition
1. Trader Joe's Soup Dumplings: Steamed Pork & Ginger
Can anything beat Trader Joe's Gyoza? Several readers insist this product is even better.
2. Organic Brown Rice
Instead of taking an hour, this rice takes 3 minutes. It also means you have a meal that leaves you with no pans to clean when you pair it with one of our favorite sheet pan dinners.
3. Trader Joe's Orange Chicken
Both the meat and veggie varieties come highly rated; if your family likes the chicken, try giving them the Chicken-Less version for a meatless Monday meal.
4. Hash Browns
These not only make any breakfast special, these can serve as bread for extra crispy sandwiches!
5. Edamame with Sea Salt
Perfect for lunches! You can pop them into lunch boxes straight from the freezer, and they thaw by lunchtime.
6. Chocolate Croissants
These make any Sunday special. It feels like turning your home into a Parisian cafe. Pairs well with hot chocolate.
7. Thai Vegetable Gyoza
8. Vegetable Birds' Nests
9. Steel Cut Oats
Once you try this, you'll be addicted. It keeps kids full all morning long.
10. Gone Berry Crazy!
These are amazing treats when it's hot. And it's fruit, so it's healthy!
11. Mini Vegetable Samosa
RELATED: 100 Top Easy Recipes for Kids: Kid-Friendly Recipes for Every Meal
Hummus and pita are an unbeatable combination for snacks or meals.
The Best Trader Joe's Snacks for Families
12. Mediterranean Hummus
Every family should always have some hummus in the fridge, and TJ's is exceptional and inexpensive.
13. Quinoa and Black Bean Infused Tortilla Chips
14. Dried Mango
Several people tell us they stash this in the glove compartment for when kids get hangry at unexpected times.
15. Greek Vanilla Yogurt
16. Cinnamon Schoolbook Cookies
This is the tastiest way to learn the alphabet.
RELATED: Quick Pizza and Dough Recipes for Family Pizza Night
For lunch, for quick snacks after school, for brainpower while working on homework, these little nuggets do it all.
17. Peanut Butter Filled Pretzel Nuggets
Truly addictive. Be careful about stashing too many bags at home, as they have a tendency to disappear.
18. ABC Bars
19. Mini Cucumbers
These are perfect to use for quick pickling!
20. Patio Chips
21. Organic Fruit Wraps
22. Inner Peas
23. Thai Shrimp Gyoza
RELATED: Make Ice Cream at Home in 5 Easy Steps
They're little, addictive, and come in several flavors. What's your favorite?
The Best Trader Joe's Treats for Families
24. Hold the Cone
As one reader said, "It's impossible to just eat one."
25. Chocolate & Peanut Butter Joe Joe's
These are tied with the holiday seasonal variation of Peppermint Joe Joe's for best cookie ever.
26. Cinnamon Crumb Coffee Cake Mix
As good as homemade? It might be blasphemous, but so many people said it: that many Mommy Poppins readers can't possibly be wrong.
27. Dark Chocolate Bamba Snacks
28. Cinnamon Roll Bread
It's bread. Which means it's perfectly acceptable to make a Nutella, or Cocoa Almond Spread, and banana sandwich on it for lunch. Or just toast it up for breakfast, slathered with butter.
29. Rolled Corn Tortilla Chips: Chili Lime Flavor
If you have teens, you'll need to buy in bulk. A hungry teen can house a bag during one episode of Arcane.
30. Sparkling Berry Lemonade
This instantly takes any picnic to the next level. It's also perfect for fancy tea parties at home.
31. Lemon Bars
32. Cinna-Dragons
These are about on par with Hot Tamales, but much tastier. Cuter, too.
33. Key Lime Pie
34. Brownie Crisp Coffee Ice Cream Sandwiches
RELATED: 20 Vegetarian Recipes Your Picky Kids Will Love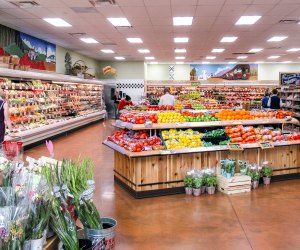 It's easy to eat a rainbow at TJ's. Photo by Arby Reed, via Flickr/CC BY-NC-ND 2.0
The Best Trader Joe's Tips From Our Readers
35. Tuscan Pane
"Tuscan Pane is the only bread my kids will eat. When they are out, it's a carb-less day at my house."
36. Cheese!
"The cheese is much more reasonably priced than elsewhere."
37. Frozen salmon patties
"Frozen salmon patties! Perfect for my low-carb pescatarian diet."
38. Organic produce!
"The onions last ten times longer than other markets."
39. Cheese and cracker pairings
"Cheddar with caramelized onions paired with their raisin rosemary crackers/crisps. Amazing."
40. "The flowers are so affordable!"
41. Succulent plants
"The succulent plants come in adorable seasonal containers. We loved the sugar skulls in October."
RELATED: Best Mini Meatloaf Recipes: Kid-Sized and Kid-Approved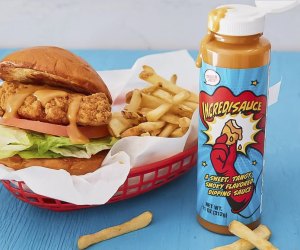 Is Incredisauce a dupe for Chick-fil-A's popular dipping sauce? You decide!
42. Incredisauce
"Incredisauce tastes fantastic on chicken fingers."
43. BBQ Cut Salmon
"Don't let the name of the BBQ Cut Salmon fool you, you can do so much more than grill this single serving of fish."
44. Carton soups
"All of the carton soups make great weeknight meals. If you're feeling fancy, you can pair it with a grilled cheese."

So many milk choices, all of them inexpensive. Photo by Arby Reed, via Flickr. (CC BY-NC-ND 2.0)
45. Milk
"TJ's milk is the cheapest I can find @ $3.16/gal reg & $5.99/gal organic."
46. Half Baked Bread
"Half Baked Bread comes out of the oven warm and crispy and tasting like you spent all day baking."
47. Yogurt
Many of you said that TJ's 6pk yogurt was the only kind your kids will eat!
48. The beer bread is amazing
49. Everything But The Bagel Seasoning
"Everything But The Bagel Seasoning tastes good on just about everything. " It's legendary for a reason.
50. All of their nuts and dried fruits are very affordable.
All photos are courtesy of the Trader Joe's website unless noted. The main image of a theater turned into a Trader Joe's, which is by E. Joseph, via Flickr/CC BY-NC-ND 2.0.