Taco Tuesday: The Only 5 Taco Recipes You'll Ever Need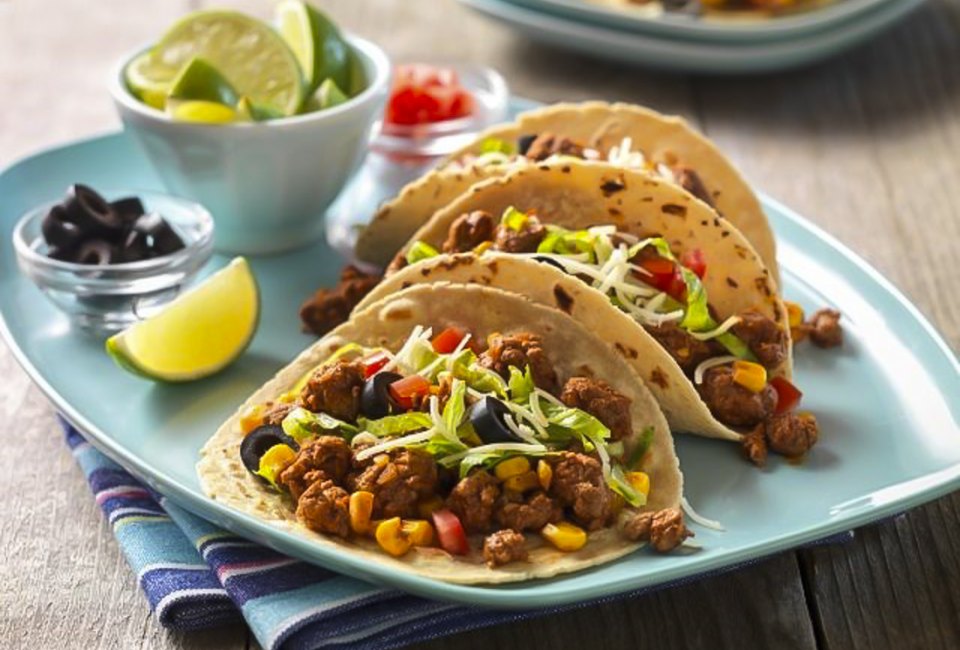 4/28/22
- By
Lauren LaRoche
Taco Tuesday makes meal planning and cooking on a busy weeknight fun and easy. It's one night a week that you know for sure what's for dinner and that your kids will actually eat! Here's my secret: master a basic taco seasoning recipe (the best one ever is below) and anything can turn into tacos. I've also included my favorite recipes for a few more easy taco meals: shrimp tacos, chicken tacos, fish tacos, and classic beef tacos. Consider Tuesday night's dinner planned with these quick, easy, and delicious tacos. You can go from "Mom, I'm hungry" to eating in under 30 minutes.
Find more yummy (and quick) things to make for dinner, like No Cleanup Necessary Sheet Pan Dinners Kids Love or Easy Crockpot Recipes for Family Dinner in our Easy Recipes Guide.

Taco seasoning is a fantastic pantry staple that's good on pasta and popcorn, too. Photo courtesy of Just a Pinch
1. Master Taco Seasoning Recipe
For Taco Tuesday it's great to have a go-to taco seasoning recipe handy. Instead of buying the pre-made taco seasoning from the store, you can create your own master taco seasoning that's exactly as spicy as your family likes it. This recipe from Just a Pinch also includes an option to make a large batch of seasoning that's equivalent to ten store-bought packages. It's the chili powder that provides the kick, so start at half the amount if you've got spice-averse little ones. Add this to ground beef, shrimp, chicken, tofu, veggies, or any taco filling you enjoy—you can even sprinkle it on pasta or popcorn for a surprising treat!
Ingredients
2 tablespoons flour
2 teaspoons chili powder
1 teaspoon paprika
1 teaspoon salt
1/2 teaspoon cumin
1 teaspoon dry minced onion
1/4 teaspoon onion powder
1/4 teaspoon cayenne
1/4 teaspoon garlic powder
1/4 teaspoon sugar
1/8 teaspoon ground oregano
Directions
Combine all ingredients in a bowl. Mix well with a spoon or whisk. Store in an airtight container with a lid. Choose a cool and dry place and you can store the seasoning for up to 6 months.
Just add shrimp to elevate your taco night. Photo courtesy of Salt and Lavender
2. Shrimp Taco Recipe
This recipe from Salt and Lavender is also quick and simple, and is perfect for summer. It's also ready from start to finish in less than 30 minutes. The recipe below serves four and you can easily double it for more servings or seconds.
Ingredients
1 pound medium shrimp (thawed & peeled)
1 tablespoon olive oil
1/2 teaspoon garlic powder
1/2 teaspoon onion powder
1/2 teaspoon smoked paprika
1/2 teaspoon ground cumin
1/2 teaspoon chili powder
Salt & pepper to taste
8-10 medium flour tortillas
Toppings (optional, to taste): sour cream, salsa, iceberg lettuce, tomatoes, cilantro, etc.
Directions
Prepare your shrimp: If you're using frozen shrimp, run them under warm water to thaw. Then, peel them and remove the tails. Next, get your toppings ready. Add the shrimp to a skillet with olive oil and the spices. Cook the shrimp over medium-high heat, stirring occasionally, for five to six minutes. Add salt and pepper to taste. Assemble the tacos with desired toppings and serve immediately.
RELATED: Quick Pizzas & Pizza Dough Recipes for Family Night

This Pico de Gallo sauce goes well on everything. Photo courtesy of Gimme Delicious
3. Chicken Taco Recipe
This easy chicken taco recipe from Gimme Delicious is perfect for a busy weeknight or a company-filled weekend. With only five minutes of prep work and 15 minutes of cooking time, you can have amazing chicken tacos on the table in 20 minutes. This quick and easy Pico de Gallo recipe is great to have on file for other meals.
Ingredients
1 pound chicken thighs, boneless skinless or chicken breasts
2 cloves garlic, minced
1 tablespoon lime juice, optional
2 tablespoons olive oil
1 tablespoon chili powder
1/2 teaspoon paprika optional
½ teaspoon garlic powder or onion powder
Salt and pepper to taste
8 small corn or flour tortillas
Pico de Gallo
1/2 cup finely chopped onion
1/2 cup finely chopped tomato
1/4 cup finely chopped cilantro
1 finely chopped jalapeno (remove the seeds)
1 teaspoon lime juice
Salt and pepper to taste
Directions
Add the chicken, spices, olive oil, garlic, and lime, to a large bowl. You can also use a zip-seal bag to shake the ingredients together. Using a large pan on high heat, cook the chicken for six or seven minutes on each side. Remove from heat and set the chicken aside for 5 minutes, then cut it into small cubes. While the chicken cooks, mix your Pico de Gallo ingredients together in a bowl. Grill the tortillas over the flame on the stovetop until they are charred. Assemble your tacos with the Pico de Gallo and any other favorite toppings.
RELATED: Top 10 Reasons Why I Love My Air Fryer

Mayonnaise is the secret to a creamy sauce for these tacos. Photo courtesy of Simply Recipes
4. Fish Taco Recipe
Fish tacos are a great quick and easy weeknight meal. Choose between cod, tilapia, or halibut that's fresh or frozen. In a skillet, you can quickly pan-sear the fish and serve it with a simple and easy cabbage slaw. This recipe from Simply Recipes only takes 20 minutes from start to finish.
Ingredients
1 pound cod, tilapia, halibut, or other white fish fillets
2-3 teaspoons chili powder, enough to coat the fish
1 teaspoon salt
1/2 cup sour cream
1/4 cup mayonnaise
3-4 tablespoons lime juice (from 2 limes)
1 teaspoon hot sauce, optional
To Assemble
1/2 small head red cabbage, shredded (about 4 cups)
12 taco-sized corn or flour tortillas
1 avocado, sliced
4 radishes, thinly sliced
4 spring onions, thinly sliced
1/3 cup roughly chopped cilantro
Directions
To start making the fish taco sauce, combine the sour cream, mayonnaise, lime juice, and hot sauce (if using) in a small bowl. Mix well until combined. Next, prep your red cabbage slaw. In a medium bowl, mix the shredded cabbage with three tablespoons of taco sauce. Stir it together to coat it. Warm the tortillas in the microwave using a damp towel or in a dry skillet. To cook the fish, start by seasoning both sides with salt and chili powder. Rub the fish to make sure you have an even coat. Warm the fish over medium-high heat with a tablespoon of olive oil. Cook the fish on both sides for two minutes. To serve the tacos, add the fish, taco sauce, cabbage slaw, and toppings of your choice.
RELATED: Easy Mug Cake Recipes To Make With Kids

Traditional beef tacos in crunchy shells are always a favorite. Photo courtesy of Spend with Pennies
5. Beef Taco Recipe
Beef tacos are almost always a kid-pleaser. These are also super easy to customize. This recipe from Spend with Pennies is a quick and easy one that's sure to be a favorite. You can make them spicy for adults and mild for the kids and everyone gets to pick their own toppings.
Ingredients
1 pound ground beef
2 tablespoons tomato paste
⅔ cup water
8 hard taco shells
toppings
Taco Seasoning
1 tablespoon chili powder
½ tablespoon cumin
½ teaspoon onion powder
¼ teaspoon garlic powder
¼ teaspoon red pepper flakes
½ teaspoon oregano
salt and pepper to taste
Directions
Brown the ground beef over medium heat. Cook it until the meat isn't pink. Drain any fat from the pan. Add the seasoning mixture, tomato paste, and water. Bring the mixture to a simmer and cook it for five minutes or until it has thickened. While everything is simmering, preheat the oven to 350°F. Place the tortillas on a tray and bake them in the oven for five minutes until they are heated. Fill your tacos and assemble them as desired.
Lead photo courtesy of the Montana Beef Council
Click Here to Sign Up!
i