Find Family Adventure with a Hike at Palisades Interstate Park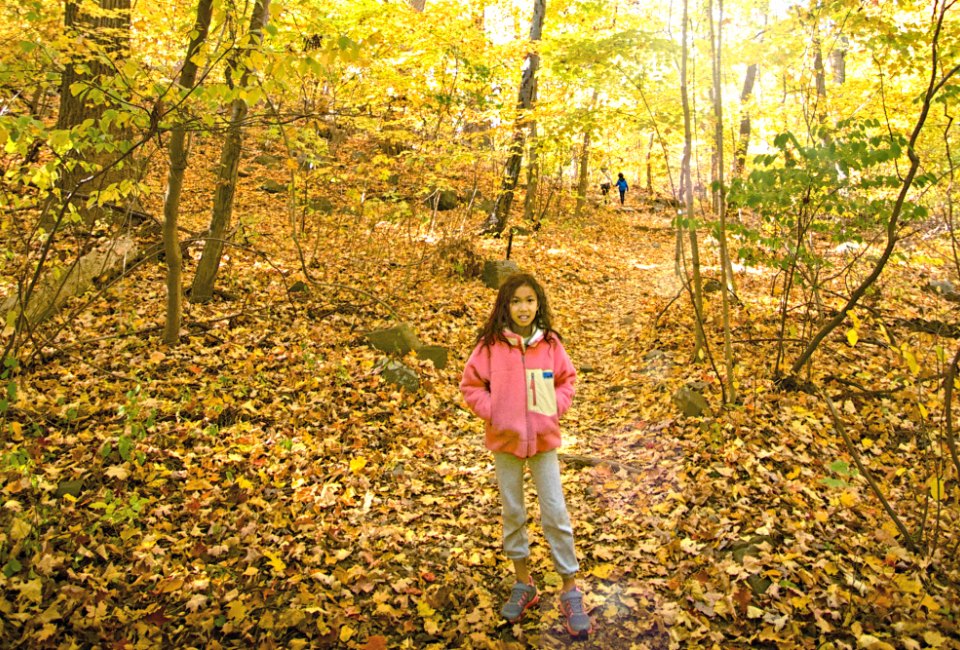 11/1/17
- By
Elaine Paoloni Quilici
When the changing colors of fall decorate the Palisades, there's no better time to head out on a family hike at Palisades Interstate Park. This park can lure even the most reluctant hikers: in addition to breathtaking views of the Hudson River, it offers opportunities to spot hawks and explore a castle, and there's even a cafe where young troopers can refuel. Read on for ways to enjoy this stunning spot.
There are more than 30 miles of hiking and cross-country ski trails throughout Palisades Interstate Park, which borders the Hudson River and offers spectacular cliff-side views. Start your journey by parking for free at State Line Lookout. To get there, take the unnumbered exit about two miles north of Exit 2 on the Palisades Interstate Parkway.
The lookout is 520 feet atop the Palisades Cliffs, which plunge into the Hudson River. It is the highest point in the park and just a half-mile south of the New York/New Jersey border.
RELATED: Easy Foliage Hikes in Westchester and Hudson Valley for Families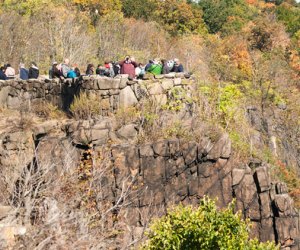 Head to the lookout for stunning views of the Hudson—and keep an eye out for hawks.
Don't forget your binoculars to see if you can spot any hawks from the lookout. Each year, from September to early November, volunteer observers sponsored by the Hawk Migration Association of North America study the migration of 14 species of hawks and two species of vultures that pass through the area. It is one of the state's official hawk watch sites.
To get a good view of the turning leaves, find a path that suits your family. Two trails—Long Path and Shore Trail—serve as the main arteries of the park and lead you to a number of smaller connecting trails.
Long Path (designated by aqua markers) follows the top edge of the cliffs. This "high road" is an easy to moderate level of difficulty and offers the excitement of passing into New York State if you take it north.
RELATED: A Dozen Easy Fall Hikes in NJ for Families with Small Children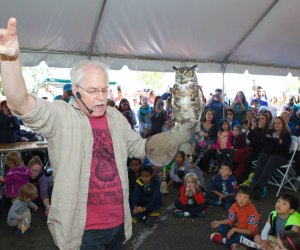 Learn all about the winged residents of the park at the annual Hawks Over the Hudson event.
Shore Trail (designated by white markers) is the "low road." It runs along the river and is not too difficult once you are on it, but getting down to the shoreline can be challenging.
Kids may be most enchanted by the hike to the Women's Federation Monument. The two-mile walk takes about one hour to complete. It passes a ravine, crosses a stream, and ends at a "castle" they can explore.
There are also six ski trails, ranging from easy to difficult, that can be walked.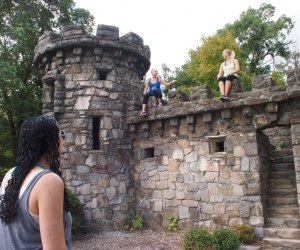 Explore the "castle" at the Women's Federation Monument.
When you're ready to call it a day, stop at the Lookout Inn, which houses a café and bookstore. It is a charming building that was built in 1937 by the Works Progress Administration. Refuel with a snack at the State Line Café. While you use the restrooms before your drive home, kids can peruse the gift shop and take home a memento of their day. Next time you ask them to go exploring, it could serve as a reminder that hikes can be cool.
Additional Information
State Line Lookout and café are open year-round, weather permitting. To confirm the area is open, call 201-750-0465 ahead of time. For a list of recommended hikes and to download a trail map, visit http://www.njpalisades.org/stateline.html. For tips on hawk watching, visit http://www.njpalisades.org/hawkwatch.html.
Top photo by Rik Jones/CC BY 2.0. All other photos by Anthony Taranto.
Places featured in this article:
---
Palisades Interstate Park
Click Here to Sign Up!
i