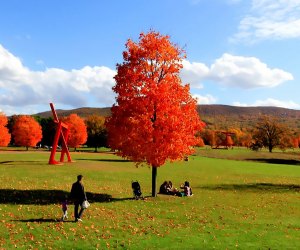 Foliage on Foot: 10 Great Fall Hikes for Westchester Kids
It officially feels like fall, and the leaves have begun to change. While fall foliage drives can be fun, bringing the kids on an outdoor hike has the added bonus of letting them burn off some energy.
We polled our writers and readers and have gathered up a list of some of our favorite places in Westchester and the Lower Hudson Valley to bring kids to hike for beautiful autumn views. (Does the word "hike" make you instinctively grimace? No worries—we've included some easy options for those who are used to seeing the leaves from behind a windshield.)
Be sure to consult our Fall Fun Guide for more seasonal activities, and follow us on Facebook.
Bard Rock at the Vanderbilt Mansion – Hyde Park
This three-mile hike, recommended by one of our readers, provides both views of fall foliage and the Vanderbilt Mansion. Hike the Hudson Valley has detailed instructions for access, and we have some ideas on other ways to spend the day in the Hyde Park area.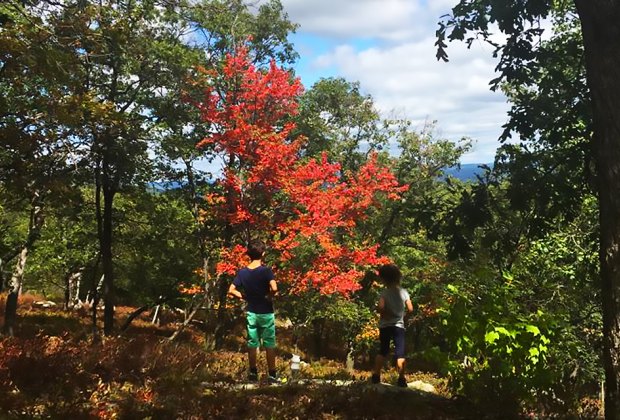 Bear Mountain has six miles of trails with varying degrees of difficulty. Photo by Anne Marceaux
Bear Mountain State Park – Bear Mountain
There are over a dozen marked trails and paths throughout the park—including six miles of the Appalachian Trail—with varying degrees of difficulty. Those who want less of a "woodsy" trek can take the easy path next to Hessian Lake or even walk across the Bear Mountain Bridge for some Hudson River panoramas.
Constitution Marsh Audubon Center and Sanctuary – Garrison
In addition to the turning leaves, hikers can look for birds and other wildlife at the 270-acre sanctuary. A round-trip hike spans 1 mile, and there's also a Nature Center open from 9am-5pm Tuesdays through Sundays. Take note that dogs are not allowed and parking can be tricky.
Croton Gorge Park – Croton-on-Hudson
Fall foliage isn't the only thing you'll see at the walkway above Croton Dam—you're also afforded some stunning waterfall views. First-timers should know that this isn't a trip for those with a fear of heights, so acrophobics should look elsewhere. To access the dam's walkway, head to the playground and take the trail that leads up the hill. You'll traverse across a few switchbacks to a stone bridge, which brings you directly above the spillway.
RELATED: 30 Awesome Things To Do with Westchester Preschoolers this Fall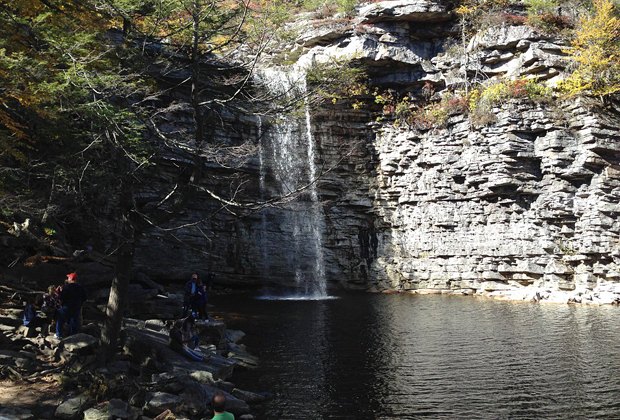 Kids will love spotting the waterfalls at Minnewaska. Photo by the author
Minnewaska State Park Preserve – Kerhonkson
Situated on the Shawangunk Mountain ridge in Ulster County, Minnewaska boasts 35 miles of carriage roads and 50 miles of footpaths, offering a trek for nearly every skill level. The 1.2-mile Awosting Falls Carriage Road to Lake Minnewaska is a popular trip for families, providing plenty of fall foliage and waterfall views. Strollers, bikes, and leashed dogs are allowed. Take note that there's a $10 parking fee.
Rockefeller State Park Preserve – Pleasantville
Known as a good starter hike for younger children, families can make their way up to the top of Eagle Hill for some guaranteed fall foliage and Hudson River viewing. The three-mile loop gradually gains elevation, so there shouldn't be too much huffing and puffing. There is a $6 parking fee for Rockefeller State Park that's collected daily from April through October, and on weekends and holidays for November through March. (While you're in the area, you might want to plan a visit to Kykuit.)
Shaupeneak Ridge – Esopus
Another reader recommendation, this 937-acre Ulster County destination features 9 miles of trails with both Hudson River and waterfall views. Families should check out the loop around Louisa Pond.
RELATED: 20 Easy (But Gorgeous) Hiking Trails To Do with Kids and Babies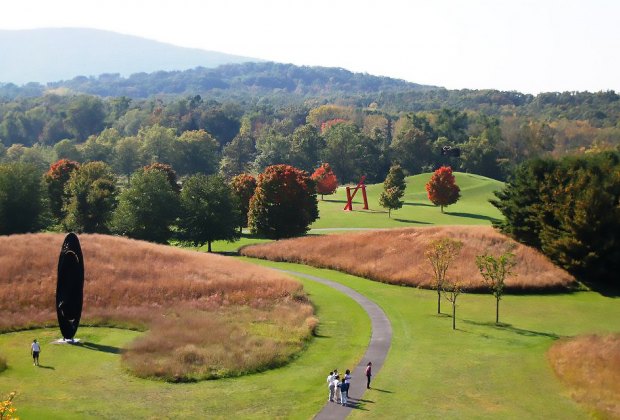 Fall is the perfect time for a visit to Storm King. Photo courtesy of Storm King Art Center
Storm King Art Center – Cornwall
While not traditionally viewed as a hiking spot, you're sure to do a ton of walking at this 500-acre outdoor sculpture garden. In addition to the magnificent art, the grounds are surrounded with mountain views and plenty of turning leaves. Beware that October is Storm King's most popular month of the year, according to the venue, and visiting during off-peak times is highly recommended. The venue is open every day except Tuesday.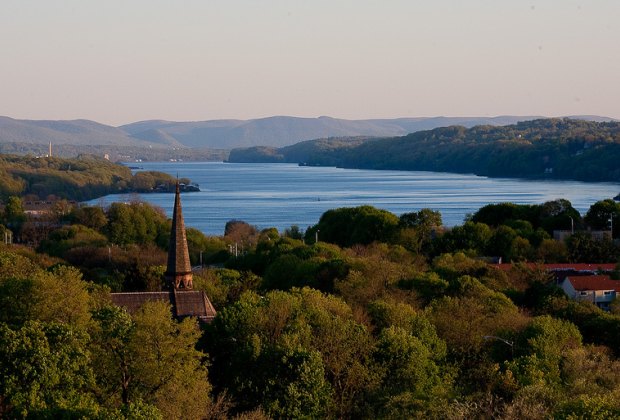 Walkway Over the Hudson provides 360-degree foliage views. Flickr credit: Esther Lee
Walkway Over the Hudson – Poughkeepsie and Highland
This 1.28-mile-long pedestrian bridge linking Dutchess and Ulster counties is an ideal walk for families who require a stroller or wheelchair. (An elevator is available from 9am until about an hour before sunset.) The elevated walkway suspends you more than 200 feet over the Hudson River, providing plenty of Instagram opportunities. Feeling particularly energetic? Take the Walkway Loop Trail, which ranges from 3.8 to 4.4 miles depending on where you park. You can also build in a trip to the Mid-Hudson Children's Museum or spend the day in Poughkeepsie.
Westmoreland Sanctuary & Nature Preserve – Mount Kisco
Families can hike at the 640-acre Westmoreland 365 days a year. There are 13 interconnected marked trails spanning 7.5 miles, with a variety of difficulty offered. Dogs are not permitted.
Updated for 2018.