Best Children's Theaters in the US: Why Bringing Young Kids to the Theater Is So Important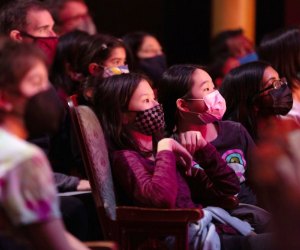 5/5/22
- By
Meghan Rose
Look around a theater, the next time you're there and watch their faces as all kids—even the very youngest—become entranced by live theater. You can see it happen, as they are transported by the stories, the characters, the scenes. And it's not just fun and games; from live theater, kids learn empathy, problem-solving skills, and how to work well with others.
Want to bring your kids to see some wonderful live theater? We've not only rounded up the best Children's Theaters in the country, but we also made it easy for parents to find the best live children's theaters and shows for kids taking place near you, wherever you live. You can even buy tickets to these shows right from our website, and take your kids to a show this weekend.
Subscribe to our newsletters to get stories like this delivered directly to your inbox.
The Benefits of Live Theater for Kids
We've been working with one of the best children's theater companies in the country, the New Victory in New York, and New 42 to think of ways to get more kids to more shows. New 42 is a cultural nonprofit whose mission is to make performing arts a vital part of everyone's life from the earliest years onward. Why are we all concerned with kids seeing more live shows? The research breaks it down…
The Research: Benefits and Why To Go Early & Often
New 42 has seen the power of theater on children, but the observations were anecdotal. So the group commissioned a study, and found incredible results. Live theater, for children:
Expands perspectives and interpersonal skills that strengthen teamwork
Inspires creative thinking, which encourages innovation and problem solving
Nurtures hope and improves self-confidence, which fosters optimism and resilience
Makes kids wonder "what if?" and challenge "why not?"
Catch an enchanting live show at the New Victory Theater. Photo courtesy of the theater
The study also found that the earlier performing arts are part of kids' lives, the sooner they can achieve the extraordinary. Many of us went to shows and fell in love with theater, dance, and performing arts at field trips or school performances. Sadly, today's kids might not get that chance, with funding for arts and field trips in sharp decline. And it turns out that not only does exposure to the arts matter, when you bring your kids also matters—the sweet spot for introducing kids to live theater is as young as age 5, and if you can bring your kids 3 times between the ages of 5-10, that's ideal.
What does all this mean? Bring your kids to the theater! Go early, and go often. Not sure where to start? We've rounded up the best children's theater companies in the country, and also great ways to find theater near you that's perfect for your kids.
Interested in this topic? Our friend Russell Granet at New 42 is giving a TEDxBroadway talk on this very topic on May 17; you can get tickets or a link to the live stream here. Or read the research for yourself!
Find a Children's Theater or Show Near You
We've made it easy to find a great live show near you, and even buy tickets right on our website. Simply go to your local calendar of events, and then select "Shows & Exhibitions" as your Activity Type. If a show has a red "Book It" tag, you can purchase tickets immediately.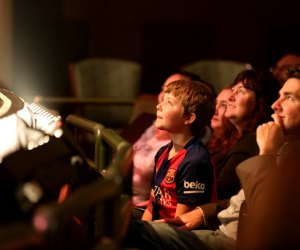 Basking in the glow of the footlights. Photo by Alexis Buatti Ramos, courtesy of the New Victory Theater
The Best Children's Theaters in the US
Note: Most of these theaters also have amazing camps, classes, and learning opportunities for kids of all ages, but we're concentrating here on the performances, because not every kid wants to step into the footlights, but all kids benefit from seeing live theater.
Located on iconic 42nd Street, New Victory Theater has year-round programming for kids and families. The shows come from all around the world and feature extraordinary theater, dance, circus, opera, and music productions. Family-friendly? You bet: The theater offers free lockers, stroller parking, a snack bar with kid-friendly food and beverage options, and a live feed from the stage in case kids need a break from the theater setting. In the theater's lobbies, kids can meet the cast or participate in free activities (led by super friendly New Victory staff members) to try new performance skills or explore the show's themes.
Dallas Children's Theater is the largest professional family theater in the Southwest. Bigger doesn't always mean better, but in this case, it really does. The productions here are top-notch, innovative, and professional and the theater has had dozens of world premiere productions. Kids get drawn into being part of the shows with Meet and greets with character meet & greets and Q&As, as well as crafts and interactive opportunities. Sensory-friendly performances are held for every play.
RELATED: The Best Zoos in the US for a Family Adventure

Production photo from Last Stop, photo courtesy of the Chicago Children's Theatre
When you think Chicago, you think serious theater, like Steppenwolf Theatre Company, Goodman Theatre, and Lookingglass Theatre. Add CCT to that list, where the company productions do not talk down to children, but treat them like a discerning audience that deserves award-winning talent, high production values, and compelling stories. Chicago Children's Theatre also produces The Red Kite Project, a multi-sensory interactive theater program tailored to kids on the autism spectrum. Parents particularly appreciate the available play area while you wait for the play to start, and the available financial aid for families who can't afford tickets.
Storybook Theater is the children's production arm of TheatreWest, and is beloved by kids in Los Angeles. It's a fabulous and interactive first theater experience in a professional, welcoming environment. This space right near Universal Studios presents a rotating series of shows on Saturday that are designed for kids as young as 3. All the shows are non-threatening, interactive musicals with a message for children 3 – 9 years old. All the shows are original musicals, usually based on familiar stories and fairytales that kids recognize and love. There are bright costumes, minimal sets, and just a few characters, making all the shows easy and fun for even the youngest kids. Also, parking is easy, which is a big plus in LA.
CTC is the nation's largest and most acclaimed theater for young people; not many theaters for kids have won a Tony Award! The productions here are world-class, and the theater is dedicated to innovation, developing new works (more than 200 to date) all the time to expand the canon of theater works for kids. Sets, actors, costumes—all are so professional and amazing that you'll often see childless adults in the audience who are there just for the show. This theater gets kids and does a great job of recommending appropriate ages for each show, which ensures that parents know which shows are right for their kids, and means that the audiences are filled with enraptured (and well-behaving) kids. Accessible performances include those with audio descriptions, American Sign Language interpretation, and sensory-friendly shows.
RELATED: The Top Amusement Parks in the US for Family Vacations

Production photo from The Little Prince, photo courtesy of the Seattle Children's Theatre
Seattle Children's Theatre (SCT) is on a mission to provide children of all ages and backgrounds access to professional theater. To that end, the incredible productions are made available with low cost and free tickets to children and any family who expresses the need. There are also performances specially modified for sensory needs, ASL interpreted performances, and audio described shows. You might find kids here as young as two years old watching their first show with their grandparents or see high school students enjoying Shakespeare being brought to life. The smaller theater feels intimate, and there are Q&A sessions with actors and other activities that draw kids further into the world of the theater.
Living in LA, this is one of my personal favorites. It was the first indoor theater experience I took my kids to. Kids as young as 2 delight in the marionette shows at the oldest Children's Theater Company in Los Angeles and the longest-running puppet theater in the United States. The shows are simple and sweet, and something about the colorful giant marionettes (who seem to be alive and have their own personalities) delights even the youngest theatergoer. It's truly a gem of a bygone era, and grandparents enjoy every minute as much as their grandkids. Did I mention that every performance ends with the whole audience being given ice cream? It's truly a magical experience. If you ask any Angeleno what their first live theater experience was, there's just about a 100% chance they will say Bob Baker.
Children's Theatre of Charlotte has a range of always professional shows from spectacular musicals to intimate storytelling. Children's Theatre of Charlotte makes theater for everyone, of any age and ability, with ASL interpreted shows, sensory-friendly shows, and free behind-the-scenes tours of the theater. With amazing quality shows and reasonable prices, it's a place adults love as much as their kids.
The mission of Childsplay is "to create theater so strikingly original in form, content or both, that it instills in young people an enduring awe, love and respect for the medium." Mainstay productions are at the beautiful Tempe Center for the Arts and several productions tour each season to schools around the state (and nation, too). Interact with the show with the Q&A sessions at the end of each play, and with the set of questions you can take home with you to talk about later.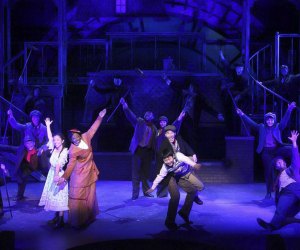 Production photo from Mary Poppins, photo courtesy of The Children's Theatre of Cincinnati
Four Broadway-quality productions are produced here every year (of which one is a world-premiere musical), plus touring productions that hit local (and not-so-local) schools. Colorful sets, incredible costumes, and professional actors make these shows a delight for kids of all ages. Lots of Disney-themed shows make for stories that grab new initiates to the theater with their familiarity, and there's also a great mix of modern retellings of fable, and historical tales, too. Select shows offer ASL for the hearing impaired, as well as MainStage sensory-friendly performances.
Broadway, fuggedaboutit! New York City Children's Theater creates original, entertaining, and enriching theater for kids and adults to enjoy together, without Lion King prices. Because what's the use of incredible programming without extraordinary accessibility? Kids and parents are both encouraged to become more than audience members: kids go "backstage" with interviews with the cast and behind-the-scenes activities and there's a series of really cool events for parents called Meet the Parents, allowing parents to connect with actors, writers, and creators who are also parents. From takes on beloved and familiar stories to completely original ideas, kids are entranced by the shows here.