40 Top Amusement Parks in the US for a Family Vacation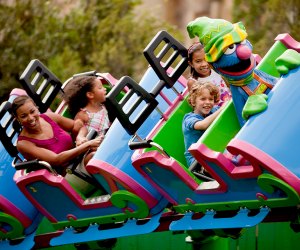 2/26/22
- By
Vanessa Leigh
If you're looking for thrills and adventure for your next family vacation, consider a trip to one of the best amusement parks in the US. There are so many theme parks across the country to plan a vacation around. Some theme parks are located near gorgeous beaches or fun cities to explore. Others are destinations in and of themselves: With so many rides and attractions, you can spend a weekend or more in the parks and not run out of things to do.
We've scoured the country to find the best amusement parks in the US to visit on your next family vacation. Whether you're a thrill-seeking family eager to check out the highest roller coasters or you're just there for the funnel cake (that's me), we have just the amusement park for you. Our list includes popular theme parks in California, fun Orlando theme parks, and plenty in between.
Ready to book your next family vacation? Check out our handy Family Travel Guide and our guide to Family-Friendly Resorts and Hotels to help you plan your journey.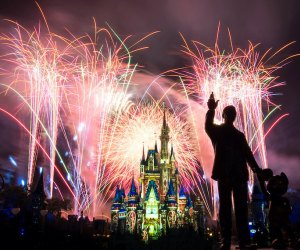 For the ultimate amusement park experience, head to Disney World in Orlando.
The Most Famous Amusement Parks in the US
Of course, we can't do a list of the best amusement parks in the US without starting here. Most kids dream of a family vacation to Disney World, and it definitely has something for everyone. Whether your visit lands you at EPCOT, Magic Kingdom, Animal Kingdom, or Hollywood Studios (home of Star Wars: Galaxy's Edge), you're sure to come home with magical memories and a family photo in front of the Cinderella Castle. Get the scoop on visiting every park at Walt Disney World with kids in our 5-day itinerary!

Disneyland is smaller than Disney World, but it's the original Disney theme park.
On the other side of the country—and equally entertaining—is Disneyland, the original Disney theme park. Disneyland is comprised of two theme parks next to each other, Disneyland and California Adventure. Disneyland is home to classic rides like It's A Small World and Big Thunder Mountain Railroad, while California Adventure has themed areas like Cars Land and the Avengers Campus. Be sure there's plenty of space on your smartphone for pictures with the characters. Brining a baby? We've got tips for bringingyour youngest Moustketeer to Disneyland.
Six Flags Magic Mountain is another one of the popular theme parks in California. Nicknamed the "Thrill Capital of the World," this park currently has 19 daring roller coasters with a 20th on the way. The summer 2022 addition of WONDER WOMAN Flight of Courage set a record, leaving this park with the most roller coasters of any theme park in the world. The newest coaster is the tallest, longest single-rail roller coaster in the world.
Cedar Point is a staple for midwesterners and tourists alike. This theme park has a little bit of everything for all ages, from kiddie rides for the youngest guests to 17 roller coasters for the biggest daredevils. Book a visit in the summer to enjoy the full benefits of the beach, rides, and water park. Stay a few days to enjoy all of the attractions.

Cool off at Hersheypark's water park on a hot day.
Visit Hersheypark and get four adventures all in one: an amusement park with 15 roller coasters, a zoo, a water park, and Chocolatetown. You'll definitely want to book a long weekend for your family trip here because there's so much to take in. Leave plenty of room for tasty treats at the ice cream parlor and the confectionary kitchen in Chocolatetown, and be sure to take the 30-minute tour of the chocolate factory in Chocolate World.
For thrill seekers, Kings Island has you covered with the Diamondback and Invertigo roller coasters. There's also a train, bumper cars, a carousel, and lots more for younger riders, including the Planet Snoopy kids' area. If you visit on a hot summer day, Soak City Water Park will cool you off with its 36 water slides, two wave pools, and relaxing lagoons.
Another Six Flags favorite, Fiesta Texas hosts a popular Mardi Gras festival in January and February. The theme park has many thrill rides, including the popular Dare Devil Flying Machines (on which riders experience the feeling of weightlessness) and Dr. Diabolical's Cliffhanger. But don't worry—younger kids also have plenty of rides just for them.
8. Busch Gardens – Tampa, FL and Williamsburg, VA
Both Busch Gardens theme parks debuted new roller coasters in March 2022—Iron Gwazi in Florida and the Pantheon (billed the world's fastest multi-launch coaster) in Virginia. Both locations also have a Sesame Street-themed area for kids as well as great live shows and entertainment, and the Tampa park has a zoo.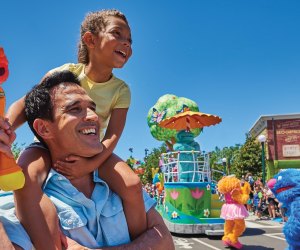 Spot your favorite Sesame Street characters at SeaWorld.
9. SeaWorld – Orlando, FL; San Antonio, TX; San Diego, CA
This well-known aquatic adventure land is a must-visit family vacation destination. Dance with dolphins, ride both thrilling and not-so-scary rides, meet marine life, see Sesame Street characters, and enjoy live entertainment at all three SeaWorld locations. All three parks also welcomed new rides in February and March 2022: the Ice Breaker roller coaster in Orlando, the Emperor coaster in San Diego, and the Tidal Surge—the world's tallest and fastest swing ride—in San Antonio. Read our insider reviews of SeaWorld Orlando and SeaWorld San Diego.
10. Universal Studios – Universal City, CA and Orlando, FL
Wingardium leviosa! If you just did a "swish and flick" with your imaginary wand, then you are a true Harry Potter fan ready to visit The Wizarding World of Harry Potter at Universal Studios Hollywood and Universal Orlando. But if a butterbeer is not on your list of favorite theme-park delicacies, there is plenty more to eat, ride, and do at both locations, including at Universal Orlando's Islands of Adventure theme park. Have your camera ready for character sightings.

LEGOLAND has rides for all ages to enjoy.
11. LEGOLAND – Carlsbad, CA; Winter Haven, FL; Goshen, NY
Way beyond the childhood building blocks, LEGOLAND is a full resort that offers visitors a taste of everything. The California location has an aquarium, a water park, tons of rides, and a brand new section modeled after The Lego Movie. LEGOLAND Florida also has a water park, rides, and a new Peppa Pig Theme Park only steps away that opened in February 2022. And in addition to its rides, 4D movie, and other attractions, LEGOLAND New York welcomed a new water playground in summer 2022.
12. Sesame Place – Langhorne, PA and Chula Vista, CA
Sesame Place's Pennsylvania theme park has long been a must-visit for toddlers and preschoolers with its kid-friendly rides, shows, and parades full of beloved Sesame Street characters. In March 2022, Sesame Place opened on the west coast with a brand-new park in San Diego featuring 18 rides, an interactive Sesame Street neighborhood, daily character shows, parades, a musical play area, and one of the largest waves pools in SoCal.

You don't need to be a country-music fan to enjoy Dollywood!
13. Dollywood​ – Pigeon Forge, TN
This family-friendly theme park, water park, and resort is named after its owner, Dolly Parton. It also includes pet cottages at Doggywood if you're traveling with your furry friend. Try to grab some tickets for one of the dinner shows to enjoy after a day of riding roller coasters and other fun rides.
Best Amusement Parks in the US that are Off the Beaten Path
There's so much to explore at Kennywood Amusement Park for all ages. Adults and daring older kids will love the classic wooden roller coaster called the Thunderbolt, the Ghostwood Estate haunted house, and the record-breaking Steel Curtain roller coaster. For the younger kids, there's the Thomas the Tank Engine-themed Thomas Town and Kiddieland, which includes scaled-down versions of popular park rides.
Pack your bags and some warm clothes and get ready for an Alaskan adventure at this charming historic village. A carousel, a train that runs the park's perimeter, shops and restaurants, and lots of history are just a few of the things you'll experience at Pioneer Park.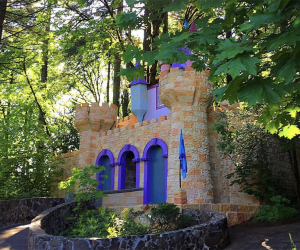 Enchanted Forest truly is enchanting.
This park is a truly enchanting oasis nestled in nature. The rides are unique and include the Ice Mountain Bobsled Roller Coaster and the Big Timber Log Ride. The rickety Haunted House is beautiful on the outside and spooky on the inside. Young children will love exploring Storybook Lane, where they can crawl through Alice in Wonderland's rabbit hole, slide down an Old Lady Who Lived in the Shoe slide, and interact with other fairytale-themed elements.
Along with traditional carnival rides and roller coasters, Castles N' Coasters offers four mini-golf courses, an arcade, a ropes course, a zip line, and more. Phoenix is known for its heat, so we recommend cooling off on Splashdown or the bumper boats.
Celebrating a birthday on your family trip? Enchanted Island is a perfect location that welcomes birthday parties. In addition to nine rides, there is a Splash Zone open mid April through early October, a giant climbing wall, and a fun water-gun game. You can also pedal through miles of waterways in Encanto Park when you rent a pedal boat.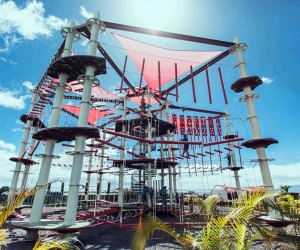 Test your skills on Adventure Park Maui's high ropes course.
Aloha! Book a trip to Hawaii and make sure to visit this high ropes course on the island of Maui. You'll build strength while experiencing an outdoor adventure as a family. There are also axe-throwing sessions available for thrill seekers.
Part of New Orleans City Park, this theme park is small, but perfect to conquer in a day's visit. There are 18 rides to enjoy, including a roller coaster, a train, and the park's namesake carousel. When you're ready to move on, head to City Park's Storyland garden, train garden, mini-golf course, or playground.
Operated by Six Flags, this amusement park has a wide range of attractions including roller coasters, a tree house for kids to explore, and the Renegade Rapids water ride. Traditional rides like a Ferris wheel and a carousel are also part of this park, making it perfect for younger kids to enjoy.
Check out the view from the top at America's only mountaintop amusement park. Giant swings and roller coasters provide thrills for daring adventurers. There's also a 4D motion theater, laser tag, and a Ferris wheel. Plus, Glenwood Caverns lives up to its name by offering cave tours.
A whopping 85 rides and attractions await at New England's Canobie Lake Park, including a water park, a giant Ferris wheel, and kiddie canoes. Make sure to stop by for some delicious, buttery popcorn at the stand shaped like a box of popcorn!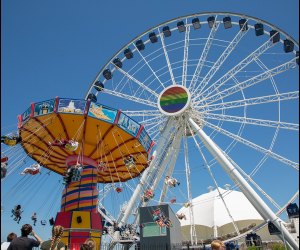 Take a break from the big city at Chicago's Navy Pier.
Best Amusement Parks in the US Located on Piers
A trip to the Windy City offers so much for families, and a stop at Navy Pier is a must. Ride the carousel around and around, soar up on the legendary Centennial Wheel for breathtaking views of the city and Lake Michigan, wind your way through the funhouse maze, and more.
Open Memorial Day through Labor Day, this boardwalk is a perfect place to stop in for some fun during a beach day. Most rides are geared toward younger children, but older kids will enjoy the Carolina Beach Arcade.

Take a break from the beach at Pacific Park on the Santa Monica Pier.
This theme park on the Santa Monica Pier has a giant Ferris wheel called the Pacific Wheel that offers incredible views of the beach and the big city. Ride the rides, play carnival games, and enjoy some funnel cake, pizza, and Dippin' Dots while you're at it.
First opened in 1929, this theme park on the Ocean City Boardwalk has both indoor and outdoor amusement options, including a historic indoor carousel dating back to 1926. There are also roller coasters, bungee jumping, and many other rides.
Luna Park is home to the famous Cyclone, a New York City landmark. The Cyclone, which first opened in 1927, is the second-steepest wooden roller coaster in the world. There are also plenty of other rides, from the Thunderbolt roller coaster and the Sling Shot for thrill seekers to kiddie rides including a carousel. When you've had your fill of rides, try your luck at some carnival games or head next door to Deno's Wonder Wheel Amusement Park.

Wildwood, NJ has three piers full of rides, games, and fun.
There are tons of rides to enjoy—and water-park fun to be had—at these three piers in New Jersey. The biggest thrills are at Adventure Amusement Pier, which has a skycoaster, a giant wooden roller coaster, and more. Surfside and Mariner's piers have a variety of rides for all ages.
Get the adrenaline pumping at Jolly Roger on rides like the fan-favorite Drop & Twist and the Kraken, which sends riders spinning out over the ocean. There are also plenty of rides for little ones, including a double-decker Venetian carousel and a mini pirate ship. Win a prize from one of the midway games, and be sure to try the famous Thrasher's French Fries.
This beach-boardwalk amusement park offers thrill rides, tasty treats, and other attractions such as Neptune's Kingdom, a game center with mini golf, arcade games, and more. There's also laser tag, bowling, and a laser maze challenge. Brave visitors can't miss Fright Walk, a popular walkthrough attraction under the Boardwalk that brings spookiness at every turn.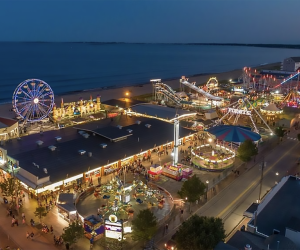 Palace Playland is the only beachfront amusement park in New England.
Come visit New England's only beachfront amusement park, with plenty of rides for kids and families, as well as an arcade and daring roller coasters for extra thrills. Families can tackle the Grand Orient Fun House, which has challenges like spinning wheels and uneven floors.
This beachfront theme park offers more than a dozen rides for all ages. There's also laser tag, a rock-climbing wall, a zip line, mini golf, and more. Make sure to stop by Cannonball or Beach House for a lunch or dinner the whole family will love.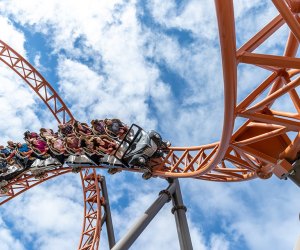 If you're looking for next-level thrills, head to Carowinds in North Carolina.
Best Amusement Parks in the US with Giant Roller Coasters​
The Carolina Cyclone and the Afterburn offer the top thrill levels of all of the coasters at this theme park. Copperhead Strike and Intimidator are two other top-rated coasters. Enjoy the rides, then cool off at Carolina Harbor Waterpark.
This theme park opened in... 1846! That makes it the oldest operating North American amusement park and a must-visit, both for the history and the thrills. There's an award-winning wooden roller coaster and much, much more to explore at Lake Compounce, including water rides and a genuine 1911 open-air trolley.
Yes, you read that right: Holiday World is located in the town of Santa Claus, Indiana. Part of it is a water park called Splashin' Safari. While you're at the theme-park portion, be sure to check out the Thunderbird Steel roller coaster if you're looking for top speed.
Roller coaster after roller coaster awaits at this theme park in Utah. Colossus: The Fire Dragon, Cannibal, and Wicked are our top picks to try out first. There are also tons of rides for the less daring, a water park called Lagoon A Beach, and amazing live entertainment. Be sure to take a stroll through the Wild West-themed Pioneer Village.
A new roller coaster, ArieForce One, opened in Fun Spot America in 2022, joining the Screaming Eagle coaster. Other popular attractions are the bumper boats, bumper cars, and a 40-foot-tall, 1,800-foot-long go kart track with helixes and drops.
Indoor roller coasters? You got it! Try out the Canyon Blaster or El Loco at this indoor amusement park located at the Circus Circus resort in Las Vegas. There are also plenty of other rides, a classic arcade, midway games, rock climbing, bungee jumping, mini golf, a laser challenge, and a virtual-reality room.
This theme park started as a family farm and is now a famous amusement park with much to see and do. Ghostrider and HangTime will give thrill-seekers something to talk about. Small children will love Camp Snoopy, which offers many kiddie rides and meet-and-greets with Peanuts characters. After the rides, make sure to enjoy Old West Ghost Town and Mrs. Knott's Chicken Dinner Restaurant.
All photos courtesy of the amusement parks
Click Here to Sign Up!