Best Toddler Gifts: Toys, Books, and More for 2- & 3-year-olds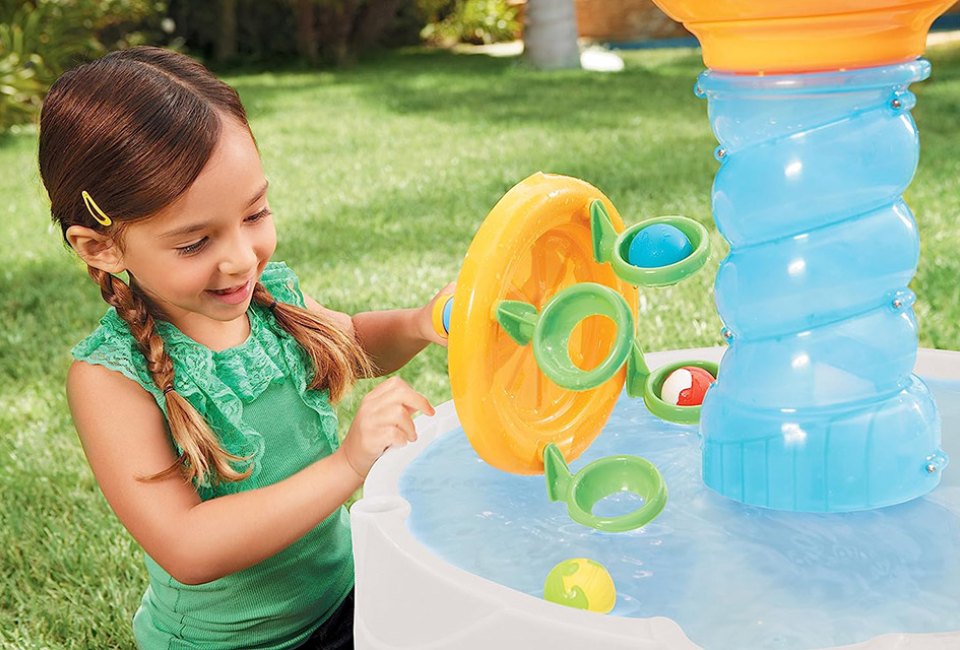 8/24/23
- By
Vanessa Leigh
Looking for the best toddler gifts for 2- and 3-year-olds? Check out our ultimate toddler gift guide for our favorite toddler gift ideas.
At ages 2 and 3, children are expanding their minds every day and learning mainly through play. The best toddler gifts are those that promote and allow for open-ended play, creativity, and imagination. But toddlers can be difficult to shop for because while they crave more independent play, they're also not old enough to play with toys that have small parts, sharp edges, or other safety concerns. Toddlers are also still developing fine and gross motor skills.
If all of those considerations sound daunting, you're in the right place, as we've checked in with our experienced panel of parents (our writers and editors!) to round up the very best toddler gifts for 2- and 3-year-olds, including toys, books, and experience gifts. These are all toys we have put to the test, have lasted, and have passed down to younger siblings and friends.
If you've got a range of ages to shop for, check out the Mommy Poppins Gift Guide for Birthdays and Holidays, which has suggestions for the best first birthday gifts for 1-year-olds, and so much more.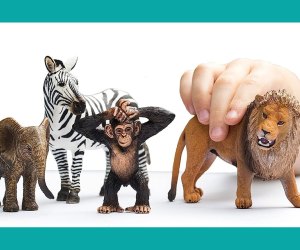 Schleich animals are full of realistic details that delight kids.
Best Toddler Gifts: Toys
Animal Toys
Whether they're zoo animals, dinosaurs, or farm friends, 2- and 3-year-olds love animals. Here are some of the best animal toys for toddlers to add to your cart:
Trains, Planes, and Automobiles
Toddlers are known for being vehicle- and train-obsessed. These are some of our favorite train, plane, and car toddler gifts:

Magna-Tiles are universally loved by kids of all ages.
Magna-Tiles are one of the most beloved and versatile toys for kids ages 3 and up—just check out our list of 50-Magna-Tiles games and building ideas for proof. The starter set comes with 100 tiles of various colors and shapes. There are also adorable themed sets that toddlers love, including a safari animals set and a construction-themed set.
Construction Vehicles
Trucks are so popular with toddlers, they deserve their own category on our list. In addition to the Green Toys brand mentioned above, here are some great trucks for toddlers:
RELATED: 100 Classic Toys for Kids: Favorite Classic Toys, Retro Toys, and Vintage Toys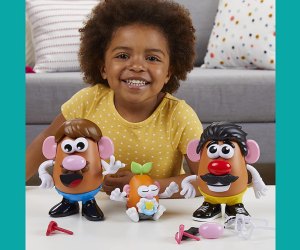 Mr. and Mrs. Potato Head—and Baby Potato Head, too—will never go out of style.
Remember Mr. and Mrs. Potato Head? Your toddler can have a whole Potato Head family—including a Potato Baby—and give them loads of silly faces. This is one of those classic toddler gifts they'll continue to love as they get older, then pass down to their own children.
If you just can't wait to build LEGO sets with your child, DUPLO bricks are the perfect size for 2- and 3-year-olds, and the sets are easier to put together. You can't go wrong with any of them as toddler gifts, but we especially like the Family House on Wheels, the Jurassic World Dinosaur Nursery, and the Town Fire Truck.

This classic book is one of the best toddler gifts for young readers who love vehicles.
Best Toddler Gifts: Books
Richard Scarry books are perfect for 2- and 3-year-olds. In this classic favorite, toddlers can learn the names of tons of vehicles, all driven by various animals. This is one book your kids will reach for when they're teenagers and need a dose of nostalgia.
I Spy Books
If your toddler enjoys playing the "I Spy" game in the car, they'll love searching for hidden images in the I Spy books. I Spy Animals and I Spy Letters are especially great for toddlers.
The Story Orchestra Books
Cue the orchestra! Introduce your toddler to famous composers including Tchaikovsky (The Nutcracker), Saint-Saens (Carnival of the Animals), Mozart (The Magic Flute), and more. These books are incredible and include recordings of classical pieces along with beautiful illustrations and stories. Your toddler will want to read and listen to them over and over again.
This set of 10 board books teaches 2-year-olds their ABCs, colors, numbers, birds, shapes, vegetables, wild animals, and more. The bright colors and photos do a great job of keeping young minds engaged.
Picture Books
At ages 2 and 3, kids start to be ready to move away from board books and on to picture books. Our list of 100 kids' books every child should read before they grow up includes many fantastic picture books, from classic titles like Gene Zion's Harry the Dirty Dog to newer favorites such as Drew Daywalt's The Day the Crayons Quit. Any of the picture books on our list would be welcome additions to a toddler's library.
RELATED: Free Kids' Music Playlists for Breakfast through Bedtime

TinkerTars lead to colorful jam sessions—adorable guitar face not included!
Best Totally Unique Toddler Gift Ideas
These colorful guitars for young kids have only one string and come in a variety of designs. Your toddler can learn to pay songs and nursery rhymes on a cool dinosaur guitar, a silly pepperoni pizza guitar, or one of several other fun options.
Event/Entertainment Tickets
Give a toddler the gift of memories (at least in photos) by gifting them with tickets to an experience. Here are a few great ideas for 2- and 3-year-olds:

The KOKODI LCD Writing Tablet is the perfect screen-time alternative.
Screen time is something that is both a reality in today's technology-filled world and a common concern for parents. This LCD tablet is a wonderful alternative that encourages creativity, drawing, and writing skills.
Subscription Boxes
Subscription boxes are the gift that keeps on giving. Each month (or every other month), the toddler receives a box of toys, crafts, books, or other items specifically tailored to their age group. A few of our favorite subscription boxes for 2- and 3-year-olds are Lovevery Play Kits, KiwiCo Panda Crates and Koala Crates, and the Bookroo Board Book Club.
RELATED: 75 Indoor Activities for Kids on a Rainy Day

With this fun obstacle course, toddlers can still be active even when they're stuck indoors.
Best Big Toddler Gifts
Get those wiggles out with this amazing pop-up obstacle course that includes tunnels, mini ball pits (balls not included), games, and more. It's perfect year-round, but especially on hot, cold, or rainy days when your 2- or 3-year-old needs to burn some energy.
Play Kitchen
A play kitchen is one of those toddler gifts that grows with your child, offering years of open-ended pretend play. While most play kitchens of yore were enormous plastic eyesores, today's play kitchens are often pretty realistic replicas. Here are a few of our favorites:
And what good is a kitchen without any food? Melissa & Doug Food Fun Combine & Dine Dinners are a great choice for wooden play food.

Configuring the track In various ways is one of the most fun parts of owning a train table.
A train table is a must-have for those train-obsessed toddlers we mentioned earlier, and this KidKraft set ranks consistently high among parents. Its 120 pieces include wooden trains and track parts that can be configured in various ways, and it has three storage bins that slide under the table to hold them all. Once your kiddo outgrows trains, the table can become a LEGO or art table.
A water table offers toddlers hours of open-ended water play, and this Little Tikes option is a perennial favorite among parents. Little ones can drop balls down a spiraling chute, spin them on a mini Ferris wheel, scoop water with a cup, and more. Pro tip: Prices on water tables often drop in the off-season, so this would be a great winter purchase.
RELATED: 40 Classic Outdoor Games for Kids: Backyard Games, Playground Games, and More

Toddlers feel right at home in the Step2 Charming Cottage.
Your 2- or 3-year-old may be too young for a tree house, but that doesn't mean they can't have a special space of their own. This adorable and highly rated playhouse has fun features like a working doorbell, a Dutch-style door, flower boxes, and more, offering kids hours of pretend play.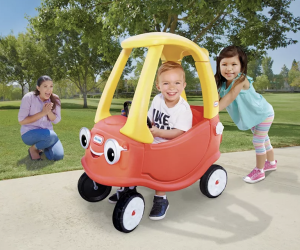 What toddler wouldn't love tooling around town in a shiny new Cozy Coupe?
Best Toddler Gifts: Ride-On Toys
At ages 2 and 3, they're not quite ready for their driver's license, but they've got a license to play. The Cozy Coupe is a recognizable red and yellow, foot-powered toy car that now comes in multiple colors and forms, like a princess version and a dinosaur model. The Cozy Coupe has a push handle and a removable floorboard, so parents can push riders until they're big enough to move the car with their feet.

Balance bikes are a great first step towards riding a traditional two-wheeler.
Balance Bikes
Many parents and experts swear by balance bikes: With no pedals, they often help little ones learn balance and get them riding two-wheelers more quickly than bikes with training wheels. The Strider Classic Balance Bike and the KRIDDO Toddler Balance Bike are two highly rated models for 2- and 3-year olds.

Owning a red Radio Flyer tricycle is a rite of passage for many kids.
A tricycle is a great first set of wheels for 2- and 3-year-olds, and there is no tricycle more classic than a red Radio Flyer, complete with a bell for little ones to ring. Or, opt for the plastic Radio Flyer Junior Flyer Trike, which features an oversize front wheel and an adjustable seat that allows your child to ride the trike until around age 5.

The third wheel on the Micro Kickboard Mini helps toddlers maintain their balance.
This award-winning three-wheeled scooter for ages 2-5 has an adjustable handlebar that grows with your child, plus a grippy footplate for added safety. It comes in several colors and patterns, and its durability means it will last well after your kiddo moves on to two-wheeled scooters.

Get ready for squeals of delight when toddlers ride the Step2 Up & Down Roller Coaster.
Turn your backyard into a mini toddler theme park with this fun roller coaster toy, on which your 2- or 3-year old can ride a toy car along nine feet of bumpy plastic track. It may look simple, but trust us—this is one of those toys your kiddo will return to over and over again. The car can be used as a separate ride-on toy as well, giving you more bang for your buck.
Want to expand the fun? Get an extra four feet of track with the Step2 Farther & Faster Coaster Track Expansion Pack.
This article contains affiliate links, which means we might earn a small commission if you make a purchase. There is no extra cost to the reader. We only recommend products and services that we have personally used or have thoroughly researched
Photos courtesy of the manufacturers
Click Here to Sign Up!
i