50 Magna-Tiles Games and Building Ideas for Kids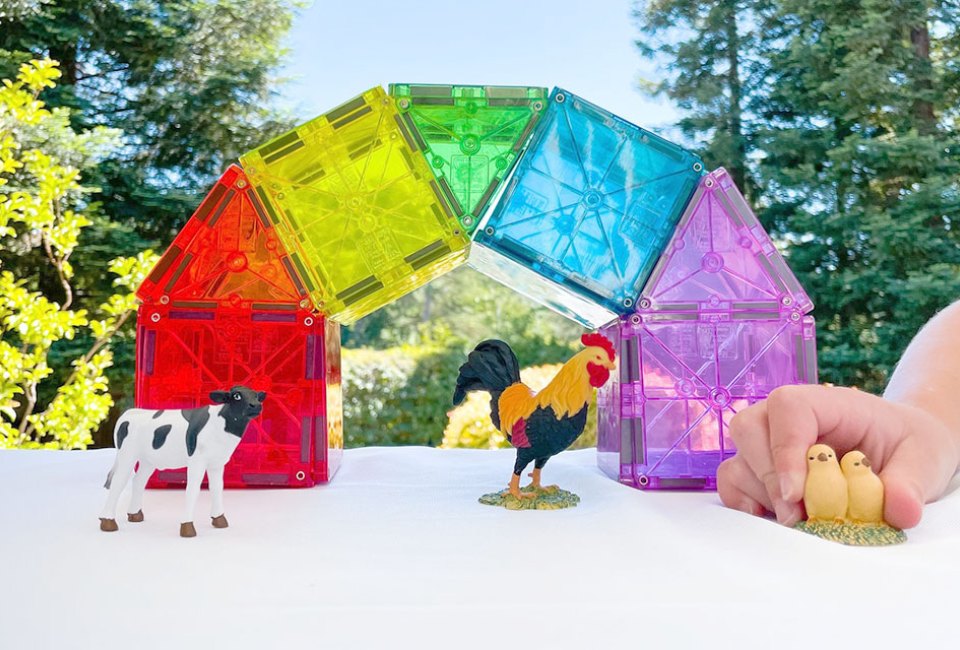 4/25/23
- By
Marisa Iallonardo
Magnetic tiles—whether they're the classic Magna-Tiles brand or one of the many other variations—are one of the most beloved and versatile toys for kids of all ages. After all, there are so many fun Magna-Tiles games to play, interesting learning activities to do, and awesome structures to build.
Playing and building with magnetic tiles teaches kids STEM skills, helps them learn their shapes and colors, fosters their creativity, and so much more. I recently asked my third-grader and kindergartner to create whatever came to mind using their magnetic tiles and they had lots of inventive ideas, including a monster and a rainbow tower.
If you need some inspiration on how to have fun and learn with magnetic tiles, here are 50 Magna-Tiles games and activities, Magna-Tiles building ideas, Magna-Tiles printables and video tutorials, and more. For more at-home STEM and art ideas, check out our lists of easy science experiments for kids and 100 awesome art projects for kids.
Note: While we use the term "Magna-Tiles" often throughout this article, most of these Magna-Tiles games, activities, building ideas, and more are compatible with any brand and type of magnetic tiles.

Play fun matching games with your Magna-Tiles. Photo courtesy of Magna-Tiles
Magna-Tiles Games and Learning Activities
These fun and educational matching games require kids to find matching pairs of tiles and to find the odd pair out. For little ones, you can simply have them match up tiles of the same color.
2. Tic Tac Toe
Create a square Tic Tac Toe grid out of nine magnetic tiles, and use colored bottle caps or any other small items as markers. Play again and again without wasting paper!
These handy cards help kids learn how to make patterns using magnetic tiles.
Arrange Magna-Tiles into shapes on a whiteboard (they stick!) and have little ones guess the shape. Then have the kids create the shapes themselves. They'll have so much fun, they won't even realize they're learning!
5. Sorting Game
Have toddlers and preschoolers sort magnetic tiles by color, shape, and/or size.
Use Magna-Tiles to form the walls of a marble maze, then drop a marble and watch it fall. Move the tiles around to adjust the maze as many times as your kiddo likes.
For another fun take on a maze, make a fun pom-pom ball run on the fridge (if it's magnetic) or on a whiteboard.
RELATED: 100 Classic Toys for Kids: Favorite Classic Toys, Retro Toys, and Vintage Toys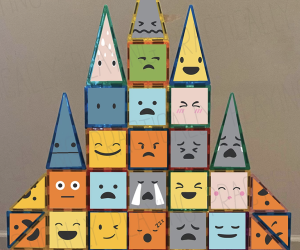 Give your magnetic tiles emotions with these fun stickers! Photo courtesy of Jack and Zoe Play
These removable magnetic-tile face stickers are not only a fun way to decorate tiles, they help little ones to recognize different emotions.
No dominoes? No problem. Just use Magna-Tiles instead, knock one down, and watch them all fall!
Break out a magnetic surface to do these four fun math activities, which including counting and addition practice.
Make math fun by creating ten frames using magnetic tiles.
Teach kids the basics of coding—including sequencing, algorithms, and debugging—using a grid of magnetic tiles and blocks.
Write letters on Magna-Tiles with a a dry-erase marker. Then have kids combine them to make sight words.
Use colored rice, magnetic tiles, and a magnetic wand to make a fun sensory table that can teach little ones how magnets work.
This experiment shows you how to mix blue, red, and yellow (primary colors) Magna-Tiles into different combinations to make secondary colors like violet/purple, green, and orange.
16. Colorful Shadows
Shine a flashlight through magnetic tiles to project a rainbow of colors. Overlap different colors to explore color mixing.
Place a mirror perpendicular to the floor or table. Arrange magnetic tiles into a shape against the base of the mirror. Show kids how the shape is perfectly reflected in the mirror, with the base of the mirror as the line of symmetry.
18. Magnetic Tile Fishing
Create a fishing rod out of a stick, some string, and a magnet. Arrange magnetic files on the floor and go fishing!
RELATED: 75 Indoor Activities for Kids on a Rainy Day

Kids can get creative and build their own custom monster.
Magna-Tiles Building Ideas
19. Monster
Design your own Magna-Tiles monster, like the one created by my 8-year-old. Start by making a large cube using 24 square tiles. Then, place triangle pieces to form ears, eyes, and "arms." Use one last square tile for the mouth—and done!
20. Race Car Track
Create a race car track out of magnetic tiles using your imagination, or buy a set made specifically for that purpose. Then get out the toy cars and wheel them around to your hearts' content!
If a flat track isn't cool enough, try building this awesome ramp. Since this might be tough for little ones, it's a great way to get older kids in on the fun—and to score some sibling playtime.
If you have a lot of Magna-Tiles, add this bridge to the mix to create the ultimate course for Hot Wheels and other toy cars.
RELATED: "I'm Bored, What Should I Do?" 100 Things To Do When Kids Are Bored

Kids won't want to take their magnetic tile robot apart.
This video provides a step-by-step tutorial on how to create a cool robot out of Magna-Tiles. If only it could move!
Use square and triangle Magna-Tiles in a variety of colors to create a beautiful 3-D rainbow.
25. Castle
No instructions are needed to make this classic Magna-Tiles design—only your imagination. Even my 2-year-old niece loves building magnetic-tile castles!
If you've got PicassoTiles of various shapes—including the narrower tubes—use them to build this awesome ostrich.
This magnetic-tile strawberry is just the sweetest, and makes a great project for an elementary-schooler to tackle.
RELATED: Simple and Fun Light Experiments for Toddlers and Preschoolers

Use magnetic tiles to create a unique floral arrangement.
28. Flowers
Use magnetic tiles to create flowers in all colors, shapes, and sizes—green(or not) for the stems and leaves, various other colors for the petals!
Use tall orange triangles to make the cone, and smaller triangles to put different flavors on top.
Learn how to form a ball—though not one you can throw—out of magnetic tiles.
Use green magnetic tiles and and small jingle bells to make jingly, jangly Christmas trees to add to your holiday decor.
You'll need 28 equilateral triangles, four squares, and two right-angled triangles to make this sparkling, shining star.
RELATED: Toddler Activities to Keep Little Ones Busy (and Happy) at Home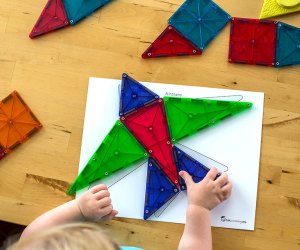 Printable templates help little ones form magnetic tiles into fun shapes.
Magna-Tiles Printables
These printables help kids arrange magnetic tiles into 11 shapes, including a duck, a cat, and an airplane. Each shape comes in two levels of difficulty.
Kids can piece together Magna-Tiles tangram-style to form the numbers 0 through 9.
These printables will help kids form the entire alphabet—both uppercase and lowercase—out of Magna-Tiles.
These printable tangram-style puzzles are perfect for preschoolers.
Print out these templates of diverse people, then use magnetic tiles to create outfits for them.
Create a firecracker, a lantern, and a lucky coin out of Magna-Tiles with these fun Lunar New Year printables.
RELATED: Car Games, Podcasts, and More to Keep Kids Busy on Road Trips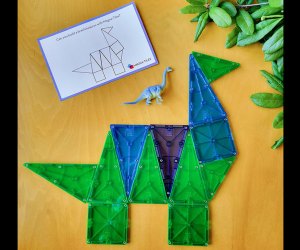 Dino lovers will roar over dinosaur Magna-Tiles printables. Photo courtesy of Magna-Tiles
Dinosaur Magna-Tiles Activities
Follow the patterns on these printables to make a Brachiosaurus and a Stegosaurus out of Magna-Tiles.
Or, break out the kraft paper to create your own dinosaur outlines for the kiddos to fill in with magnetic tiles.
You'll need a big set of Magna-Tiles—71, to be exact—to make this T-Rex, a perfect project for older kids.
Budding paleontologists will love building a Brontosaurus out of magnetic tiles.
These specialized Magna-Tiles dinosaur sets will have little dino lovers roaring with delight!
These free printable templates will help kids arrange magnetic tiles into a Pterodactyl, a Stegosaurus, and an Apatosaurus.
RELATED: Rainbow Crafts for Kids

Can your kiddo build a tower that's taller than they are?
More Fun Magna-Tiles Ideas
45. How High Can You Go?
Stack up those tiles to see how high you can get them before they all fall down—or your kiddo knocks them down!
Flowers look especially beautiful when pressed between colorful magnetic tiles.
Put these 22 fun cards in a pile face-down. Have kids choose a card and then do what it says with magnetic tiles. The cards challenge kids to design and build something that flies, something they might see in outer space, something you can ride on, and more.
48. Color-On Magna-Tiles
Some Magna-Tiles sets—including a Sesame Street-themed set and a Crayola Creativity Bus set—allow kids to color and draw on the tiles with washable markers.
Use magnetic tiles to create fun designs on your garage door. Just don't forget to take them off before opening the door!
CreateOn.com allows you to customize your own set of Magna-Tiles with up to 32 images. Imagine how much fun your kid will have building things out of family photos!
Unless noted, photos by the author
This article contains some affiliate links, which means we might earn a small commission if you make a purchase. There is no extra cost to the reader. We only recommend products and services that we have personally used or have thoroughly researched.