21 Rainbow Crafts for Kids: Colorful Crafts and Rainbow Activities for Toddlers to Big Kids
5/31/22
- By
Liz Baill
Looking for some fun and easy rainbow crafts for kids? I am always on the lookout! As a child of the 80s, rainbows have been part of my psyche since my very first Rainbow Brite episode. Long before the Home Edit was a thing, I arranged all my stuff in rainbow-colored order. Even my bridesmaids wore different-colored dresses and lined up in ROY-G-BIV order. So when it comes to crafts for kids, you guessed it—I'm all about the rainbows.
Whether you're exploring color theory with your littles, looking for a vibrant STEM experiment, celebrating Pride, or just like all things rainbow, here are 21 rainbow crafts for kids and rainbow activities for toddlers to help you add a little color to your world.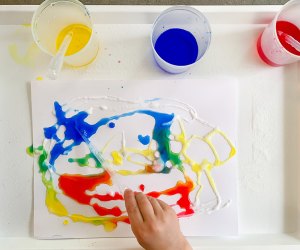 In rainbow salt painting, the colors spread like magic. Photo courtesy of Liz Baill, @creativishmom
Rainbow Crafts for Kids of All Ages
Salt painting is mesmerizing, and sticking with primary colors adds a rainbow element. Make a design with liquid glue, cover it with salt, and use a dropper to add watercolor or food coloring in red, yellow, and blue. Watch as the colors magically travel through your design.

Make a rainbow scrape painting. Photo courtesy of Liz Baill, @creativishmom
This fun painting technique begs to be used for rainbows. Line up blobs of paint in rainbow order and drag them with a piece of cardboard, an old credit card, or a ruler. We like to get fancy and draw a design in black permanent marker on our paper first.
Related: 65 Indoor Activities for Kids on a Rainy Day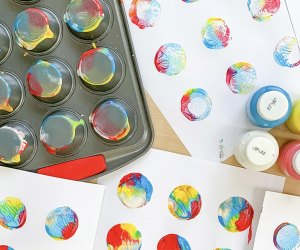 Who said muffin pans were only for baking? Photo courtesy of Liz Baill, @creativishmom
I'm not really the baking type, but I do use my muffin pans for art. Turn those tins over; add dollops of red, yellow, and blue paint onto each circle; and press the tin onto a piece of paper to make a batch of mini color wheels all at once.
Watch those primary colors become secondary with this fun walking rainbow experiment using food coloring and paper towels.
Related: 30 Easy Paper Crafts for Kids for an Arty Day at Home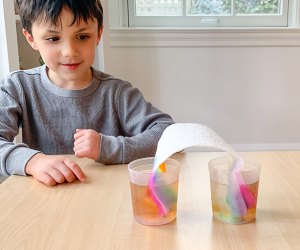 How does your rainbow grow? Photo courtesy of Liz Baill, @creativishmom
A hop, skip, and a jump from the walking rainbow is a growing rainbow. For this trick, color the ends of a paper towel in rainbow order, place each end in water, and watch the marker travel up the towel to meet in the middle. Fair warning—this one takes some patience!
Colorful cereals such as Fruity Pebbles are perfect for snack-time art projects like these rainbowy little birds' nests.

Paper towels make another cameo! Try our paper towel experiment and make a rainbow emerge from a pot of gold or a cloud.
Related: 50+ Genius Upcycled Cardboard Box Crafts and Activities for Kids

A rainbow tunnel is perfect for toy cars. Photo courtesy of Liz Baill, @creativishmom
Cut strips of paper in every color and tape the ends to make an arch. We made a rainbow tunnel for our toy cars, or you can nest the colors together to make a full rainbow.
Who knew a hairdryer plus some crayons and hot glue could make such a pretty work of art?
Related: 10 Hilarious, and Sometimes Very Messy, Bubble Wrap Games for Kids

Marbled shaving-cream art is messy, colorful, and fun. Photo courtesy of Liz Baill, @creativishmom
This often leaves our hands rainbow-colored as well. Add drops of food coloring or liquid watercolor to a dish of shaving cream and swirl the colors with a toothpick or fork. Press a piece of paper on top and scrape away the excess shaving cream to make rainbowy marbled paper.
Use strips of paper to make a chain of rainbow colors. Go hard on this project by following the template for Crayola's massive rainbow wall hanging.
Tie-dye is no longer just for clothes. Make some psychedelic wall art using a wood surface, plastic wrap, and paint.
Related: 25 Preschool Science Experiments: Simple Science for Toddlers through Kindergarten Kids

Boost fine motor skills with a colander and some colorful pipe cleaners. Photo courtesy of Liz Baill, @creativishmom
Rainbow Activities for Toddlers
13. Fine-Motor Rainbows
A favorite boredom buster in our house is sticking things in colanders. Pipe cleaners, toothpicks, flowers... my toddler is fascinated by it all. Arrange pipe cleaners in a rainbow to entice those little leprechauns to start pulling and poking.
Related: 10 Sensory Bin Ideas for Busy Toddlers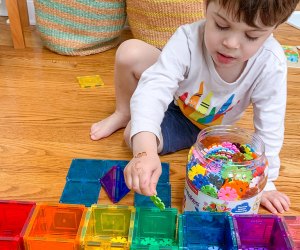 Sort pom-poms, tiny toys, and other small objects by color of the rainbow. Photo courtesy of Liz Baill, @creativishmom
14. Rainbow Sensory Sorting
We love making rainbow boxes with our beloved Magna-Tiles and using them to sort pom-poms and other small and colorful toys.
Gather up scraps of paper in all different colors. These can be craft paper, magazine clippings, paint samples from the hardware store, etc. Sort them into rainbow-color order and then rip, cut, and paste them into a colorful collage.
Get creative in the kitchen with a rainbow display of snacks and fruit. This is another great one for color sorting.
Cut or fold a paper plate or anything circular in half and boom—you've got a rainbow shape to color or paint. Get fancy by making an easy 3-D pop-up sculpture like this one.
Related: 99 Sensory Activities for Toddlers, Infants, and Kids of All Ages

Shine a flashlight through Magna-Tiles to make some colorful wall art. Photo courtesy of Liz Baill, @creativishmom
18. Rainbow Light Play
Did I mention we love our Magna-Tiles? Click some triangles into a rainbow and shine a flashlight through it to see it project onto the wall. This will work with any colorful translucent material.
Does paint in the house make you sweat? Put some blobs of paint onto a piece of paper and slip the paper into a gallon-size freezer bag. Let your toddler push around the paint to make a mess-free masterpiece.
20. One-Swoop Rainbow
Tape a rainbow off crayons together and draw with them all in one stroke. Or, try taping some crayons onto toy cars and pushing them around for some colorful process art.
21. Find a Real Rainbow
It's actually pretty easy to demo light splitting into all the colors. Spray a hose on a sunny day and spot the rainbow in the stream, or hold a glass of water up to the sunlight with a sheet of paper behind it to catch the colors.