12 Healthy Snacks for Kids That Are Works of Art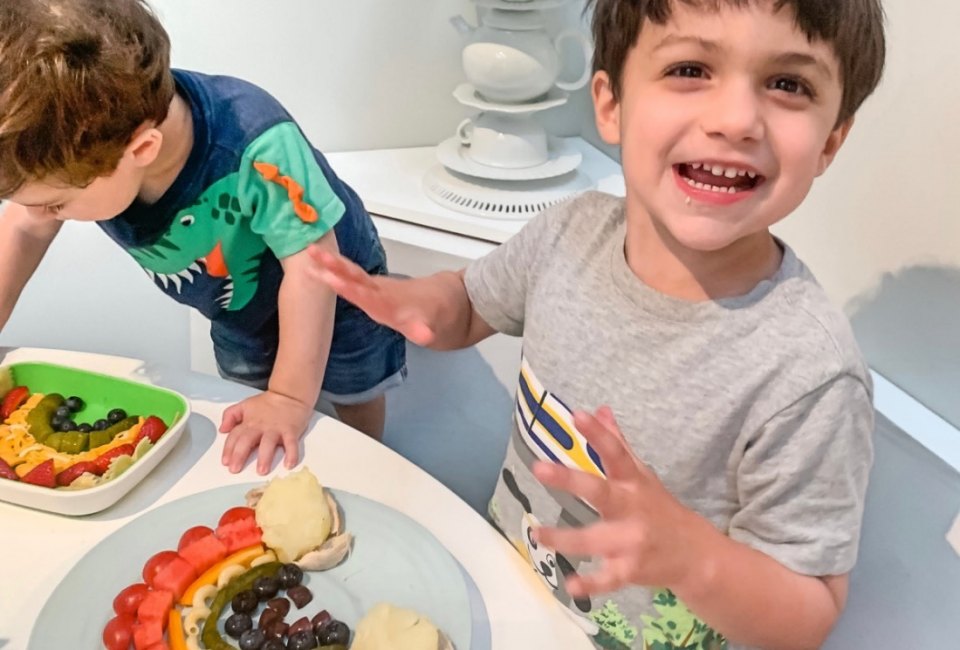 2/24/22
- By
Liz Baill
For months, my toddler refused to host different foods on the same plate. Goldfish and graham crackers in one bowl were cause for a tantrum. Cucumbers on the same surface as strawberries led to a full flail. One desperate day I arranged some healthy snacks in a rainbow, and lo and behold, his usual disgust gave way not quite to joy, but at least curiosity—a huge win. After stepping it up to food faces, animals, or silly scenes, I officially found my picky-eating toddler hack.
Here are 12 go-to ideas for creative food creations that are also healthy snack ideas for kids. And I promise, you need no special food, tools, or artistic ability to turn these healthy snacks into tasty masterpieces! Check out our Guide to Easy Recipes for Kids for more simple and fun meal ideas, like 25 Healthy Breakfast Ideas for Kids, and 100 School Lunch Ideas Kids Will Actually Eat.
Healthy Snacks for Kids That Are Works of Art

This is basically a deconstructed cheese sandwich, but so much more fun!
1. Skyscraper Snacks: Crackers, cheese, and blueberries
This is the moment my child agreed to try tomatoes, because the wheels on the car wanted to go round and round in his belly. Obviously! Whatever works. The skyline is made of graham crackers and chewy fruit strips, while little slices of cheese make the windows.

Move over Eric Carle, your kiddo will be the hungry one when they see this caterpillar.
2. The Very Veggie Caterpillar: Cucumbers and strawberries
Sliced circles of any kind are the easiest for assembling cute creatures. Think snow people, Mickey Mouse, and of course your favorite hungry caterpillar. Bananas, cucumbers, oranges, pickles, tomatoes, strawberries, and carrots (but he was still hungry!) are perfect building blocks.

One fish, two fish, goldfish, tomato fish.
3. Sea Food: Goldfish, blueberries, and cucumber
I like to mix "safe" foods, like goldfish and cheerios, with reach foods—like these fish made from tomato and orange slices. Always have blueberries, the most versatile food in your fancy feast arsenal, on hand for making bubbles, sky, water, roads, and eyeballs.

We all scream for ice cream made of fruit and pancakes!
4. Snack with Sprinkles: Mini pancakes, pretzels, fruit
This one's got a little more of a sweet angle, which felt appropriate since my kid's first assumption was that this would taste like ice cream. The pretzels are glued with peanut butter onto a cut rice cake, and the scoops are little stacks of mini pancakes. Sprinkles just seemed like an essential enticing finishing touch, despite the small sugar rush.

When you're done dipping the brush, you can eat the palette.
5. Palette for your Palate: Tortilla, cucumber, and pretzels
Our older son is very into Taco Tuesday despite never actually consuming the tacos. This spin on dipping his own pretzels and cucumbers into a variety of taco-themed treats kept him munching for a while.

Whoooooo wouldn't eat this guy right up?
6. Feathered Friend: Apples and crackers
Apples cut into avian creatures are a dime-a-dozen on Google. This little guy has a pancake for a head with cracker eyes. I tried serving it with a bird's nest of peanut butter, but that was quickly vetoed by my testy toddler.

It's basically a peanut butter banana sandwich, but so much cuter.
7. Lion Lunch: English muffin, mini pancakes, and banana
English muffins, pancakes, and rice cakes are the perfect circular canvases for food faces, like this little lion. Tip: peanut butter is a great adhesive for food art.

This little tiger will have kids roaring for more.
8. Tiger Treats: Veggie burger and sweet potato
Another ferocious face with a great circle base, this time a veggie burger. My husband thought this was a bear, but it was most certainly made during my son's Daniel Tiger phase.

Cheese, pasta, fruit, and vegetables: this butterfly has all the food groups.
9. Flutter Hold the Butter: Peppers, pasta, and berries
This little guy actually got our little guy to try peppers for the first time, which have become a healthy cornerstone in his snack repertoire. His head is a wheel of Babybel cheese and his eyes are made from a black bean cut in half.

It's the prettiest way to eat a rainbow.
10. Taste the Rainbow: Berries, sweet potato, and pasta
They say you should eat a rainbow, which always makes me feel guilty since my kids' everyday meals tend to be beige. Rainbows were our gateway to increasing food options and they're always a crowd-pleaser.

Take your kid from picky to a star eater with this plate that's out of this world.
11. Space in Your Face: Bread, oranges, and veggie sticks
Blueberries again have a starring role. The shooting star with jelly is cut from bread with a cookie cutter, while a slice from an orange yields perfect triangular pieces that easily assemble into stars and suns.

Chicken clouds make eating protein fun.
12. Prehistoric Plate: Dino nuggets, mac and cheese, avocado
Make food that already comes in a shape work to your advantage. Dino nuggets obviously belong in a Jurassic landscape. Don't mind the teddy bear nugget that made its way into the scene. To this day we call ripped chicken pieces "chicken clouds" because of this meal.
Shortcuts and Tips for Making Healthy Snacks for Kids Look Cute!

A simple cookie cutter makes any meal more fun.
The Cookie Cutter Shortcut
Absolutely no parent, no matter how fun you are, has time to make each meal a work of art. Use cookie cutters for a quick shortcut to fun shapes. They work great on bread, tortillas, melons, and cheese slices.

Kids will eat things they help make, so let them play with their food!
Get Your Kids in the Kitchen
It can be a messy investment, but kids love playing with their food—I mean making food art. Our five-year-old used a whole blueberry basket for this edible Earth (blueberries for the win!). So let them in on the action and set up a buffet of food "art supplies" to see what they can cook up.
All photos by the author
t Click Here to Sign Up!