50+ Genius Upcycled Cardboard Box Crafts and Activities for Kids
3/16/21
- By
Ally Noel
How many times have you bought your kids a new toy, and had them toss the toy aside and play for hours with a cardboard box? When it comes to keeping kids happily occupied, nothing is quite as cheap, easy, and effective as an empty cardboard box.
From diaper boxes, Prime boxes, shoeboxes, cereal boxes, and toy boxes, I don't think I was fully prepared for just how many empty cardboard boxes would be involved in parenting. With a little imagination, those empty cardboard boxes easily become the foundation of a cardboard box house, cardboard box car, and an endless amount of cardboard crafts.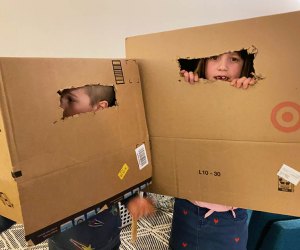 Carve out shapes, paint, or decorate cardboard boxes into costumes and wearable playthings. Photo by Rose Gordon Sala
Cardboard Box Costumes
1. Transformer Cardboard Box Costume
Millions of us were blown away when we watched these viral videos of kids literally transforming into Transformers. Get a step-by-step tutorial on how to make your very own Bumblebee costume a reality.
2. Butterfly Wings
Have your child lay on a flattened-out cardboard box to get a sense of how big your butterfly wings should be. We love how Fun at Home with Kids added watercolor paper to really make these wings pop!
3. Jack in the Box Cardboard Box Costume
Your name doesn't actually have to be Jack to make this awesome costume!
4. Dinosaurs
Calling all dino lovers! You can transform some cereal boxes into this wearable dinosaur head and make everyone's dino-dreams come true.
5. Airplane Wings
You never have to even leave the ground to let little imaginations soar to new heights. These cardboard airplane wings are all you need to start that trip around the world.
6. Cardboard Box Hats
Baseball caps, top hats, witch hats, and birthday hats! This basic accessory really knows how to get the party started! All you need is a cereal box and a glue gun to make this fabulous hat. Decorate it with fabric scraps, paint, or leave it plain and let the whole world know how much you love cereal!
RELATED: Easter Crafts for Kids and Egg Dyeing Projects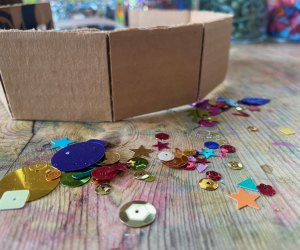 A cardboard crown is the perfect accessory for your little royals. Photo courtesy of JAM
7. Cardboard Crowns
Bending cardboard is easy once you know how to score it. With some adult help, this activity is easy to set up. We scored a strip of cardboard to create the base of these crowns. Set up some paint, glitter, gems, and glue, and let the royal rumpus begin!
8. Cardboard Swords
Every good swashbuckler needs a good sword. Grab some cardboard and tinfoil before you head out to that epic battle.
9. Cardboard Masks
Masks are an integral part of imaginative play as they can quite literally transform you into just about anything. We love these masks from the Artful Parent—there are no fussy templates to follow or complicated directions. Just cut some cardboard shapes and let your imagination do the rest.
10. Cardboard Wands
Spread a little sparkle all around with this cardboard wand. Attach a wooden dowel to a cardboard star. Then add some ribbons, glitter, and whatever else your heart desires. It's a great birthday party craft, too.
Cardboard Crafts for Kids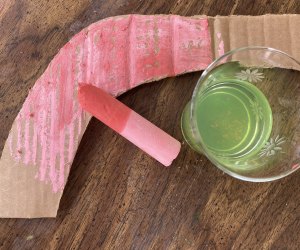 Cardboard stands up to heavy markers and creative materials like wet chalk, making it the perfect medium for young artists.
11. Draw with Wet Chalk
Wet chalk really springs to life when it contrasts with the brown cardboard. Simply dip a piece of chalk into water and watch the magic happen!
12. 3D Cardboard Collage Portraits
Personal expression is so important to developing a sense of self. That is just one of the reasons we love these Cardboard Collage Portraits from The Artful Parent!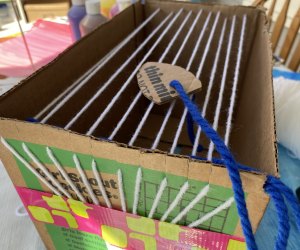 This cardboard box turns into a loom with a few tweaks.
13. Make a Loom
Older kids will love turning their cardboard boxes into looms. A cardboard box loom is a great way to introduce fiber arts to a new generation of weavers.
14. Cardboard Mural
Flatten out a large piece of cardboard to use as the base for your mural. Draw a city skyline, a beautiful mountain view, set the scene for an epic day at the beach, or just about anything else the kids want to do.
15. Cardboard Stamps
Leave your mark with one of these cardboard stamps. Make your very own custom stamps using just a glue gun and some cardboard scraps.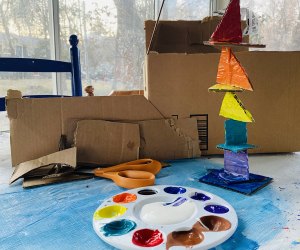 Paint your cardboard crafts into a pretty sculpture.
16. Stacked Cardboard Sculptures
This open-ended project is the perfect way to let kids explore the different shapes and textures you can create out of cardboard. We used a bamboo skewer as the base to thread cut out cardboard shapes onto. Paint your sculpture when it's completed.
17. Marble Painting in a Cardboard Box
Lay a sheet of paper in the bottom of a cardboard box. Dip some marbles into paint and drop them into the box. Give the box a good shake to let the marbles roll around and create beautiful swirls of art.
RELATED: 100 Awesome Crafts for Kids to Do At Home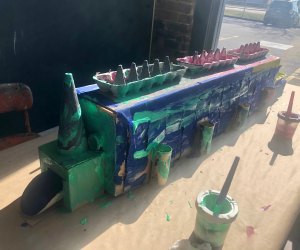 Combine cardboard boxes and scraps to create life-size creatures! Photo courtesy of JAM
18. Cardboard Sculptures
You are an artist, and cardboard is your medium! With a few egg cartons, cardboard tubes—and any other recyclable you can think of—kids can turn cardboard into life-sized creatures.
Cardboard Box House and Big Box Projects
19. Build a Cardboard Box House
You can keep it simple by just cutting a door and some windows, but we love how At Home With Ashley really took this house to the next level by adding a mailbox, window boxes, and even a dog house!
20. Play Kitchen
Don't throw out that refrigerator box. You can use it to make your very own cardboard play kitchen. We love this inspiration from Everything Is Homemade.
21. Cardboard Box Train
All aboard the imagination express! The next stop is the House of Cards. It's no secret that kids love trains, so fuel their imagination by creating this amazing train out of giant cardboard boxes. (Some of our kids are also known to just duct tape several boxes together and call it a train!)
22. Cardboard Box Castle
When you make one of these castles you can be the King or Queen of your very own Cardboard Kingdom.

Turn those large cardboard boxes into playhouses, cafes, trains, and more. Photo courtesy of Party with Unicorns
23. Lemonade Stand
When it starts to heat up, few things are more refreshing than a cool glass of lemonade. Get your mini entrepreneur to work by creating this Lemonade Stand out of a giant cardboard box.
24. Cardboard Box TV
Now, this is some screen time we can all get behind. This Cardboard Box TV sets the state for hours of pretend play, and you don't even need a remote control!
25. Cardboard Box Rocket Ship
Watch out Elon Musk, we're blasting off to Mars in this out-of-this-world rocket ship cardboard box. The sky is the limit to their imaginations.
26. Play Store
Set up shop with this cardboard grocery store from ikat bag. Finally, a grocery store where you won't have to deal with a disgruntled toddler.
27. Cardboard Box Car
What kind of tires does a cardboard box ace car have? Paper plates of course! This tutorial from Red Kite Days is really easy to follow. Set up a drive-in movie theater in your backyard by making a few of these for your friends and family.
Pretend Play with Cardboard Boxes
28. Puppet Theater
Two socks, a cardboard box, and a healthy dose of imagination is all you need to build this cardboard box puppet theater.
29. Cardboard Box Doll House
Design the dollhouse of your dreams with a few cardboard boxes, glue, and scissors. Check out this one from Mini Mad Things to get your creative juices flowing.
30. Box City
Gather up as many boxes as you can and start planning your box city. You can create a city skyline complete with skyscrapers or a suburban paradise complete with a kiddie pool.
31. Race Track
On your mark! Get set! Go! Give creativity a green light with this cardboard car race track.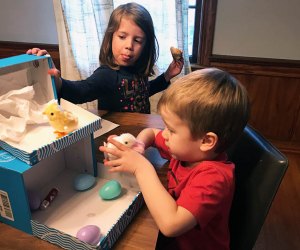 Shoeboxes quickly turn into dollhouses, barnyards, and more play areas for toys. Photo by Rose Gordon Sala
32. Cardboard Barnyard
Spring on the farm is nothing short of preschool magic Well, Old MacDonald and all his animals will be singing "E, I, E, I, O" when they see this cardboard barnyard.
33. Cardboard Box Mailbox
Special delivery! Put a stamp on your child's creativity by building one of these 20 Mailboxes from Playtivities. This works great as a collection box for Valentine's Day, too.
34. Make a Road
All you need is a black marker and an empty box to create this roadway.
35. Cardboard Car Wash
The swooshing of brushing, the swirls of soapy water, there is something so magical about a trip to the car wash. Recreate some of that magic at home by making this cardboard box car wash.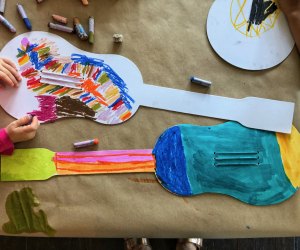 Cut shapes out of cardboard from swords and wands to instruments. Photo courtesy of JAM
36. Cardboard Guitar
If you've already collected your coffee can drums and plastic egg maracas, all you need is a little string section to complete your family or neighborhood jam band. You'll be singing a new tune when you complete your band by making one of these cardboard guitars.
37. Cardboard Shadow Puppet Theater
Whether you are chasing your shadow or creating shadow puppets with your hands, shadow play is an integral part of childhood. Foster those little imaginations by building a cardboard shadow puppet theater.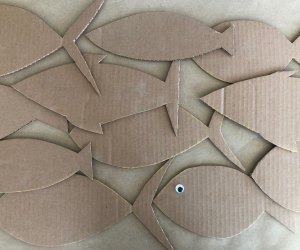 Turn cardboard fish into a fun at-home fishing game for kids. Photo courtesy of JAM
38. Go Fish
You don't need a license to go fishing in your own home! We created a whole school of cardboard fish to use with our cardboard tube fishing pole.
Outside the Box Ideas for Cardboard Boxes
39. Build a Ball Track
You can try this STEM Challenge by engineering your very own ball track.
40. Sensory Boxes
Many of our sensory box ideas can be set up in a cardboard box. We love these cardboard box sensory box ideas from Meri Cherry.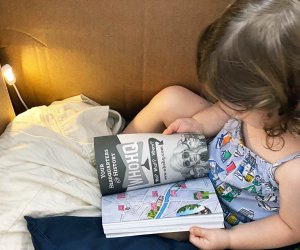 A large box easily turns into a reading nook with a few accessories. Photo by Rose Gordon Sala
41. Reading Nook
Sometimes you just need to get away. Solitude seekers can create the perfect little book nook by placing a pillow and some blankets inside a cardboard box and snuggling up.
42. iPad Case
Compared to the pricey store-bought alternatives, the price is right on this cardboard iPad option. Yup, you can make your own iPad case out of a cardboard box and some fabric scraps.
43. Cardboard Furniture
You can keep it simple and dress up an empty box with a sheet to create a table. Or you can dream big and build an entire bedroom set out of cardboard boxes.

Sleds sold out? Go old school with this low-tech cardboard sled.
44. Make a Sled
No sled? No problem! With a little bit of ingenuity, you can repurpose all those boxes and build your own cardboard sled.
45. Mini-Golf Course
When you have a few cardboard boxes, it's always tee time. This easy-to-build golf game is perfect for preschoolers.
46. Caine's Arcade
There's dreaming big, and then there's Caine's Arcade. It's hard not to fall in love with the story behind Caine Monroe and his cardboard box arcade. What was once a summer project has become an entire movement. You can get on (card)board, by kicking off your own Cardboard Challenge.
47. Cardboard Birthday Cake
Looking for a little healthy fun without the sugar high? Everyone wants to feel special on their birthday! Set up this cardboard cake as a little creative invitation to play to make your little one feel special.
48. Solar Oven
This simple science experiment yields delicious results. With a pizza box, some tin foil, and plastic wrap, you can harness the sun's power to cook up a storm in your very own solar oven.
49. Giant Nail Salon
This Giant Nail Salon is a game changer! Older kids can use real nail polish, while younger kids can work on their fine motor skills with a paintbrush.
50. Pinhole Camera
Did you know that you can make your own camera by just poking a small hole in a cardboard box? Get the full details on making a pinhole camera.
51. Play Dome
Playhouses are so last year. This play dome is where it's at! We love the way Ideas2Live4 finished off their dome with metallic paint to give it a spacey feel.
Photos by the author except where noted