13 Simple Crafts for Toddlers and Preschoolers to Do at Home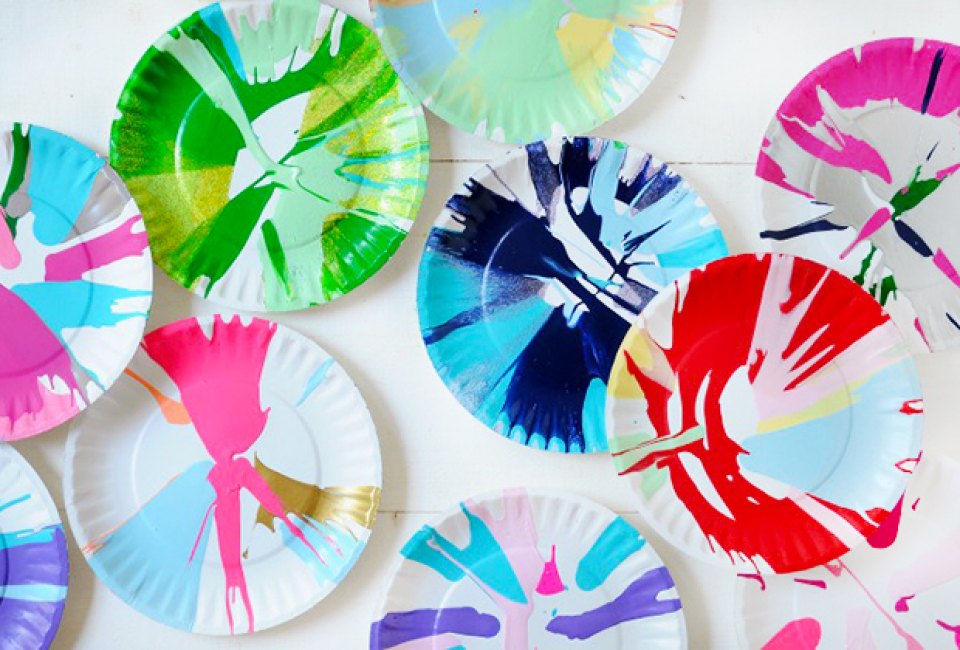 3/2/17
- By
Rose Gordon Sala
Crafts for toddlers and preschoolers are best when they require few materials, carry simple instructions, and result in either something adorable or that can be played with later. With that in mind, we've rounded up a dozen of our favorite crafts for little kids. Pin it for your next rainy or snowy day, or just one of those need-something-new-to-do days.
Many of these have a fun seasonal bent, like aluminum foil Easter eggs, or a year-round playful attitude like popsicle-stick monsters and airplanes. All of them are easy enough for little fingers with possibly a quick assist from their grown-up. Kids will exercise newfound fine motor skills and plenty of sensory play.
Find more DIY kid projects in our WeeWorks Guide. Older kids, and even preschoolers, can test out our round-up of 50 Easy Science Experiments, too.
Tinfoil Easter Eggs
Why we love it: This is a super simple (no dyes!) Easter project that requires only things you likely already have at home, making it great for toddlers. We do suggest exercising caution with those Sharpies! Find the tutorial at I Heart Crafty Things.
RELATED: 99 Sensory Activities for Kids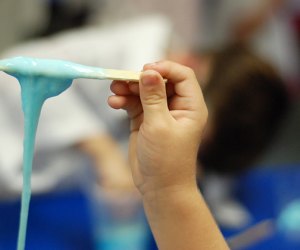 Photo by Josh Hallett via Flickr.
Slime
Why we love it: This is more sensory fun than craft project as a grown-up needs to do the initial "making," but little ones will love rolling the slime around, stretching it, and even cutting shapes from it. There are literally hundreds of recipes for slime on Pinterest and elsewhere, from glitter slimes to edible ones. Play around with the formula until you get the right consistency. It shouldn't be too sticky (use less water if it is and be sure to knead it really well).
Collaborative Painted Branch
Why we love it: Again, simple, but colorful, and it makes a great decorative item for a kid's room. We love her addition of pom-poms, though you can do it without, and the idea of making it a group project works well for siblings and play dates. Find the tutorial at ArtBar.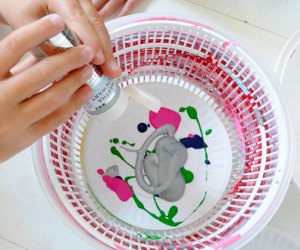 Salad Spinner Art
Why we love it: Kids come away with a gorgeous, mod-looking piece of art, and they're sure to get the giggles creating it. It's also less messy than some other "splatter art" tutorials for kids. Just don't expect to use that salad spinner for greens again! Find the tutorial at DIY Candy.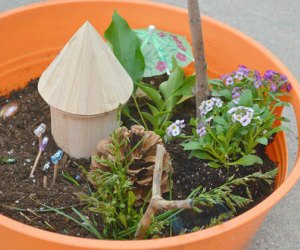 Fairy Garden
Why we love it: This requires a little planning ahead and is probably best for preschoolers and up, but a fairy garden is one of our favorite kid crafts. It's versatile, in that it can be done right indoors in a pot, or on a back patio or deck. No yard needed. After putting it together, kids will love accessorizing it and may want to add their own figurines, creating (possibly!) hours of playtime. Don't stress about "doing this right"—just go for it. Find the tutorial at Peace But Not Quiet.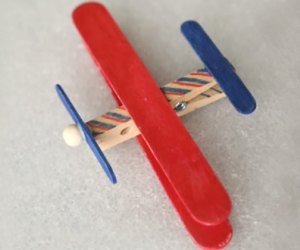 Clothespin Airplane
Why we love it: A step up from the paper airplane, kids can practice coloring, gluing, and patience with this one. It's fun to zoom your planes around afterward, but kids really need to let the glue dry for an extended period of time if you want the wings to stay on. Leave off the fancy tail and nose for a speedier craft, too. Find the tutorial at Making Life Blissful.
Cardboard Tube Ghoul Family
Why we love it: This is a cute take on Halloween crafts, and kids can play with the little figures afterward. I glued the paper to the tubes for my 2 and 4 year olds, and then simply gave them the supplies to create whatever version of a "monster" or "ghoul" that they wanted. Googly eyes are always a hit. You can modify it in many way and make it easier or harder. Find the tutorial at Crafts By Amanda.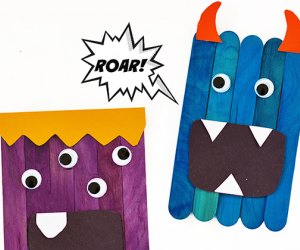 Popsicle Stick Monsters
Why we love it: It's easy to make these look great and the kids will love "roaring" at you afterward. I cut out the horns and teeth for my youngest one, while my preschooler wanted to draw some of them on. I also glued the sticks together, but otherwise let them decorate as they saw fit, with upside down horns, lots of googly eyes, and all sorts of creativity with color. Tip: Use a strong glue and do this portion ahead of time to avoid impatient tot tantrums. Find the tutorial at i heart arts n crafts.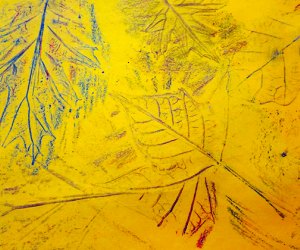 Photo of leaf art by Emma Craig via Flickr.
Colorful Leaf Art
Why we love it: A fun way to connect kids with nature, this craft requires nothing more than crayons and paper...and a few leaves. It works great for all ages and makes little mess. You can get fancier by mixing up the materials, but the simplicity is part of the appeal. Find the tutorial at First Palette.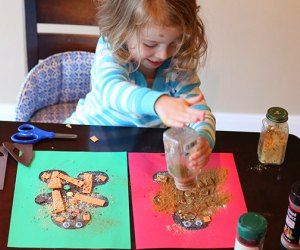 Scented Gingerbread Man Art
Why we love it: Such a fun take on a holiday-themed craft for kids. Although it takes a few more steps on the caregiver's part than some of the other crafts, kids have blast decorating these guys in their own way and shaking the holiday spices all over them for that perfect seasonal scent. Find the tutorial at Fun at Home with Kids.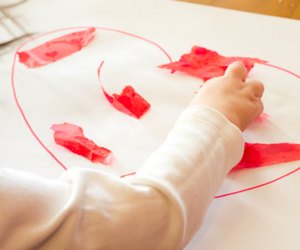 Valentine's Day Heart
Why we love it: Super simple, but pretty craft that let's toddlers get into the V-day spirit, though honestly it can be done year-round as a gift for grandparents or other care providers. Tots will thrill for the chance to handle a glue stick, or mine does anyway! Find the tutorial at Love Play Learn.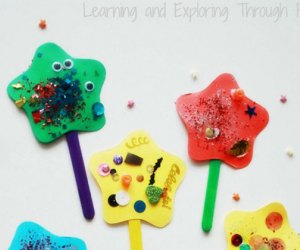 Sparkly Wands
Why we love it: Kids can decorate their own magical wands with these simple instructions. It's a great craft for a kid's birthday party (everyone takes something home) and simple enough for toddlers, too. Offer a variety of embellishments for them to choose from, including stickers, pom-poms, markers, and glitter. Find the tutorial at Learning Through Play.
Top photo: Spin Art courtesy of DIY Candy. Unless otherwise noted, photos courtesy of the crafters/sites.
Click Here to Sign Up!
i