June Is Pride Month: 35 Ways to Celebrate Pride and LGBTQ Rights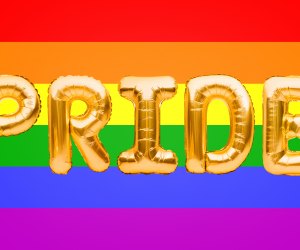 The arrival of June brings with it the celebration of Pride, a vibrant, rainbow-filled recognition of the LGBTQ community. While it is traditionally marked by over-the-top parades, jam-packed rallies, and marches, Pride might look a little different in 2020. Yet, there are still plenty of ways to celebrate with the kids right from your own home.
Whether you're a member of the LGBTQ community or consider yourself an ally, here are 35 ways to celebrate Pride Month. We've rounded up events ranging from virtual Pride-themed read-alouds to concerts, rallies, and more fun things to with kids.
Why is June Pride Month?
June is recognized as Pride Month to mark the anniversary of the Stonewall riots at New York City's Stonewall Inn on June 28, 1969. A police raid of the Stonewall Inn, a known gay bar in New York City's Greenwich Village, led to days-long protests that ignited a national firestorm of activism and elevated the fight for LGBTQ equality. Pride events celebrate the uprising annually, with many celebrations scheduled around the last weekend in June. In 2020, many major Pride events are set to mark their 50th anniversary, and while in-person events are postponed from coast-to-coast, that doesn't mean there aren't still plenty of ways to celebrate this landmark.
What Is Pride Month?
In addition to recognizing the decades-long—and still ongoing—fight for equal rights in the LGBTQ community, Pride is meant to be an affirming celebration of all that the community has accomplished. While images abound of over-the-top, colorful costumes at Pride marches and rallies, there are many ways to celebrate Pride, from learning the history of the movement to supporting the diverse array LGBTQ voices, taking in a family-friendly film, supporting local LGBT businesses and charities, and more.
Here are our top picks.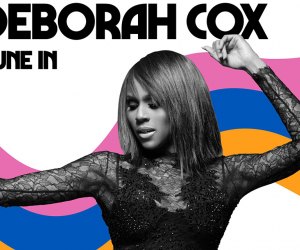 Tune in to NYC's virtual Pride celebration, loaded with celebrities.
Attend a Virtual Pride Parade or Event
1. Join Fast Freddy and Henry Paquin for Boston Pride's Virtual Concert on June 13.
2. New York Pride celebrates the 50th anniversary of its first march with a star-studded celebration headlined by Janelle Monáe, Deborah Cox, Billy Porter, and Luísa Sonza on Sunday, June 28.
3. Attend the inaugural Global Pride Festival streaming for 24 hours from Friday, June 26- Saturday, June 27, with organizers from Pride movements worldwide coming together for a one-night-only celebration.
4. Catch LA Pride's first virtual Pride Parade on Saturday, June 13. The primetime celebration features Pride history, plans to highlight unsung local heroes, and intersperses it all with big-name performers ranging from Carson Kressley, Greyson Chance, and Lance Bass to The Pussycat Dolls and many more.
5. San Francisco Pride's celebration is so big, it has to be spread out over two days on Saturday, June 27, and Sunday, June 28.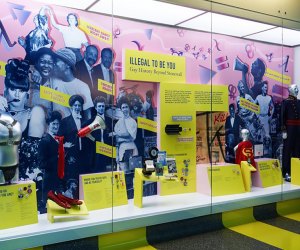 Illegal to Be You: Gay History Beyond Stonewall. Photo courtesy of the Smithsonian National Museum of American History
Learn About LGBTQ History
6. Now a National Monument, you can visit the Stonewall Inn online at the colorful Stonewall Forever virtual monument, where visitors can manipulate a crystalized rainbow to discover nuggets of history and add their own voices to the conversation.
7. While you're visiting Stonewall Forever virtually, be sure to stream the documentary of the same name, which is most appropriate for teens and up.
8. Read up on a dozen leaders in LGBTQ history.
9. Visit the Smithsonian National Museum of American History's Illegal to be You: Gay History Beyond Stonewall online exhibition.
10. Better yet: Help preserve history. Following its Stonewall at 50 exhibition last summer, the New-York Historical Society is turning toward a future exhibition, planning to celebrate Stonewall's centennial in 2069, and accepting donations for its time capsule through June 20.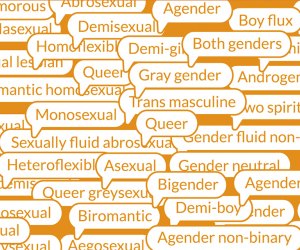 Visit the Trevor Project's guide to being an ally. Photo courtesy of the project
Educate Yourself to Become an Ally
11. The Trevor Project, an advocacy program for LGBTQ youth has published a FREE, downloadable Guide to Being an Ally to Transgender and Non-Binary Youth that's a great jumping-off point.
12. Visit the Human Rights Campaign's Glossary of Terms to school yourself on vocabulary related to gender identity and expressions.
13. Pay attention to pronouns. From name tags to email signatures, you may have noticed preferred pronouns are getting a lot of attention lately. Here's why.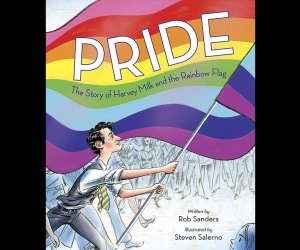 Read Pride: The Story of Harvey Milk and the Rainbow Flag with young children. Photo courtesy of Penguin Random House
Diversify Your Home Library
14. Pick up a copy of I Am Jazz, the real-life story of young trans activist Jazz Jennings.
15. Todd Parr's The Family Book is filled with his trademark brightly-hued illustration and a simple storyline that celebrates families of all types.
16. Learn the story of Harvey Milk and the symbolism behind the rainbow flag in Pride: The Story of Harvey Milk and the Rainbow Flag. Another pick from author Rob Sanders: Stonewall: A Building, An Uprising, A Revolution.
17. Introduce your child to same-sex families with Heather Has Two Mommies or Daddy, Papa, and Me
18. Read the empowering Pink is for Boys in an effort to set aside gender stereotypes.
19. Another option: Leave the reading duties to a fabulous drag queen by streaming this story hour with Baltimore's Bambi Galore. At the Brooklyn Public Library, Read with Pride story hour each Thursday revolves around stories of acceptance, inclusion, and love.
Movies that Celebrate the LGBTQ Experience for Teens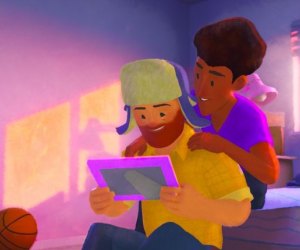 Out, which is part of Disney+'s SparkShorts series, features Pixar's first gay main character. Photo courtesy of Disney
20. Brokeback Mountain (2005): This Ang Lee film, based on the short story of the same name, depicts the love story of a pair of cowboys in Wyoming. Though they ultimately don't end up together, their lives are inextricably intertwined. Best for older teens and up.
21. Milk (2008): Sean Penn plays Harvey Milk in this biographical telling of the gay rights activist who became California's first openly gay elected official. Best for older teens and up.
22. Paris is Burning (1990): This documentary profiles the New York ball culture of the 1980s, focusing specifically on its minority participants from the black and Latino communities. Best for older teens and up.
23. The Kids Are All Right (2010): Follow the trials and tribulations of a lesbian couple whose teenage kids seek to build a relationship with their sperm-donor father. Best for older teens and up.
24. Moonlight (2016): This critically-acclaimed flick won the Best Picture award for its depiction of a coming-of-age story involving a black boy growing up on the streets of Miami who grapples with his sexuality. Best for older teens and up.
25. Love, Simon (2018): Simon's got a secret: He's gay. He fights to protect it and his identity in this endearing, relatable film. A spin-off streaming TV show is set to debut on Hulu this month.
26. For younger kids, the Disney + short Out is a good jumping-off point.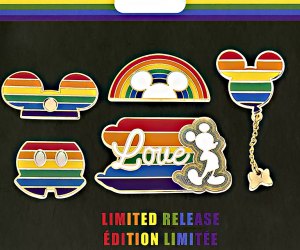 Show your love and celebrate Pride Month with some rainbow bling. Photo courtesy of Disney
Wear Your Pride on Your Sleeve
27. Shop the Disney Pride Collection. In honor of Pride, the company has released a ton of rainbow-hued clothes, stuffed animals, and even its iconic ears. It's also pledging a $100K donation to GLSEN, an educational advocacy organization that works to support LGBTQ youth.
28. Not to be outdone, Target's Take Pride collection promises an equal donation to GLSEN and includes some cool parent-and-me looks.
29. If you'd rather show your pride on your feet, pick up some ultra-cool Pride Socks.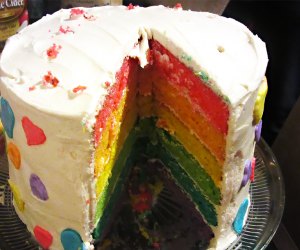 Kids can help create this Pride perfect rainbow cake
Photo by the author
Throw a Pride Month Party of Your Own
31. First, you need to nail down a playlist. Might we suggest Andy Cohen's Ultimate Bravo Pride Playlist, Topisfy's Pride Party 2020 playlist, or The Disney Pride Playlist.
32. You'll also need some rainbow-hued snacks. Try your hand at this impressive, multi-leveled rainbow layer cake, or go simple with rainbow fruit skewers. Another easy recipe we like: Sub Fruity Pebbles for Rice Krispies in your favorite rice crispy treat recipe. Teen Vogue has a great round-up of Pride-themed recipes.
33. The rainbows popping up in everyone's windows are a nice jumping-off point for Pride decorations, but there are plenty of other pride-themed craft ideas out there. A few we like: Crafting a cool paper wreath, plant a rainbow sand art terrarium, and these pop-up rainbow cards.
34. If you'd prefer to decorate your body for the party, try making some of these rainbow pompom jewelry pieces, a multi-colored Pride bracelet, or brush up on your rainbow face-painting techniques.
35. Now that you're party-ready, invite friends to your virtual shindig and give yourself a Pride-themed Zoom background for the event.