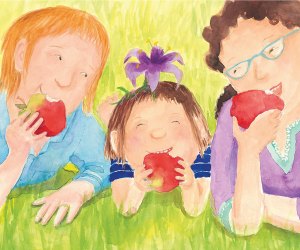 Best LGBTQ Books for Kids To Celebrate Pride Month
When my wife and I started to build up our daughter's library, we felt it was important for her to see our reality reflected in books. We looked for LGBTQ children's books with fun, positive messages about diversity. We wanted to show her that all families are unique, while at the same time they share common values and traditions. The 25 books listed here are some of our family's very favorites.
Check out our other great book recommendations for Black History Month and 21 books to teach your kids about racism.
I love books and nothing gives me more pleasure than sharing stories with my daughter. We've been reading together every day since she first arrived home. The books here for younger readers are ones we return to over and over. And the list for tweens and teens are wonderful stories that my angsty teenaged self would have loved to have read as I was trying to figure out my own sexual orientation.
Best LGBTQ Books for Kids Age 0 to 3
By Lesléa Newman
A sweet, rhyming story about a toddler spending the day with its mommies, from making a snack and playing hide-and-seek, to bath and bedtime. This is one of the original board books about gay parents.
By Lesléa Newman
Written 25 years ago and recently republished with updated text and illustrations, this is a charming story about a little girl, her two moms, and family diversity. It's surprising to think of the controversy this innocent story caused in 1990 when it was denounced from the senate floor by Jesse Helms.
It's Okay To Be Different. Image courtesy of Little, Brown Books for Young Readers
By Todd Parr
A reassuring story that celebrates diversity, individuality, and inclusion. Parr touches on a huge range of topics with simple, affirming sentences and brightly colored images. He pictures a smiling girl with a guide dog ("It's okay to need some help") and a kangaroo with a dog in its pouch ("It's okay to be adopted").
By Todd Parr
A classic Parr celebration of all types of families, whether you have two moms, two dads, a big family, or a messy one. The story encourages kids to ask questions about their own families.
By Suzanne Lang
This rhyming picture book celebrates every kind of family: families with lots of kids, only children, families with gay and lesbian parents, single-parent families, and children who live with extended family. But what's most important is the love that families have for one another.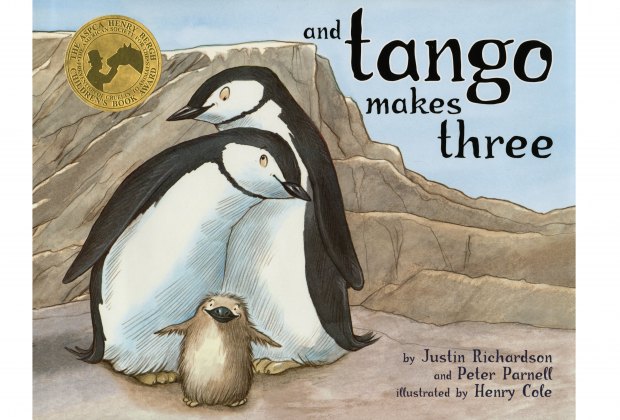 And Tango Makes Three. Image courtesy of Simon and Schuster
Best LGBTQ Books for Kids Age 4 to 8
By Justin Richardson and Peter Parnell
A true story of Roy and Silo, two male penguins at the Central Park Zoo who, with the help of the sympathetic zookeeper, were able to start a family of their own.
By Patricia Polacco
A heartwarming story of unconditional love of family, multiculturalism, and the challenges and discriminations that non-traditional families can face. Marmee and Meema are a lesbian couple raising three adopted children in California. They are a happy family that cooks, dances, laughs, and plays together. But a neighbor refuses to accept them and screams at them in front of the whole neighborhood. The children don't understand what's happening and Marmee must explain that some people are scared of things they don't understand.
By Lesléa Newman
An utterly engaging book that's a celebration of love and marriage equality. We don't know why it's a big day for Donovan, but as the story progresses, hints are given ... Finally, the proud ring bearer gives "one shiny gold ring to Mommy [and] one shiny gold ring to Mama."
By Jessie Sima
Harriet is a multi-racial girl with two dads who loves costumes. She decides to have a dress-up party for her birthday. While shopping at the party supply store, a group of penguins invite her to their icy home and the adventure begins.
By Jessica Herthel and Jazz Jennings
An autobiographical story of Jazz Jennings, an LGBTQ activist who wanted to share her struggle with having "a girl brain but a boy body," and her family's confusion over (and acceptance of) her gender identity.
By Rob Sanders
An inspiring story that traces the history of the Gay Pride Flag, from its beginnings in 1978 when activist Harvey Milk and designer Gilbert Baker first conceived it, to its rise as an international symbol of love, equality, and pride.
By Miriam B. Schiffer
Stella has two dads and is worried when her school celebrates Mother's Day. The day turns out to be a success thanks to her large and loving family. This is a great story of diverse, modern families that kids will completely relate to.

My Mixed-Up Berry Blue Summer. Image courtesy of HMH Books for Young Readers
Best LGBTQ Books for Kids Age 9 to 13
By Dav Pilkey
Everyone loves a good fart joke and no one delivers like Dav Pilkey with his bestselling Captain Underpants series. In the Sensational Saga, protagonists George and Harold meet their future selves, and Harold has married a man. We love how Pilkey reveals this so matter-of-factly and without comment.
By Ashley Herring Blake
After heart surgery, Sunny St. James sets goals for her new life: Do awesome things, find a new best friend, and kiss a boy for the first time. But after meeting her new best friend, Quinn, she wonders if she's interested in kissing boys at all.
By James Howe
Joe Bunch and his friends Addie, Skeezie, and Bobby have been called names all their lives, so he has serious doubts when his favorite teacher tasks him with writing an alphabiography—a story of his life from A to Z. In the wrong hands, this assignment could be ammunition for bullying. But Joe has a revelation at the letter C, which stands for Collin Briggs, Joe's secret heartthrob. This is a cleverly constructed, totally heartfelt coming out story that's both funny and uplifting.
By Greg Howard
Eleven-year-old Riley's mother has been missing for months and Riley believes the Whispers, unseen creatures from his mother's favorite story, will accept an offering in return for his deepest wish—his mother's return. But he also wishes he could stop wetting the bed, that bullies at school would stop picking on him, and that Dylan (his 8th-grade crush) liked him. This is a gripping, fantastical tale that moves beyond grief and explores issues of sexual identity, self-worth, loss, and friendship
By Jennifer Gennari
June's Mother plans on marrying her girlfriend under Vermont's civil union law and the town erupts—June is bullied, her mom's store is boycotted, and offensive signs are placed in their yard, all while June perfects her pie-baking skills so that she can enter this summer's pie contest.
By Tim Federle
Small town Nate Foster is 13 years old and dreams of Broadway. His best friend, Libby, shares his love of theater and tells him about an upcoming audition for a musical version of E.T. The two hatch a plan that will take Nate to New York and back without anyone even knowing he's gone. But plans often go awry. This wonderful debut novel skillfully addresses big issues concerning family, sexuality, and religion.
By Ashley Herring Blake
Ivy Aberdeen is dealing with a lot, like being the middle child of a family of six and questioning her attraction to girls. Thankfully, she has a notebook that she's filled with all of her illustrated secrets. When a tornado destroys her home and she loses her precious journal, Ivy's real troubles begin. Now her secrets are out there for anyone to find. This wonderful novel comes with the message that LGBTQ+ kids and their feelings are valid and beautiful. It's a story of coping with unforeseen situations and learning to accept your heart.

Aristotle and Dante Discover the Secrets of the Universe. Image courtesy of Simon & Schuster Books for Young Readers
Best LGBTQ Books for Teens Age 14 and Up
By Nina LaCour
College freshman Marin is alone in her dorm after everyone has left for winter break. At some point during the month-long stay, her best friend Mabel will visit, but Marin dreads seeing her. In a series of flashbacks Marin's story is revealed in short, exquisite sentences that evoke a multitude of emotions.
By C.B. Lee
Set in the dystopian future of the 22nd century, Not Your Sidekick is a fast-paced, coming-of-age story of Jessica Tran, the powerless teenage daughter of two superheroes. She gets a cushy paid internship at a tech company, only to discover it's a front for her parents' arch-enemy, Master Mischief. But it's not all bad. At least she gets to work with her longtime secret crush, Abby.
By Benjamin Alire Saenz
A touching story of the relationship between two Latino boys, who seem to have nothing in common. Dante is self-assured and artistic, while Ari is a shy loner who has a brother in prison. As the boys grow closer, the author examines identity, sexuality, and their struggles within the relationship.
By Amy Spalding
Pink-haired Abby Ives is a 17-year-old fashion-obsessed queer girl from LA. Life is pretty simple when all she has to do is write her plus-size style blog and plot her future in the fashion industry. But then she gets a prized internship at her favorite boutique and falls in love with photographer and co-intern Jordi Perez. As you can imagine, the plot quickly thickens.
By Becky Albertalli
Sixteen years old and closeted, Simon Spier is forced to come out to his friends, family, and classmates after his secret emails with an anonymous gay classmate are discovered. This funny, moving, and award-winning novel is now a major motion picture, Love, Simon, starring Nick Robinson, Josh Duhamel, and Jennifer Garner.
By Rainbow Rowell
Carry On is loosely inspired by the Harry Potter series and is a spinoff of Rowell's earlier work, Fangirl. It's a thrilling story of an awkward teen wizard named Simon Snow (who is the Chosen One) and his nemesis/roommate Baz—with whom he happens to be romantically involved. The book is an incredibly fun read and the plot is addictively immersive.
This article contains some affiliate links, which means we might earn a small commission if you make a purchase. There is no extra cost to the reader. We only recommend products and services that we have personally used or have thoroughly researched.