10 Hilarious, and Sometimes Very Messy, Bubble Wrap Games for Kids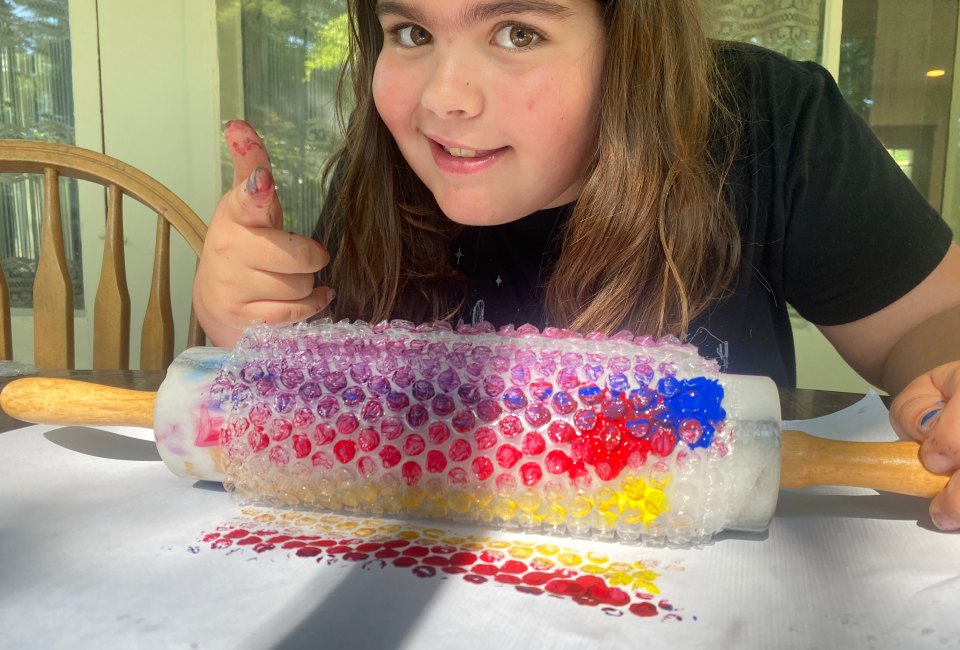 6/15/21
- By
Ally Noel
Who can resist the urge to pop that bubble wrap once it comes floating loose from a package? Certainly not any kids we know!
Well, instead of shooing them away from the box as they ready their stomping feet, try one of these 10 clever ways to let kids play with it, get messy with it, and generally have some fun with bubble wrap. It's actually one of our secretly fun exercise games for kids. Also, you're demonstrating some healthy plastic upcycling practices, too. Win-win. Go ahead and add a little "pop" to your playtime. These kid-tested crafts and games will have you engineering roads and creating beautiful swirls and whirls of color and design.

Bubble wrap makes an inexpensive fidget toy to keep hands busy.
1. Pop the Bubbles
There is something so satisfying about smooshing the air out of those little bubbles. Maybe it's the sound, maybe it's the feeling of popping all those tiny bubbles—maybe it's all of it. But, did you know that it's also a great way to develop those fine motor skills? Yup! Even just simply squeezing all the air out of a sheet of bubble wrap gives those little finger muscles a full workout. Plus it makes a cheap fidget toy!
2. Bubble Wrap Road
This indoor activity only requires three things: bubble wrap, painter's tape, toy trucks, or cars. Simply unroll your bubble tape onto the floor, and secure it in place with the painter's tape. You can create the road in any shape you (or your child) imagines. Then, get a few rolling toys and get ready to hit the road! The pop, pop, pops under the wheels will keep your child engaged for hours of open-ended play.
3. Bubble Paint Body Slam
This is definitely a "go big or go home" activity. Bubble paint body slam is not for the faint of heart. But, if you have an active kid, this outdoor activity is definitely a great way to burn off some of that nonstop energy. A mix of art and physical activity, bubble paint body slam is best done during the summer or outside at the very least. Cleanup requires a run through the sprinklers!
4. Bubble Wrap Hopscotch
Take that game of hopscotch to the next level... by adding bubble wrap. First, cut your hopscotch squares out of bubble wrap, a traditional set-up has 10 squares. Next, write the numbers on the flat side of the bubble wrap using a permanent marker. You will have to write your numbers backward so they are the right way round when placed on the floor. If you want to secure the squares in place, use painter's tape.
5. Bubble Wrap Twister
Add a little more sound to your next game of Twister by recreating a childhood classic game with bubble wrap magic. Using paper plates as a template, washable glass paint, and a little creativity, it is easy to recreate a unique Twister Game.
RELATED: 50 Genius Cardboard Box Games and Crafts for Kids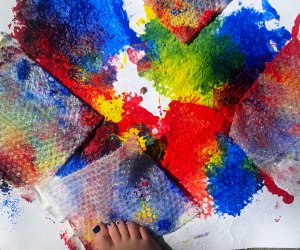 This game gets pretty messy but kids love it!
6. Bubble Wrap Stomp Painting
Head outdoors and unroll a long sheet of craft paper onto a sidewalk or any smooth surface. Use a rock or heavy object to secure the paper in place. Drizzle some tempera paint on top of the paper, then place bubble wrap on top of the paint and start jumping! You can experiment with different-sized bubble wraps and color combinations.
7. Bubble Wrap Color Mixing
This STEM activity is an engaging way to teach kiddos all about the color mixing process. Grab some eye droppers, colored water, and large bubble wrap to get going with this beautiful Rainbow Color Mixing in Bubble Wrap project from Teach Beside Me.
8. Bubble Wrap Prints
Bubble wrap printing requires minimal setup and supplies, so it's easy to pull together for a lazy day at home together. A variety of paint colors, bubble wrap, and some paper are enough to get you started. Paint the bubble side of the packaging with s variety of paint colors. Try creating different patterns and textures. Once the painting is finished, turn the bubble wrap over and press it onto a sheet of paper. Slowly peel up the bubble wrap to reveal your print. This technique lends itself nicely to aquatic-themed murals and textures. Use a pair of scissors to create different shapes and sizes of prints.
RELATED: 100 Top Crafts for Kids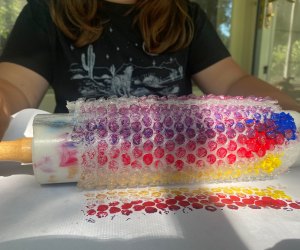 Little artists can make some unique patterns with this craft project.
9. Rolling Pin Bubble Wrap
Younger kids, especially toddlers, love the chance to brandish a rolling pin. This activity lets all ages do just that and it's truly a wonderful mix of art and gross motor skill practice. Place a sheet of bubble wrap around a rolling pin, and then spread a little paint over it. Roll the paint-covered rolling pin across a sheet of paper and watch your little one's face light up when they create beautiful swirls and whirls of color.
10. Bubble Wrap Mosaic
This craft for kids thinks a little bit outside of the bubble. The little cell "bubbles" on bubble wrap lend themselves nicely to becoming individual pieces on a mosaic. Younger kids will love making simple shapes and patterns like these hearts, while older ones can create intricate patterns and designs using a permanent marker.
Find more Boredom Busters for Kids at MommyPoppins.com.
Photos by Ally Noel
Click Here to Sign Up!