10 Simple and Fun Light Experiments for Toddlers and Preschoolers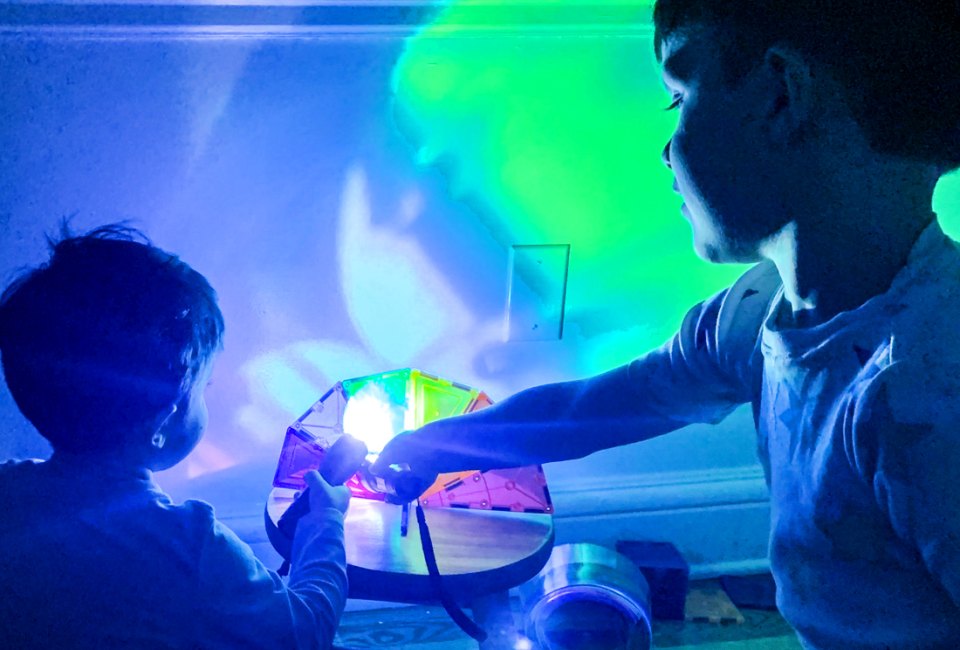 9/1/22
- By
Liz Baill
We've all made hand shadows with flashlights when the power goes out unexpectedly, but have you tried lowering the lights on purpose for playtime? Light experiments are a magical form of sensory exploration with well-documented developmental benefits for kids, while happening to be deceptively simple for even the laziest parent (like me). Setting up a dark environment and incorporating flashlights into your play unlocks a whole new way of looking at the world, mesmerizes tumultuous toddlers, and brings open-ended process play into your home with minimal effort. Light experiments can even work wonders on children who fear the dark.
So cut the lights and grab your flashlights (check for batteries first, because dead flashlights are a bummer) and try out these 10 easy light and shadow experiments for toddlers and preschoolers. For more preschool and toddler science ideas, check out our list of science experiments for toddlers, and more science fun for kids of all ages in our Guide to Science Experiments for Kids.
10 Light Experiments for Toddlers and Preschoolers

Magnetic tiles are fun for more than just building!
1. Colorful Shadows
Shine a flashlight through anything colorful and transparent, like magnetic tiles, to project a rainbow of colors. Overlap different colors to explore color mixing.
2. Shadow Tracing
Cast a shadow on a piece of paper and trace its outline, or head outside on a sunny day with sidewalk chalk and trace the trees. Bigger kids can pose in front of a light source for a silhouette portrait as you trace their profile.
Related: Crafts for Kids: 100 Awesome Art Projects for Creative At-Home Fun

Bring small toys to life in a new way using a sheet and a light source.
3. Shadow Show
Hang a sheet in a doorway and arrange a light from a distance to make a shadow screen. Use toys to tell a story, or create your own shadow puppets using cereal boxes and popsicle sticks.
4. Let it Glow
Toss some glow sticks into the tub to level up bath time.
Related: 30 Easy Paper Crafts for Kids for an Arty Day at Home

Your toddler's artwork will simply glow.
5. Baby Rave
Channel your inner raver—toddler style—with a cheap black light and some highlighters or neon art supplies. You can even make neon rice for an added sensory experience.
6. Hand Shadow Puppets
Transform that peace sign into a bunny to make a simple hand shadow, or get fancy with these handy (sorry) shadow puppet ideas.
Related: Science Experiments at Home: Make a Walking Water Rainbow with Kids

A simple light table can provide hours of fun.
7. DIY Light Table
Rig up a light table with some holiday lights and a clear storage bin. Play on top of the light with tissue-paper scraps, bingo chips, or translucent shapes.
8. Glowing Games
Place some glow-stick bracelets into balloons, blow them up, and bounce them as they glow. You can also use those bracelets for a glowing game of ring toss!
Related: 64 Easy Science Experiments for Kids to Do at Home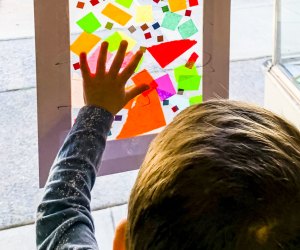 Pretty up a sunny window with a homemade sun catcher.
9. Catch the Sun
Explore natural light by making a simple and colorful sun catcher and placing it on a window.
10. Rainbow Play
Shine a light on old CDs, mirrors, a prism, or even a glass of water to experiment with splitting light into a rainbow. Check out our roundup of rainbow crafts for kids for more crafty and colorful inspiration.
All photographs by author Liz Baill @creativishmom

Sign up for our free
newsletters.
Mommy Poppins is a family activity website that helps people find things to do with kids.
©
2023
MommyPoppins. All Rights Reserved.
mp-prod4-v4.32.99
We use cookies and other data collection technologies to provide the best experience for our customers.
Learn More